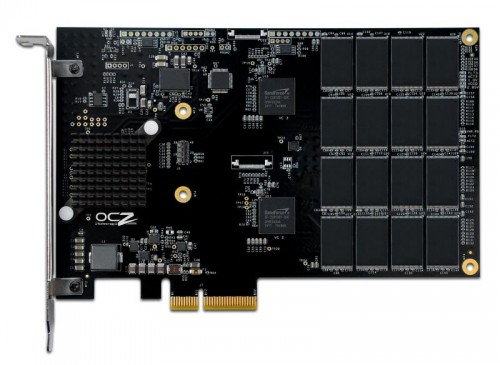 If you must absolutely have the fastest storage device around for home use, you'd be happy to hear that the OCZ Revodrive 3 solid state drive (SSD) is coming to Singapore.
We just got word that the latest version of the PCI Express-based drive – yes, the chips are mounted on a card – is coming to Singapore via the local distributor Ban Leong Technologies. Limited numbers of the 240GB version are going for a hefty S$899, though you can expect discounts on the street.
What's the big deal about the Revodrive 3? Can't you just bring together two 120GB OCZ Vertez 3s – probably the fastest SSDs on their own now – and plug them onto my motherboard and run them in RAID 0? Well, you could, assuming you have an Intel Sandybridge-based motherboard that supports SATA3 natively.
You see, a lot of the speed of the Vertex 3 comes from its fast Sandforce controller that takes advantage of SATA 3's faster transfers (compared to SATA 2). But the advantage is seen mostly in systems that run Intel's latest motherboard chipsets. Folks on the older X58 chipset and running an older Intel Core i7 chip are out of luck.
That is, unless you plug the drive straight into the even speedier PCI Express bus, bypassing the SATA lane altogether. Early reviews have looked good (Anandtech). Plus, the specs on paper are impressive as well, with off-the-chart sequential reads and writes:
Sequential Read AS-SSD: 405 MB/s
Sequential Write AS-SSD: 260 MB/s
4K Random Read AS-SSD: 60,000 IOPS (235 MB/s)
4K Random Write AS-SSD: 60,000 IOPS (235 MB/s)
(Incompressible data performance is measured using AS-SSD; 64 thread for 4K specs)
The Singapore price, like all SSDs sold here, is more expensive than what you can find on Newegg, for example. The main reason to buy local is still straightforward warranty and returns, which OCZ is offering for three years. An even smarter move would be to wait for the price to drop, as SSDs become more common.