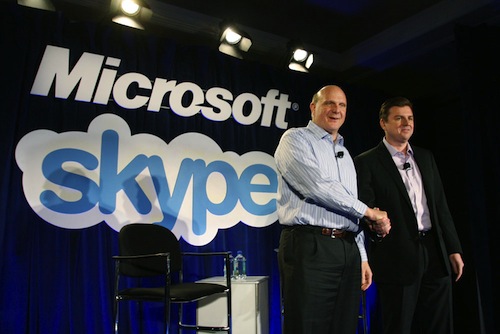 Microsoft has completed its US$8.5 billion acquisition of Skype, officially bringing the Net telephony household name under its fold.
On October 13, Skype was formally inducted into the Redmond family as a separate division helmed by Skype CEO Tony Bates, who will report directly to Microsoft CEO Steve Ballmer.
In a media statement, Microsoft said the Skype division will continue to offer its current products to millions of users.
Over the longer term, Skype will also be integrated across Microsoft products to broaden Skype's reach and accelerate its growth as a fundamental way people communicate online, Microsoft said.
Though Microsoft did not reveal what those integrations might be, products that could be bolstered by Skype include Bing, where users can call phone numbers in search results directly. Skype could also be integrated with the Xbox Live, Lync, Outlook as well as Windows Phone.
According to Gartner, a research firm, Skype would help Microsoft advance its consumer efforts and gain global communications capabilities without entering the regulated telco market. On the other hand, Skype can extend its VoIP presence into enterprises through Microsoft's brands and consumer channels.
"Skype is a phenomenal product and brand that is loved by hundreds of millions of people around the world," said Microsoft CEO Steve Ballmer. "We look forward to working with the Skype team to create new ways for people to stay connected to family, friends, clients and colleagues — anytime, anywhere."
Skype was first acquired by eBay in September 2005. eBay subsequently sold a 70 percent stake in Skype to an investment group led by Silver Lake in November 2009, after it failed to reap the synergies it had hoped for.
It is unclear if Microsoft would be able to stomach a Skype that had been slow to convert freeloaders to premium customers who would pay for call credits and online phone numbers. Last year, Skype recorded a net loss of US$7 million.
Skype employees will continue to be based in existing offices located in Estonia, the Czech Republic, Russia, Sweden, the United Kingdom, Luxembourg, Japan, Singapore, Hong Kong and the United States.