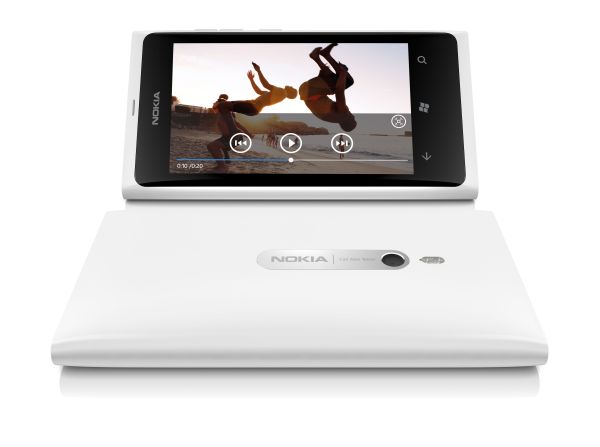 Over the weekend, against the advice of many, I bought my dad a Nokia Lumia 800.
I know, not many phone buffs are giving Windows Phone devices much chance after a somewhat disappointing holiday season last year, when the Finnish cellphone maker was estimated to have sold a modest million or so Lumia phones.
But it is a little early to write off Windows Phone devices, and they can still go places, if only they can get some traction. My dad had bought an LG Optimus 7 a couple of years ago and it had provided a nice, easy way to join the smartphone bandwagon with the operating system's tile-based system.
The Lumia 800 was thus a natural upgrade. Again, the large tiles make for easy navigation. The updated Windows Phone 7.5 provides for multi-tasking. The interface is fast, and the 8-meg camera, based on Carl-Zeiss optics, is no slouch.
Indeed, folks like my dad are the type of users that Microsoft and Nokia need to convince, even as many reviewers and techies glowingly praise both Windows Phone and Nokia's Lumia range, including the latest Lumia 900 shipping in the United States this weekend. 
The problem is, many of these techies, myself included, are not actual Windows Phone users. While we love that Microsoft and Nokia are providing an alternative ecosystem to Android and iOS, we have stuck to our favoured devices because we have had so much invested in them.
To us, the Lumia 800 is a great device that we can recommend to friends and relatives buying a first smartphone, but we are not prepared to switch over. We don't see a compelling need to, given how familiar we are with our apps and interfaces.
That, in a nutshell, is the type of odds stacked against Microsoft and Nokia. There is more worry than optimism even when they ship the new flagship Lumia 900, which boasts of speedy LTE (long term evolution) mobile broadband and a larger 4.3-inch screen, for a low US$99.99 on an AT&T contract now.
Nokia and Microsoft are doing the right thing in targeting the new user with a low-cost but full-featured handset – geeks buying an HTC One X or upcoming Samsung Galaxy S III won't give them up for a Lumia 900 – but the Windows Phone camp must realise that the window is closing fast to attract such new users.
Nokia should know. For years, its excellence in design and simplicity gained fans who were hard to prise away, no matter how hard Motorola, Sony Ericsson or Samsung tried. Then came the smartphone, which rewrote the script and has returned new winners and losers ever since.
In the past few years, the more Nokia lost ground, the stronger a foothold its rivals gained. Apps are one reason why it is so hard for Nokia to overturn that. Branding and design, another. On both counts, Nokia and Microsoft have lost so much ground before they joined hands early last year that they have all the work to do in 2012 to claw back some of it.
For starters, they'd need a good product. They have got the software done well in Windows Phone 7.5, with its simpler system of displaying information. The People feature, which lists all your friends' interactions with you over e-mail, Facebook and chat, for example, is a refreshing change from the icon-driven menus of its rivals.
In the Lumia 800 and Lumia 900, they have superbly designed devices that break new ground as well with the polycarbonate body and a stunning "pillowy" screen. Problem is, the contest is no longer about products, but one about scale and momentum.
Sure, Microsoft and Nokia can spend US$24 million to lure developers to come up with the next big thing on the small screen. Nokia itself can boost its previously laggard image with huge Times Square concerts for its Lumia 900 launch.
But their best hope lies in the millions of users who are yet to use a smartphone for the first time. Developing markets such as India and Indonesia, where Nokia has been strong traditionally, are where its game has to be spot on.
Users there are not as entrenched in their preferences. They may have seen the iPhone – and want it – but if Nokia comes along with a Lumia that offers a great experience for a low price, they would be more willing to take a chance with Windows Phone than, say, a user of the iPhone.
In other words, Microsoft and Nokia should spend more time trying to win over new users rather than convert users of iPhone or Android OS devices. There's another player, Blackberry, whom they can grab market share from, and they should.
Indonesia, for one, has been a big Blackberry market, mainly because of affordable telco tariffs on Blackberry Messaging (BBM). If Nokia and Microsoft, along with local developers, could come up with a bundle of services that enhances that experience for the country's messaging-crazy audience, they could sell many Windows Phones there.
The strength of the operating system, after all, is in its easy-to-pick-up tile-based user interface. In my case, I had considered HTC's excellent One V, a smaller Android phone that boasted the Taiwanese phone maker's snazzy new camera system, for my dad, but in the end, the Lumia 800 won both of us over.
It provided an easier interface, compared to the One V, admittedly a much cheaper phone. The Lumia 800's large fonts and easy-to-tap tile system really help to get a new smartphone user acquainted to a new way of getting and sharing information. And once they get acquainted, they will prefer a familiar Windows Phone in future, as my dad did.
That may be the key for Microsoft and Nokia for 2012: keeping the small base that they have and trying to expand to fresh smartphone markets. For the last quarter of 2011, Nokia scraped by with just 12.4 per cent of the smartphone market, according to research firm IDC. And analysts are not sure how well the new Lumia 900 will do this year.
Estimates by some range from a low of 140,000 to a high of 680,000 units sold a quarter in the US, which is a shadow of the 7.6 million iPhones that AT&T turned on in the last quarter of 2011, thanks to the introduction of the iPhone 4S.
In the end, the fate of Windows Phone could come down to a matter of staying power.
If pumping dollars into the system only gets Microsoft and Nokia a small share in return, and if selling its high-end phones on the cheap doesn't do it, then surely questions will be raised on whether the fight is worth it in the long run. The next eight months in 2012 could be make or break time.