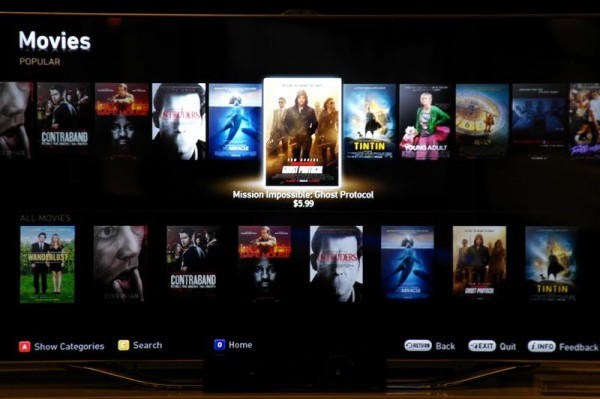 The way couch potatoes pay for and view their Hollywood movies and other TV content is set for a big change this year, as a new wave of smart TV apps start offering on-demand video services from SingTel and StarHub that don't require users to subscribe to a monthly pay-TV service.
The new apps running on Samsung's 2011 and 2012 TVs are possibly the first concrete step in Singapore to bring compelling content to so-called connected or smart TVs, which use an Internet connection to offer services and apps much like a PC or tablet would. 
The TV has traditionally been a lean back, dumb device, despite the industry talking up the possibility of interactive TV for years. The difference this time: young YouTube users who prefer interactive and personalised content over the Net.
Among the dozen or so apps unveiled in Singapore on Friday is the runaway hit on the smartphone and tablet, Angry Birds. Instead of using a touch screen, users simply wave their hands in front of the TV, Kinect style, to launch the birds on their way to global destruction. This app works only on new 2012 Samsung TVs with a motion sensor.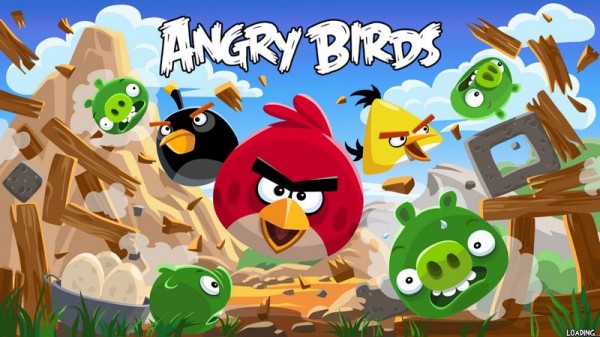 More interesting perhaps are SingTel's and StarHub's offering of so-called over-the-top (OTT) services. By directly accessing the services on their TVs, users can view on-demand movies and other content without subscribing to their monthly services or renting a set-top box.
With SingTel's mio TV Play app, for example, users can watch movies such as Mission Impossible: Ghost Protocol and The Adventures of TinTin in high-def for S$2.99 to S$5.99, by renting it for 48 hours. In comparison, as CNet Asia notes, Apple's iTunes store sells HD movies at S$5.98 each.
StarHub too has an app in the works, but it looks a lot more conservative, seeing how the cable operator has a lot more legacy content deals and infrastructure in place. Its video store app only shows local football matches and Hong Kong TVB trailers.
Besides entertainment, Samsung will also be loading educational apps in their TVs when they ship in future. Not sure how many kids will enjoy learning Calculus on the TV, but these apps are part of the Singapore's government push for more varied apps on the telly.
Will couch potatoes press okay on their remotes? The key, obviously, is still the content. Apps like YouTube and even BBC News showing brief video snippets have been pre-loaded in Samsung TVs since 2010 and earlier but these are available on the PC, smartphone and tablet as well. On those natively interactive devices, the apps outshine the TV version.
What smart TVs can offer though is what the industry has called TV 360. In other words, content as good as what you'd get on regular pay-TV but with added interactive elements, like short "making-of" snippets, interactive games and in the event of live TV shows, perhaps even audience polls and other participatory features.
Of course, the other thing that works for sure is movies on demand. In the United States, the Netflix and Hulu video-on-demand services have proven to be sure hits for providing a buffet of drama serials and Hollywood movies for under US$10 a month.
When they are accessible as an app or service that ships with a TV, they could work just as well as they do on a PC or tablet – just that they are now even better on a big screen in the living room.
Where do traditional pay-TV operators like SingTel and StarHub play in this space? They may at first seem to be in tough, unfamiliar territory, but really, these new smart TVs from Samsung and others in future should be good news to them.
The new technologies let them sell content easily to users without the overhead costs of rolling out and maintaining set-top boxes and of course, let them compete directly with the Apple iTunes store and even broadband operators selling VPN (virtual private network) links to US-based video services.
The bad news, particularly for StarHub, is that it had invested a whole lot of dollars and manpower into its rather modern cable TV network just 20 years ago.
SingTel's phone network in Singapore, by comparison, is closer to 50 years old, and it has no issues moving on to the country's next-gen fibre broadband network. StarHub, though, is in a bind. It will look like it is accelerating the decline of its cable network by introducing more services that bypass it, but it will lose audiences all the same if it does not reach out beyond its existing cable network.
These are still early days, of course. There are many issues to be tackled for smart TV apps, for example, the vastly different makes of TVs out there. This means developers have to come up with so many different versions of the same app, and they are already complaining about making too many versions for the small screen, which is limited mainly to Android, iOS and Windows Phone.
Yet, this latest push for smart TV may mean that the last, unconnected screen at home will finally get its own interactive features. The day when everyone interacts with their TV directly may still be years away, but it's never been closer than before despite all this talk all these years past.