When she posted those insensitive remarks on Facebook, Amy Cheong probably never expected, in even her worst nightmares, that she'd be sacked the next day and hounded out of the country by an angry online community.
Yet, the former NTUC executive is now in Perth, where she has flown off to avoid the backlash, according to The New Paper.
How did a foolish rant about a wedding in the void deck bring such swift and angry reactions? Needless to say, she should not have said those hurtful remarks that have now been condemned as racist.
But there's a lesson here for anyone using the Internet, that is, a random rant to vent after a long day at work can be amplified many times over online. Sometimes, on social media, the lines between private and public are not so clear.
You might be complaining to a few friends at a kopi tiam but you won't do the same if you were in a party with your colleagues, bosses and strangers at a corporate event. Yet, on Facebook, the difference between the two is just in your privacy settings.
How do you navigate a social media network that can seem like a minefield at times? Here are a few quick tips.
1. Control who sees your posts
Like it or not, we act differently in front of different people. You won't speak to your mom the same way you speak to your boss or a new colleague. So, don't be posting stuff on Facebook, seen by everyone, that may not sound right to some of the folks on your friends list.
How do you check? Every single post you put up can be customised. You can share it with the whole world (that's what Amy Cheong did), with your friends or simply with yourself. Just click on the little icon on your post.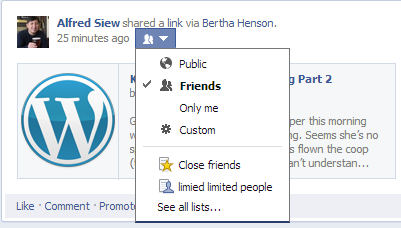 The same works with photos. You can customise who sees which albums you upload. Of course, knowing how porous the Internet is, just keep those naked beach holiday photos on your own hard disk instead of putting them anywhere online.
2. Segment your friends
If you trust some people but not others – we all do – then just segment them according to groups. Facebook has tried to make this easy by adding Close Friends as a list that you can add people to. These people are probably the only ones you want to be sharing private photos with. Or rants.

To do this, click on the small arrow icon on the top right corner of the Facebook page and go to Privacy Settings. Here, you can also create a group, say, Colleagues, and another called Family, and only share certain posts and photos with them.
What about people you don't know well? There's a way to restrict them from seeing anything you post, other than the public ones. Just add them to this list called Restricted. Or it might be easier to just "un-friend" them.
3. Beware when posting on other people's wall
You see an interesting post by your friend, so you reply candidly to it, because you know your friend very well. Guess what, some of her friends don't take kindly to your remarks and start an online argument.
Nasty things are then said, vulgarities exchanged, and all end up looking bad, especially if the post is public. Just remember that your remarks can be seen by whoever your friend has shared her original post with.
4. Tagging friends and being tagged
Similarly, if you post something on your wall, and tag your friend, all his friends can see it too. If you just want you and two close friends to see a photo or post, set your privacy to "custom" and add only them to it. Alternatively, just send them a private message or just use plain, old e-mail!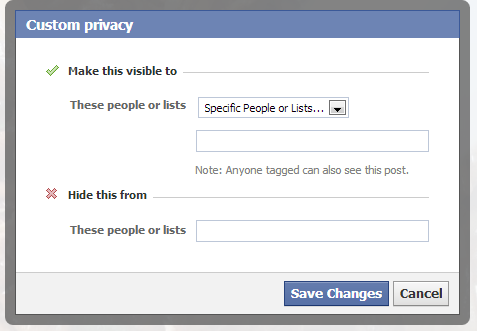 What happens when friends tag you, especially in embarrassing photos? Well, you can't stop them from posting the pictures, except not being in that embarrassing situation in the first place, right? All you can do is to set your privacy settings (like in step 2) to ask you to approve any posts that tag you.
You still can't delete the content, but at least it doesn't appear on your own wall automatically.
5. Just watch what you post
Obviously, the best advice is to just beware of what you say online. It's like real life, yet in many ways, it is worse than real life, where you might at least see the context in which something is said. We have all said something rash from time to time and wish it's forgotten, but online, that's sometimes not possible.
Ironically, in Singapore, where social media sites have re-shaped how the government responds to the public and how the media report news, they are also clearly not a platform for unfettered freedom of speech. Online rants, even if they are made in haste, have real consequences.