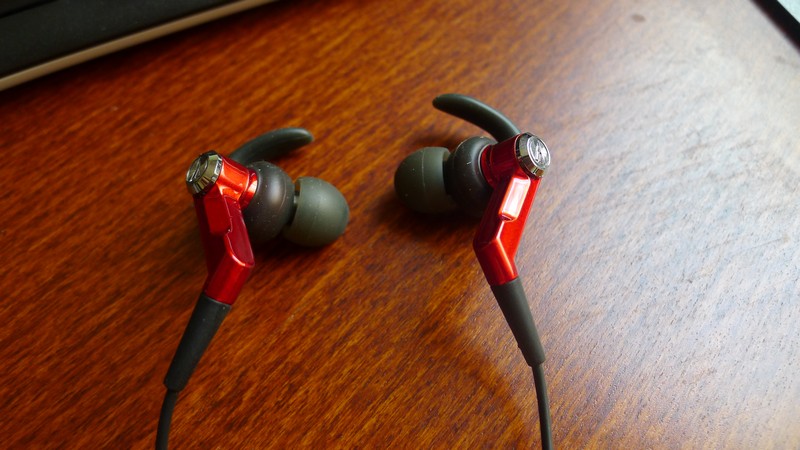 Where once there were only a couple of sport earphones to choose from, these days there are quite a handful at the stores if you are looking for something tough and can withstand some sweat and rain on your workouts.
Over the weekend, I bought Audio Technica's ATH-CKP500, which sports the very handy ear fins that help keep the earphones in place without forcing a very tight and uncomfortable fit on your ears.
The ATH-CKP500 comes with an IPX5 rating, which means it can be washed or splashed with water but is not really waterproof such that you can go diving with it (in case you're thinking).
The S$48 earphones are slightly bigger than the old Sennheiser CX680i, which I finally managed to damage after a few years of exposing them to sweat and rain during my jogs. I had thought of Sennheiser's newer CX685i, but they cost about twice as much as the Audio Technicas.
The Japanese audio company's new 'phones, which come in red as well as black, blue, and white, need a bit of getting used to. Even on what I thought are pretty big ears of mine, I had to use the smallest ear fins and ear buds to get a comfortable fit.
The default medium ones were a bit too tight for my liking, and I usually use medium ear buds for my other earphones. So, that's something to take note if you think you got small ears.
The good thing is there are several ear buds to choose from, even "ribbed" ones that presumably hold the earphones more snugly when you are jogging or biking.
Still, compared to the old Sennheisers, the ear fins on ATH-CKP500 are also a little less flexible. Actually, as my old Sennheiser CX680i has shown, you really don't need to be so snug to hold the earphones in place. A thin, light and flexible ear fin usually does the job well without adding discomfort to the user.
Do note too that the ATH-CKP500 comes with a short 0.6m cord. That's great for folks who connect it to an MP3 player or phone strapped on the arm, but it's too short if you place it in your shorts pocket, as I do.
There's a supplied extension cable which doubles the length, but usually this extension means that you will hear an irritating sound every step you take, as the extension joint hits against your body on a jog. Not a problem if you bike, of course.
What I do like about the Audio Technica though is the rather decent audio quality. I'm not expecting much during runs where I'd be panting and not worrying about the music too much, but still, it's nice to have bass that is rather tight and doesn't shatter your ears and brains.
All said, for the price, the ATH-CPK500 seems to be well-made enough. In terms of comfort, I'd still prefer my old yellow Sennheisers. But if you are not too bothered by that, the Audio Technica ATH-CPK500 offers a much more affordable option for your workouts.