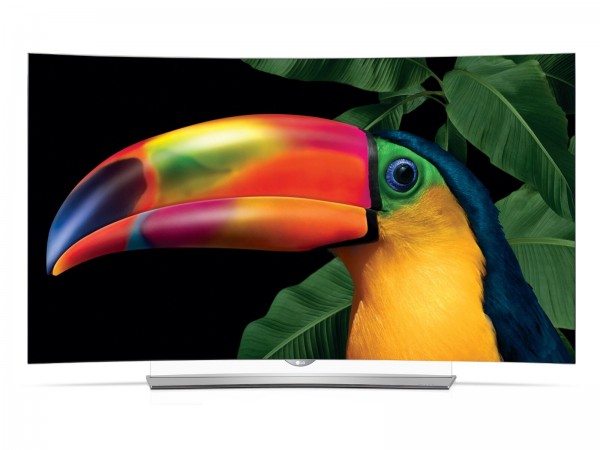 In a world of empty marketing phrases, black is the only word that LG really needs to sell its new range of OLED (organic light emitting diode) TVs that have turned up in Singapore in the past month.

In them, you will find the deepest blacks in movies, showing off a stunning contrast that no other screen technology offers today. In movies, that is the holy grail for home theatre buffs, and LG has no peers today.
In the EG960T, the first OLED TV model here to feature the sharp 4K resolution, LG has come up with a near-perfect TV for folks whose top concern is image quality.
I've seen these OLED TVs before in showrooms, but nothing beats hours of playing your favourite movies on one at home.
After these sessions, I'm certain that the EG960T has bettered any LED TV I've seen. And that includes a high-end Samsung JS8000 I recently mounted on my living room wall.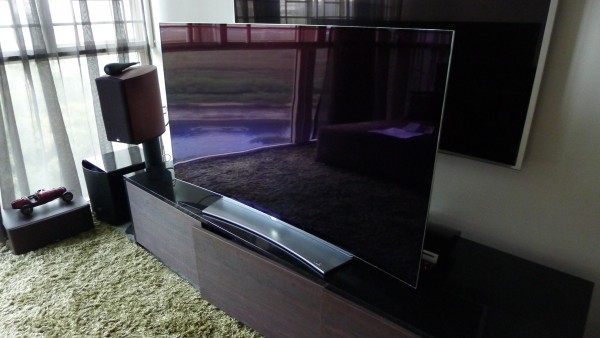 OLED, unlike the LED (or LCD) technology used on most other TVs, doesn't suffer from issues such as jitter during fast-moving scenes or clouding, where light from the sides doesn't shine uniformly.
But the most important plus for OLED comes back to its blacks. Night is night in a movie like The Dark Knight. Just view the black skies over Gotham and you'll get a sense of the superior technology.
The police vans in the famous chase scene where the Joker goes after Harvey Dent are as dark as they should be. And Batman's cape, of course, is not dark grey but black. Simply black.
Even to untrained eyes, this impressive contrast is an obvious step up over LED TVs. I saw this clearly with the Blu-ray titles I played back, including a more recent Christopher Nolan hit – Interstellar.
You want to view the vast space as black as it is, with the stars lit up like diamonds on a black blanket. The EG960T offers that.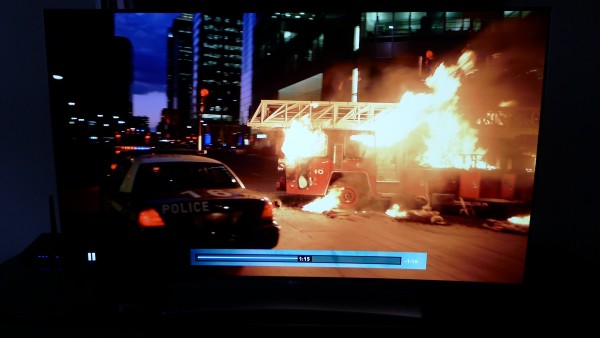 The other thing that got me smiling was the smooth motion in panning or tracking shots. There is no jittery problem here, unlike on many LED screens.
Nor do you get the "soap opera" effect where people and things move around with unrealistic sharpness like that of an old soap opera.
To test this, one of the most difficult scenes that stumps most TVs is the opening shot in The Dark Knight, where the camera moves towards a building window, which is then suddenly burst open.
With its OLED technology, the EG960T moves the shot along without a glitch, and avoids the glitchy "buzzing" effect with the fine lines on the buildings in the shot.
Do note that I viewed this with the TV's Cinema mode. Switching to Standard mode brought out the same issues I've had with previous TVs.
If there's an issue with image quality, it's that the 4K upscaler on the LG TV does not seem to make pictures as sharp as what Samsung offers, say, on its JS8000.
While Blu-ray movies seem sharp enough and don't betray any blur, they could do with a little more detail, even if that's "simulated".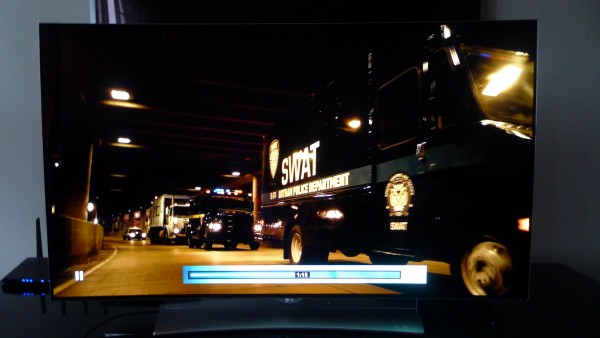 It's not a deal breaker, but still a small concern I'd raise for a TV that boasts just about every feature out there today.
Fortunately, 4K content itself doesn't look too shabby. There isn't much to go with in Singapore now, but the few demo reels on YouTube, for example, showcase how much better an image can look with four times the detail over Full HD.
It helps that this is a "smart TV", which just means that you can do away with a set-top box and stream content from, say, Netflix, YouTube or even MediaCorp's Toggle straight onto the TV.
I had no issues connecting with my home Wi-Fi on 5GHz. LG's WebOS is still a refreshing interface from those on old TVs and its remote controller which works like a wand is easy to pick up and use.
I only wish LG would have spent more effort bulking up the remote. It's cosmetic, but a heavier version, like what Samsung offers for its high-end TVs now, will feel more solid in the hand than the current plastic, functional one.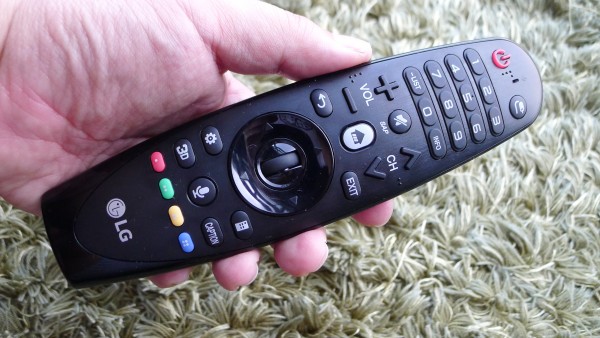 One pleasant surprise I had, though, was how well the 20-watt speakers branded by Harmon Kardon sound. For TV speakers crammed into a thin chassis, they offer bass that is much lacking in most TVs.
But I suspect you won't be buying an OLED TV for its sound. Indeed, if you care this much for image quality, you'd probably have a home theatre system rigged up for thumping bass in movies.
Until now, I haven't talked about how the new LG TV looks. That's not because it's ugly – far from that, actually – but I've been staring at the contents on the screen rather than its dimensions.
The EG960T is one of the thinnest out there now. That's, of course, if you don't count the integrated unit at the bottom that holds the quad-core CPU and speakers.
I wonder if LG could have come up with a breakout box that would keep the screen to its skinniest. Yes, taking a cue from Samsung there.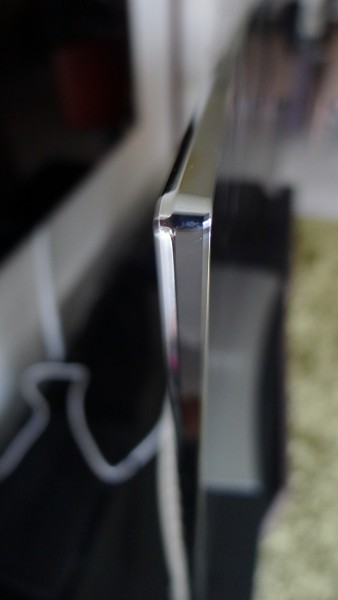 One thing to note is that the EG960T is a curved screen (see our concerns with that). I wouldn't like to mount it on a wall since the sides jut out, but if you place it on your console table, it should not look weird.
If you've read this far, this is the part where I tell you the biggest issue – this is one expensive TV, even in the realm of expensive TVs.
For the best image quality, LG asks for top dollar. The 55-inch version I tested costs S$6,999, though you can shave a couple of hundred dollars at some stores with a little bargaining.
A 65-inch model that would show off 4K detail even better will set you back a cool S$10,000. Samsung's top-end LED TV, the JS9500, costs S$7,999 for the same size.
Still, the current OLED range will be seen as relatively cheap for folks who have been tracking the progress of OLED over the years.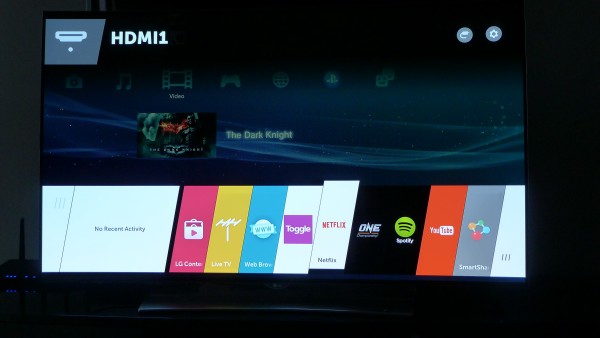 From small-screen prototypes of five years ago to the Full HD models last year, OLED TVs today have developed into the real deal.
And they may be just about affordable for the well-heeled, or die-hard video buffs who have been saving up.
In particular, those who have been waiting for a worthy replacement for their old plasma TVs that provided the same impressive blacks will be happy to see the EG960T.
The good news is, even if you can't afford this year's batch of OLED TVs, LG is coming up with more next year. And there are flat-screen options too.
For those who feel they've waited enough, the EG960T is surely worth considering. It brings everything that regular TVs have – 4K and smart TV features – to an OLED screen. And on it, black appears as black should be.