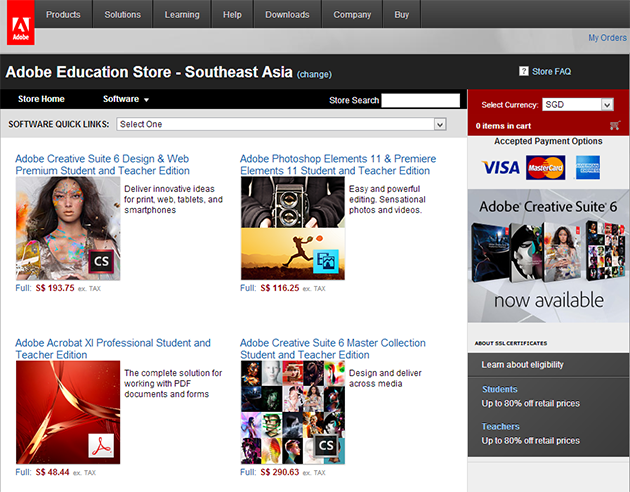 Hot on the heels of the new Creative Cloud subscription service launched in Singapore last month, Adobe today unveiled the Education Store for the local market, giving students and teachers an easier way to purchase its suite of software at steeply discounted prices.
Just how steep is steep? The CS6 Master Collection, for example, is retailing for S$3,802.50‌, but costs only S$290.63 for teachers and students.
It was possible to purchase Adobe's products at educational pricing prior to this, but it wasn't easy finding local distributors authorised to sell them.
The Education Store smooths the buying process, and offers a greater variety of software such as CS6 Production Premium and Photoshop Lightroom 4.
Buyers can also be assured that they are buying genuine products directly from Adobe instead of dubious software from a sketchy neighbourhood IT store.
However, it seems that Adobe's prices may be a little on the pricey side, even after the education discount.
For example, I purchased a copy of CS6 Design and Web Premium back when I was still studying for S$139 (GST included) on this site, but Adobe's Education Store's asking price is S$193.75 before tax.
There is also no word of when the education subsidies for Creative Cloud will arrive in Singapore, which lowers the monthly subscription fee to US$29.99 for teachers and students.