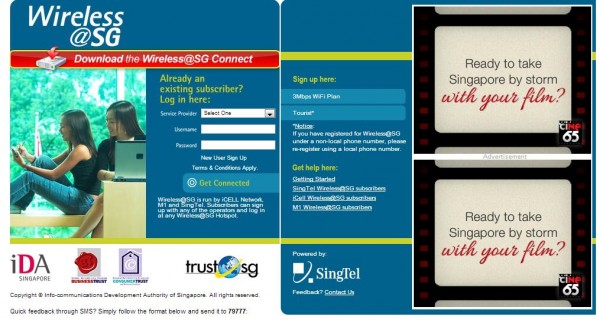 Years after Wireless@SG was first rolled out in Singapore, it's heartening to hear that the free nationwide Wi-Fi service will be extended to at least 2017, while being easier to log in to and faster to surf on.
From next month, users will be able to go online at cafes and other places at up to 2Mbps, up from the current 1Mbps. No big deal, you say, given that smartphones can connect to 4G networks several times faster, so perhaps what's more interesting here is the easier login process.
By April next year, users will be able to log in by the identifier on their smartphone's SIM cards, said Minister for Communications and Information Yaacob Ibrahim on Friday, during this week's Budget debate.
That will go some way to address one major bugbear of the service – the rather troublesome login process.
Currently, users have to sign up with one of the three operators – SingTel, M1 and iCell Network – and log in with their passwords.
There have been efforts to make this simpler over the years, but the need for identification by the authorities has made Wireless@SG somewhat unattractive to many users who have turned to 3G and 4G services.
Now, if users can automatically log in with their smartphones, Wireless@SG can be a lot more attractive. This comes at a good time too, as cellphone networks are so often jammed up today, while users have to pay more to surf more on those networks.
When Wireless@SG was introduced back in 2006, it offered the first taste of wireless surfing for many people toting their first smartphones and netbooks (remember them?). They soon graduated to 3G and 4G dongles, and later, got so used to 3G and 4G services on their phones and tablets.
The irony is that these mobile Internet services, which are available on the go and don't need all that fuss to log in to, are now so congested that the telecom industry is talking about offloading some of the traffic to city-wide Wi-Fi networks.
If you're at a cafe today, say, at a notoriously congested area like Vivocity, a Wireless@SG hotspot could be a ticket to a faster lane on cyberspace than your phone's 3G or 4G link.
Thus Wireless@SG still has some life in it yet. Indeed, one more player – Y5Zone from Hong Kong – is set to enter the fray here, while the Infocomm Development Authority (IDA) considers whether to approve current operator iCell Network's proposal for the next phase.
The wireless project is also a great example of how a national effort should be followed through. While many other municipal Wi-Fi networks overseas have either closed or been badly run over the years, the IDA has to be lauded for pushing ahead with Wireless@SG in Singapore, despite its critics.
Along with the national fibre network funded by tax dollars, Wireless@SG has helped open up a broadband market that was dominated by SingTel and StarHub. Now, as cellphone networks are increasingly clogged up, it may be called on to provide an alternative highway to the Internet.