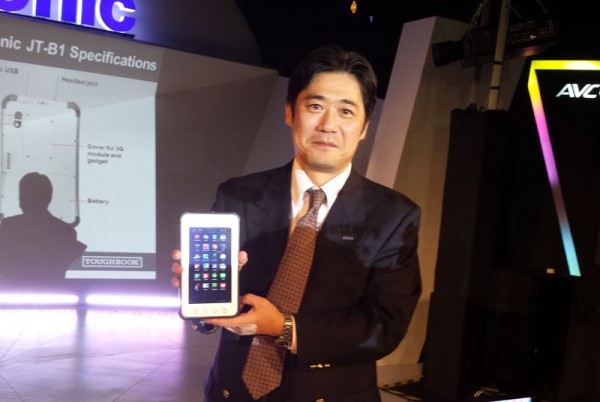 Panasonic showed off its new Toughpad JT-B1 ruggedised Android tablet at CommunicAsia today, touting it as an essential tool that can stand the harsh environments often faced by users in law enforcement, utilities and other industries.
The Japanese company even tested the tablet's claim to survive a 1.5-metre fall, by letting a blogger drop the 7-inch tablet from chest height. It survived, but not without rubbing some of its paint on the ground.
We had a quick hands-on with the newest in the line of Toughpads, which is out in Singapore in August. Immediately, you could feel how sturdy in your hand.
The rubberised edges obviously help keep the precious electronics inside from being shattered, while the Corning Gorilla Glass 2 keeps the screen from being easily scratched as well.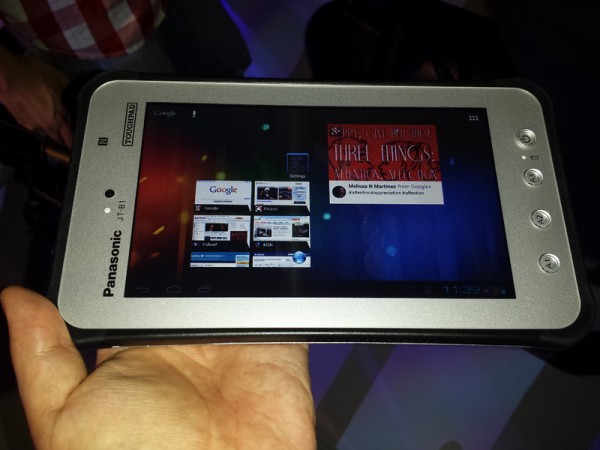 For drop tests, it passes the MIL-STD-810G mark. It also keeps out dust and water (rated at IP65), clearly from the lack of any easily accessible opening or ports.
The buttons, for example, are protected by a layer of plastic. All the other ports – the micro USB and microSD card – are protected from the elements as well.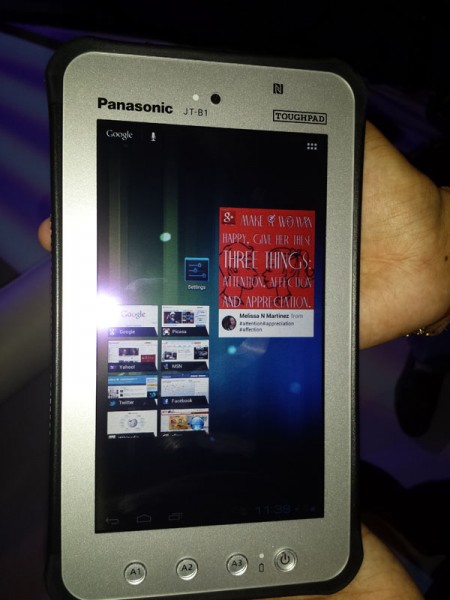 Interestingly, Panasonic has not included the latest version of Android. The Toughpad is using Ice Cream Sandwich instead of the current Jellybean.
The reason perhaps is to ensure that apps developed previously can be run easily on the new tablet. Panasonic executives told us there is an upgrade path should users want it, but the details we have so far are still sketchy.
The device, though hardly pretty compared to your average tablet, comes with the hardware you'd expect as a specialised corporate user.
There's near-field communications (NFC), so you can link up with any other device supporting the contactless technology. Also included are Bluetooth, Wi-Fi and GPS, with 4G or LTE (Long Term Evolution) as an option.
One more thing we also liked: the battery is changeable. This means you can swap out a new power pack in the field. Over time, you can also replace the battery with a new one if it doesn't soak up as much charge as before.
Though its 1.5GHz dual-core chip is nothing to shout about, this machine isn't about scoring higher in the benchmarks.
It's simply surviving the harsh conditions, say, being tumbled around in a police car or handled by the muddied hands of a soldier and still run the important enterprise apps that feed the user information or take information from him in the field.
On those counts, the 7-inch Toughpad JT-B1 seems like a nice addition to Panasonic's bigger Android and Windows tablets in the Toughpad range.