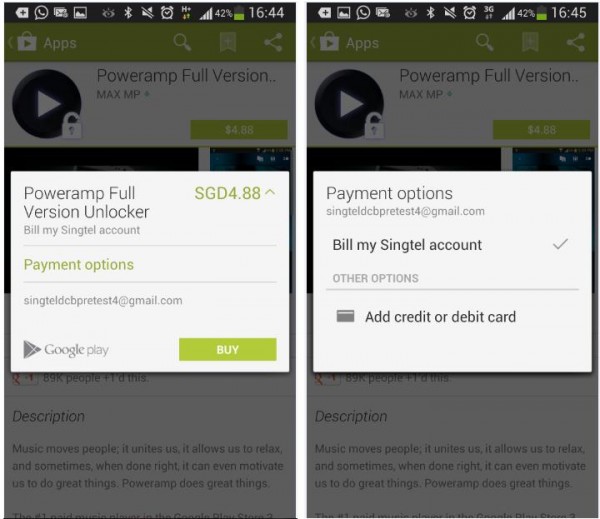 SingTel's mobile phone customers can soon buy Android apps from Google's Play store and pay via their monthly phone bills or prepaid account, after the telecom operator unveiled a direct billing deal with Google today.
This means smartphone users won't need a credit card to buy apps, and can conveniently pay for them together with the rest of their phone charges. The arrangement applies to both prepaid and postpaid customers.
Available from August 15 to SingTel customers, the direct billing will be rolled out "progressively" to other SingTel subsidiaries in the region, such as Optus in Australia. It did not specify the timing for this.
The move is yet another sign that Singapore's largest telco is working more closely with so-called over-the-top service providers such as Google, rather than fight them by running a separate app store.
Just last week, SingTel became the first in the country to work with WhatsApp to offer a flat-rate plan that lets users message all they want. Today, it is the first in Southeast Asia to provide direct billing for Google Play.
It will be interesting to see how SingTel's two smaller rivals react. M1, for example, has created its own AppShop for Android users, while StarHub recommends to its users apps on Apple App Store and Google Play each week.
All three telcos here want to be more than "dumb pipes" or simple, low-cost delivery networks for the Googles and WhatsApps of the world. Indeed, they all run their own music stores, while StarHub and SingTel recently started their own e-book stores as well.
Yet, these are often compared – unfavourably – with the better-stocked international options such as popular streaming music service Spotify and Amazon, the world's best-known e-book store.