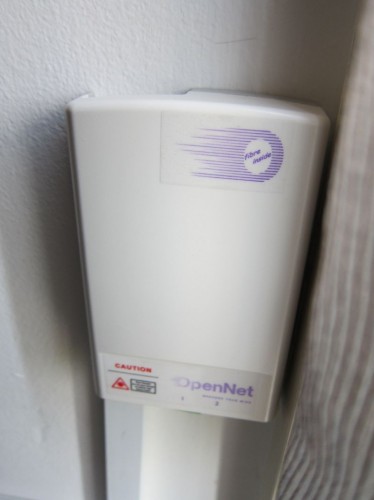 Despite very fast speeds and low prices, a fibre broadband service can be a rather painful thing to sign up for in Singapore.
One oft-cited reason: the contractor that owns the nationwide network takes too long to "turn on" the service, despite having laid the cable to almost all homes and offices islandwide. Complaints of poor customer service and even missed appointments by the contractor are not uncommon.
Now, that company, OpenNet, is going to be sold to a business trust, if government authorities okay the deal. The promise to consumers: installations will be smoother. 
Last week, the shareholders of OpenNet said they were planning to sell the company, which owns the network that service providers use to deliver Internet services to users, for S$126 million.
The buyer? A business trust called NetLink Trust that already owns the ducts and manholes, as well as exchanges known as "central offices", that the fibre optic cables run through.
Quite how this consolidation helps make installations smoother is still unclear. Though the folks running NetLink Trust – its trustee manager CityNet – have said that there will be "more operational efficiencies" and "one point of accountability", it remains to be seen how things will be improved.
If OpenNet has not laid a cable correctly at the foot of your high-rise apartment (read about my experience), what can the owner of the ducts holding the cables do?
In rare occasions, say, when there is a cut in the cable, due possibly to the endless roadworks in Singapore, a single party may be more efficient by gaining access to the ducts and fixing the issue more quickly.
But how often are fibre cables cut? Compared to the issues that are heard more often, like how OpenNet contractors have hooked up cables wrongly or not "turned on" a connection at home? The second issue is more serious and it's uncertain that an integrated, single party can do better than now.
On Wednesday, the Infocomm Development Authority (IDA) asked for public feedback on the potential buyout. There are several questions that have to be answered.
SingTel is the key sub contractor used by OpenNet to handle any issues with the rollout to consumers. It will cease being so a year after the deal is completed, if approved.
There is no mention, though, which company will take over this role. Which party will other service providers turn to in future? They need someone to get problems fixed, if consumers complain to them about connection issues.
Hopefully, this can be an opportunity for change. The new owners, if they succeed in the deal, can appoint more than one sub contractor, so that the work can be done faster.
In the past, SingTel's rivals such as StarHub have asked why they cannot also be sub contractors for OpenNet, especially to get rollouts done more quickly. If they can take on this role in future, then consumers could benefit from smoother installations. At least there will be more contractors on the job, since OpenNet often couldn't seem to cope.
Finally, there's the big elephant in the room – will the change in ownership curb the budding competition that has benefited users in the past few years?
SingTel has 100 per cent "economic interest" in NetLink Trust. Singapore's biggest telecom operator is said to have no effective control though, because it can only appoint 30 per cent of directors to CityNet, which runs the trust, with the rest of the board filled by independent directors.
Yet, SingTel does get paid when the nationwide network is used by other service providers, notably its rivals such as StarHub and M1. It may not fix prices to favour itself, but it can gain an advantage even if it does not directly "own" the network.
Interestingly, SingTel is supposed to reduce its share in NetLink Trust to less than 25 per cent by April 2014. It is now asking for the deadline to be pushed to April 2018, which will not make its rivals happy. Surely, they won't want the biggest competitor in the land to continue to "own" such a big chunk of the national network, no matter how indirect this link is.
What about consumers? It's unlikely that broadband prices will be affected in the short term, since the basic wholesale costs are highly regulated. The IDA said as much while asking for feedback, promising to retain the competition that has benefited users in recent years.
What the regulator will not want is for SingTel to gain any significant advantage from this change of ownership. Those who hope that SingTel will be fully "de-coupled" from any national infrastructure won't like the idea of it indirectly benefiting from this proposed deal.
Indeed, one of OpenNet's shareholders, Axia NetMedia, had complained about SingTel's multiple roles in the network build-out and maintenance just last year. It was also unhappy that SingTel rolled out its own fibre cables to businesses, alleging that SingTel competed directly with OpenNet.
Now that Axia NetMedia and OpenNet's other shareholders – SingTel, Singapore Press Holdings and SP Telecommunications – are giving up their ownership of the national network, the biggest question is whether the competition fostered by the original model will continue.
Whichever way IDA rules, the sale should not bring back the poor market conditions of just a few years ago, which kept prices high and speeds low.