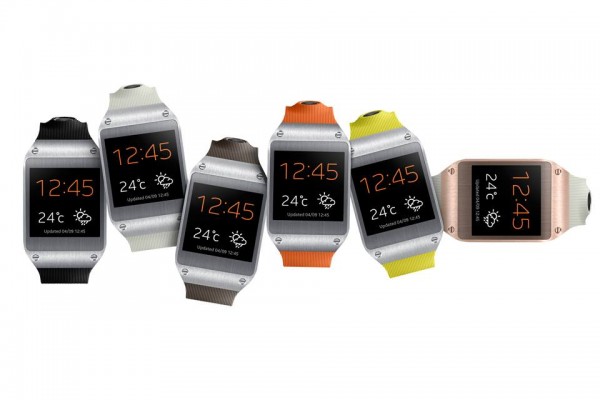 (source: Samsung)
Imagine someone speaking into his wrist watch and you might think he's either a silly geek or a Dick Tracy-wannabe. Well, that was until recently.
If the hype from last week is to be believed, Samsung's newly unveiled smart watch – the Galaxy Gear – would be the spark to ignite consumer demand for such wearable computers in future.
Near the IFA consumer electronics show in Berlin, the biggest cellphone maker showed off its much-anticipated gadget, a watch that links up via Bluetooth to let you make calls, surf the Web and take photos.
It's not a mini smartphone, because it still depends on a smartphone to work most of its magic.
Yet, the excitement among geeks is palpable, because of the buzz around wearable computers, something long hyped up but finally closer to reality now with devices like Google Glass.
Indeed, analyst firm Strategy Analytics expects Samsung to ship 500,000 Galaxy Gears. And the Korean electronics manufacturer is not even the first to come up with a smart watch – Sony is selling the second version of its Smartwatch gadget this month.
The one problem both companies face is changing habits. Though it's cool for geeks to try out a new gadget as a novelty, the technology needs to attract the mass market to be successful. Changing the habits of the masses is going to take time.
It also takes a carefully executed plan, and that's where issues abound.
Samsung's Galaxy Gear will only work with a limited number of devices for a start. The same for Sony's Smartwatch 2. Sure, it makes sense for each company to work with a small number of devices to avoid compatibility issues.
Yet, this diminishes the appeal for the mass market. Perhaps that's what Sony and Samsung are doing now – testing water. The technology is there, but the experience is not polished, so let's give it a try to see how the smart watch will pick up.
What about Apple, the company that gave us the iPod, iPhone and iPad? It had been widely expected to be the first to release a smart watch and wow users.
With its tightly-controlled mix of hardware, software and services, it could potentially deliver a smoother performance and stand a better chance of convincing people to change their behaviour.
Yet, Apple today is not the same company a few years ago. No longer the top dog in smartphones, it has been fighting a tough battle with Samsung to keep its share of the pie. With its iPhones less popular than Android rivals, it will find it harder to convince people to buy an add-on or accessory than before.
All this means that the smart watch is still in its early days. It certainly looks promising as people become more accepting of wearable computers, but the experience has to be right, and past experience with trailblazing gadgets tells us that usually takes time.
This article first appeared on Breakfast Network.