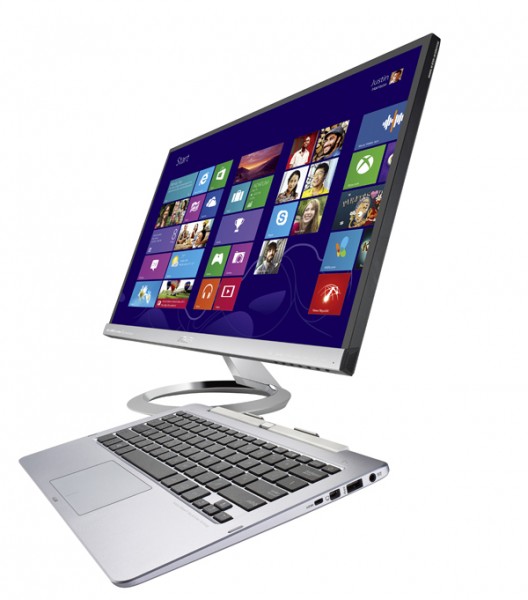 Asus brought a whole lineup of new devices, ranging from all-in-one PCs to its latest Zenbook thin-and-light ultrabooks, on a roadshow in Singapore last week and we had a chance to get our hands on some of them.
What caught the attention though was its Transformer Book Trio, a tablet, laptop and desktop machine running both Android and Windows, depending on your fancy. Can it be something for the future? 
Transformer Book Trio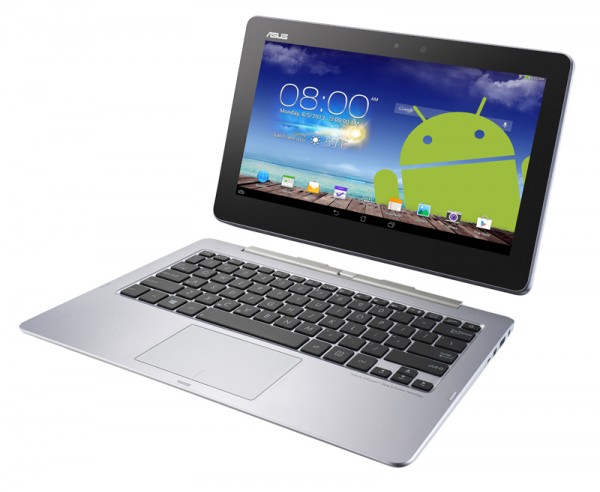 Unveiled in Computex in Taipei earlier this year, the hybrid device promises the best of both worlds – the compactness of an Android tablet with the power of a Windows PC. The Transformer Book Trio is one of the first devices to give you both an Android 4.2 and Windows 8 operating system.
The unique part of the Transformer Book Trio is that the tablet – like the others in the Transformers series – can work independently from the docking station.
What's different is that the docking station itself is also a full fledged PC when it is connected to a monitor screen via the mini HDMI port.  You now can have both machines working side by side with two screens showing different things.
If you would want to work with a full Windows 8 environment, just place the tablet on the dock. A quick push of the OS change button will bring you the familiar Windows 8 desktop screen. The Android OS will be reactivated once you detach it from the station.
What's also good about the Transformer Book Trio is that you can share files between the two operating systems. You do this by connecting the docking station to the Android device via Wi-Fi, without having to reboot.
What may make this difficult, however, is the way home networks are configured. The tablet and laptop are usually connected via a router and not directly, so you have to make sure the right folders are shared for them to have permission to transfer files over.
Nevertheless, the Transformer Book Trio is an interesting concept as two persons can actually work on only one device now instead of buying a tablet, a laptop and a desktop separately.
The PC Station comes with either an Intel Core i5 or i7 with 4GB RAM and the tablet is matched with an Intel Atom Z2760 clocked at 1.6GHz with 2GB RAM.
Storage-wise, the PC station comes with a 1TB hard disk and the tablet has 16, 32 or 64GB onboard. There's also a microSD card slot if there's a need for more space.
Out in Singapore on November 2, the Transformer Book Trio will cost S$1,698 for the Core i5 version and S$1,998 for the more powerful Core i7 one.
Asus also came up with a number of new gadgets in time for the holiday season this year. Here's what we think of them.
All-in-One PCs – ET2702 & ET 2301
Among the Taiwanese firm's sleek all-in-one deskstops, the higher-end ET2702 has the bigger 27-inch screen over the ET2301's 23-incher and boasts a much better resolution at WQHD (2,560 x 1,440 pixels).
The ET2702 also comes with an AMD Radeon HD8890A graphics card so it is not exactly a slow performer when it comes to gaming. Helps too that it is armed with an Intel Core i7 Processor and 16GB of onboard memory.
The ET2301 may have a smaller screen and uses embedded NVIDIA Gefore GT740M graphics card but its ability to fold flat may allows more uses than its bigger sibling.
Both come with 1TB of hard disk space, which may seem a bit paltry for those who love to download videos or shoot high resolution photos with their latest DSLR cameras.
What wins for me are the looks. They both look great as part of any interior design. Used with the Bluetooth keyboard and mouse, wire clutter is dramatically reduced.
The ET2702 costs S$2,949 and the ET2702 goes for S$2,199.
Zenbook UX301 and UX302
For road warriors love thin laptops and powerful performance, Asus' revamped Zenbook UX301 and UX302 will be attractive.
The UX301 sports a sharp WQHD resolution on its 13.3-inch screen, while the UX302 isn't too bad with a Full HD screen onboard.
Both come with backlit keyboards for that futuristic look. The glass cover also provides a feel of luxury, but do note that it is not coated with any anti-smudge film and fingerprints can dampen the sophisticated look.
Prices are not available for Singapore yet.
Fonepad 7
The original Fonepad 7 was launched earlier this year and the latest iteration has improved with two front speakers using Asus' SonicMaster audio technology. That's good news for folks watching videos on their tablets.
And if you want to watch the content on a big screen, the Fonepad 7 also supports the miracast wireless video streaming to send content to the TV.
Otherwise, the tablet is a rather modest affair, as its Fonepad was. It comes with a dual-core 1.6GHz Z2560 Atom processor that won't rival the fastest quad-core CPUs out in more powerful tablets.
The screen resolution is another modest affair at 1,280 x 800 and the 3G connection won't trouble 4G-equipped rivals already out in the market.
The tablet has been out since October 26.
Transformer Book T100
Building on its Android based Transformers tablets, ASUS has also introduced a 10.1-inch version running Windows 8.1. It's very light at 1.07kg and sports a energy-efficient Intel Atom "Bay Trail" Z3740 quad-core 1.33GHz processor and 2GB RAM.
The screen comes in the form of a 1,366 x 768 IPS display and can be detached to become a tablet with a built in 64GB eMMC storage.
The resolution is a bit low with full HD offerings everywhere these days but ASUS has made up for it by offering a free copy of Microsoft Office Home & Student 2013 edition and pricing the T100 at a very affordable S$599.
It is one of the cheapest and lightest full version Windows 8 laptop devices on offer at the moment.