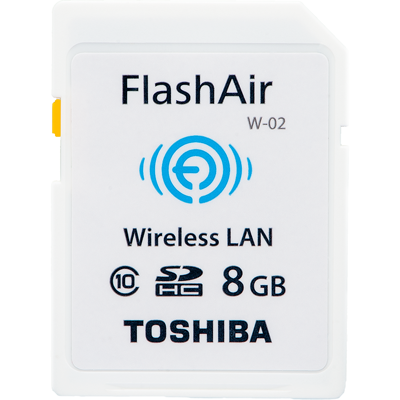 I suffer from Wi-Fi envy whenever I test new cameras that come with built-in Wi-Fi. The increasingly common feature enables users to control their cameras using their smartphones and download pictures from their cameras to the smartphone for quick sharing online.
The Toshiba FlashAir, a Wi-Fi-enabled SD card plugged into your camera's memory card slot, offers some of that functionality. By bringing Wi-Fi to your camera, it enables you to share photos easily online, though it doesn't quite let you control your camera remotely with your smartphone.
Setting up the FlashAir is pretty straight forward. Just insert the card into the camera, switch the camera on and it automatically gets powered up. Once powered up, it's also easily discovered by a smartphone scanning for Wi-Fi signals to tap on.
To link up, all you have to do is key in the default password. After this, just fire up the phone's Web browser to access the card and see the images stored on it.
There's another way – hunt down the FlashAir app from Google Play or Apple App Store and access the images from the app itself. From there, you can download full-sized images in bulk onto your phone or tablet. If you want to share online, you can do so quickly with a reduced file size.
I especially like it that I could use the camera while it is connected to the smartphone or tablet. This means the pictures would automatically be reloaded in thumbnails and appear after every shot I shoot. What the FlashAir lacks though is the ability to show the photos taken in full-screen mode, which would be perfect for studio shoots.
While the picture downloads are not instantaneous, they are speedy enough for quick sharing. From my tests, I would recommend not to do bulk downloads via Wi-Fi. Go instead for a direct upload using a regular SD card reader, which is much faster and wouldn't drain the battery of both the smartphone and the camera as much.
All in, the Toshiba FlashAir works as advertised. It is a great stop-gap measure for cameras that do not have Wi-Fi built in.
Prices start from S$59 for the 8GB version, and S$69 for the 16GB and S$89 for the 32GB ones. They are available at Toshiba Singapore's online store, or at retailers.