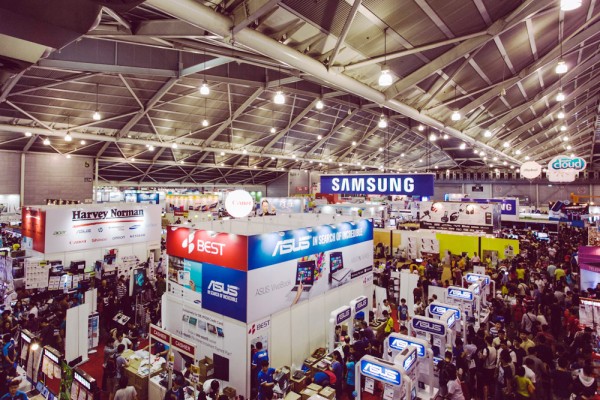 The absence of the Big Three telcos at this year's Comex show may be a sign that Singapore's mega tech fairs are starting to lose their shine.
On the surface, things might not seem that way. Last year, at least 780,000 people visited Comex. They snapped up S$76 million worth of tech gadgets, up from S$74 million in 2012.
While these indicators are still decent, the discounts offered at the shows are no longer as attractive as before. The razor-thin profit margins of tech products could have limited price cuts, forcing retailers to turn to free gifts and "hourly specials" to lure visitors.
To make matters worse, those retailers will face the heat from vendors like Dell and Fujifilm, which are riding on the shows' momentum by extending once exclusive show discounts to online customers.
And with e-retailers such as Newegg reaching our shores, offering promotions all year round, consumers who prefer not to brave the crowds are spoilt for choice.
Yet, tech fair organisers seem to be convinced that our insatiable appetite for technology will fuel the demand for more shows.
Last year, local media giant SPH started two extra shows, the Consumer Electronics Exhibition and SG Tech Show, just right before Sitex and PC Show respectively. And that's in addition to smaller events by megastores like Courts, Harvey Norman and Gain City.
These additional shows may well force more exhibitors to ditch the fairs.
Tech shows generally offered value for money to exhibitors whose investments would guarantee significant exposure to potential buyers.
Timing these shows so close to each other would cannibalise each event's visitor traffic, while stretching the marketing budgets of exhibitors. This becomes a lose-lose proposition for exhibitors which would spend more to reach out to fewer customers over more shows.
As more exhibitors pull out of the shows, the smaller variety of exhibitors would compel tech buyers to skip the shows altogether.
Instead of a large bazaar, perhaps the time has come for tech sales to consolidate into an island-wide, Great Singapore Sale-like event. This would negate the need for multiple shows competing for foot traffic.
Personally, I would much rather see a shift from large-scale bazaars towards trade shows that showcase the latest and greatest in technology.
What's stopping Singapore from having a show like the Consumer Electronics Show, Mobile World Congress or Computex?
Those shows pride themselves as places where technology bigwigs show off sexy gizmos and flagship products. There will be less crowds to manage, and the opportunities for networking will add more value to the local tech scene.
Comex this year incorporated a Tech Showcase, where the likes of Lenovo and Google are showcasing their latest gadgets in Singapore for the first time.
Now, we just have to build the momentum for more companies to do likewise, and we would have one event that would truly draw the crowds.
Do you still shop for gadgets at the mega tech fairs? Why and why not? Let us know in the comments!