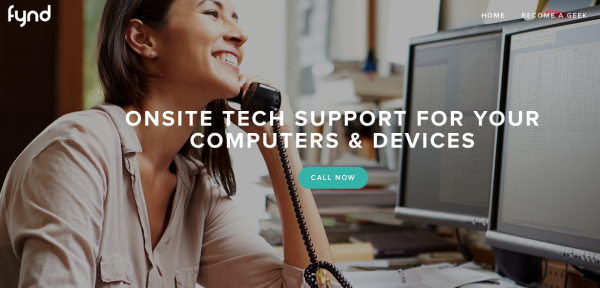 The sharing economy is showing no signs of abating, with anything from cars and apartment rooms to DIY tools and talent being increasingly shared on a myriad of online brokering services that have mushroomed in recent years.
Just as you thought we've exhausted all that can be shared, a month-old Singapore startup called Fynd has conceived a novel idea of bringing together a network of geeks who can offer technical support to businesses and consumers.
Started by three friends with years of experience in enterprise IT, Fynd is a web platform where users can find qualified technical support in their vicinity and those skilled in IT can sign up to take on support jobs.
Co-founder George Kuruvilla, 31, likens Fynd to Uber, which has been credited with disrupting the taxi industry by making it easier for commuters to get a ride by tapping unused cars.
"We thought instead of going to IT service companies or dealing with middlemen, why not disrupt the market by creating an open platform where we can efficiently matchmake those who need IT support with technical people?" he says.
Since its debut last month, Fynd has signed up 50 tech support folks, including students and IT professionals who have gone through a screening process to ascertain their IT credentials.
Kuruvilla says the screening process is critical, as it can make or break the startup's business. After all, individuals and companies will not run the risk of a botched job, or worse, have their personal or corporate information stolen after a data recovery job.
Many of these "geeks" — in Fynd's parlance — hold full-time jobs in the IT industry. The rest are cash-strapped entrepreneurs, former Applecare support employees, students – the youngest has just completed his 'O' Levels examinations – and IT professionals in their 40s who have been displaced from their jobs.
"In an economic downturn, IT staff who have been laid off end up becoming taxi drivers after working hard in their careers," says Albert Tirtohadi, one of Fynd's co-founders. "We provide them with the opportunity to do what they're really good in."
Fynd has fulfilled 15 tech support jobs within a month so far. It charges between S$79 and S$149 for "residential" jobs such as fixing home computers and setting up home networks, and an hourly rate that ranges between S$50 and S$100 for enterprise IT related tasks like fine-tuning the performance of corporate networks. Fynd takes a 20 percent cut of the fees.
Most of Fynd's enterprise jobs come from four IT service provider partners that require additional tech support staff to beef up their capabilities. Kuruvilla says these partners, which he declined to name, include systems integrators that do not have enough resources to take on bigger projects.
The startup, funded entirely by its co-founders, is now seeking investments to grow its business. It plans to expand into the region and recruit more geeks into the Fynd network.
"We intend to grow the number of geeks from 5o to 200 and even 1,000," says Tirtohadi. "When we get there, we'll be able to take on a wider range of jobs, with someone always ready to fix any problem."
The company also plans to automate job allocation and build messaging capabilities to let customers and geeks share more information about a job. This will ensure geeks equip themselves with the right tools and spare parts before they go onsite to fix a problem.
Fynd currently sources for spare parts from PC retailers, but it does not discount the possibility of inking deals with distributors and tech vendors to obtain components in bulk at a lower cost as it grows bigger.
"The cost savings can be passed on customers," Kuruvilla says. "At the end of the day, we're not looking at making money out of the parts."