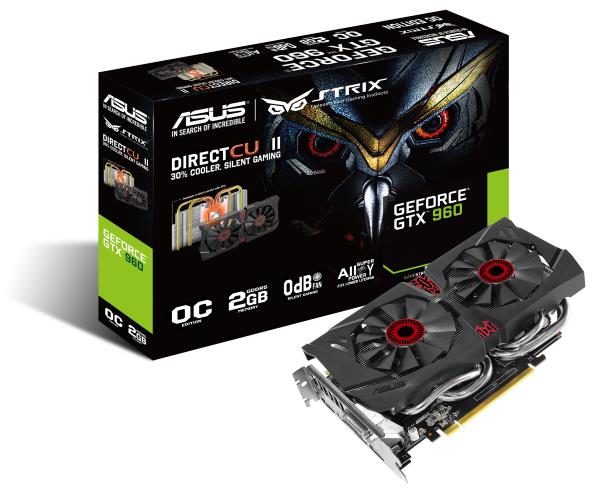 When introduced last September, Nvidia's GTX 970 and GTX 980 graphics cards offered breakthrough PC gaming performance with their new Maxwell architecture, which is much more powerful and power-efficient than the previous generation. The major drawback was that the prices for both cards were also pretty hefty.
The newly-launched GTX 960, however, aims to hit the sweet spot in terms of pricing. It's finally possible for regular Joes who can't or won't splurge on the latest cutting edge card to jump on board the Maxwell bandwagon along with its support for Microsoft's next-generation DirectX 12 graphics API.
One of the early entrants on this front is the Asus Strix GTX 960 (pictured on top), a S$369 card that promises faster performance and more efficient cooling than Nvidia's reference design thanks to several proprietary features.
Fitted with 2GB of high-speed GDDR5 video memory that races along at boosted speeds of up to 7200MHz, the Strix GTX 960 claims to provide 12 per cent faster gameplay in Assassin's Creed Unity and Battlefield 4. It also promises to run the 3DMark 11 (Extreme) benchmark at 1,920 x 1,080 Full HD resolution 6.5 percent faster than reference designs.
To sweeten the deal, ASUS is also throwing in GPU tweak, a software tool that provides the ability to finely control GPU speeds, voltages and video memory clock speeds in real time. Users can also monitor system stats, such as frame rate, CPU load, temperature, and more, while they play.
Will the GTX 960 finally convinced you to upgrade your old PC? Let us know in the comments section below!
—
CORRECTION at 29/01/2015, 11:25am SGT: An earlier version of this article incorrectly stated the retail price of the ASUS Strix GTX 960 as S$360. The correct price should be S$369.