Singtel yesterday unveiled a no-contract mobile plan for users who surf more than they talk on the phone, the first such offering in Singapore as competition intensifies among telecom operators here.
This SIM Only plan lets users mix and match the amount of data and talk time they need, with a low starting price to keep costs down.
For S$20 a month, users get 3GB of mobile data (plus 2GB of Singtel Wi-Fi access) along with free incoming calls and incoming SMSes.
They can then add on a variety of options. For example, S$5 more get users either 1GB of data, 200 minutes of talk time or 1,200 SMSes (see below).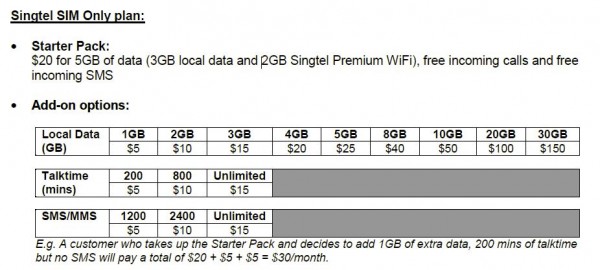 Though customisable plans have been around, Singtel is offering users a considerable amount of mobile data to start with and no requirement to sign up for any talk time or any amount of SMSes, which many do not use as much today.
A budget plan could include 3GB of mobile data (S$20), 200 minutes talk time (S$5) and 1,200 SMSes (S$5) for just S$30 a month.
A similar StarHub SIM-only plan costs more at S$34.32 a month. That comes with 3GB of data, 150 minutes and 1,000 SMSes.
At M1, S$30 a month gets users a slightly better deal – 5GB of data, 300 minutes and 1,000 SMSes – but users have to agree to a 12-month contract.
The Singtel offer does not tie users down, because it is a no-contract deal. At the same time, they can add on more data, talk time or SMSes whenever they wish.
All these deals have one thing in common – they are SIM-only offers. This means users will not get any discounts when buying new mobile phones, but they pay a lower monthly subscription.
That will appeal to a growing group of consumers who prefer cheaper phones, such as those made by Xiaomi or Asus. They also do not want to be tied down to a long contract.
Singtel's new plan, like recent ones from StarHub and M1, is the latest from the country's incumbent telcos as they prepare for the possible entrance of a fourth operator in town.
Among the improved offerings of late are cheaper roaming charges as well as SIM-only plans that bring more flexibility.
This is a shift from last year, when telcos here started charging more for 4G services. Earlier, in 2012, all three had slashed the free mobile data bundle from a generous 12GB to as low as 1GB a month.