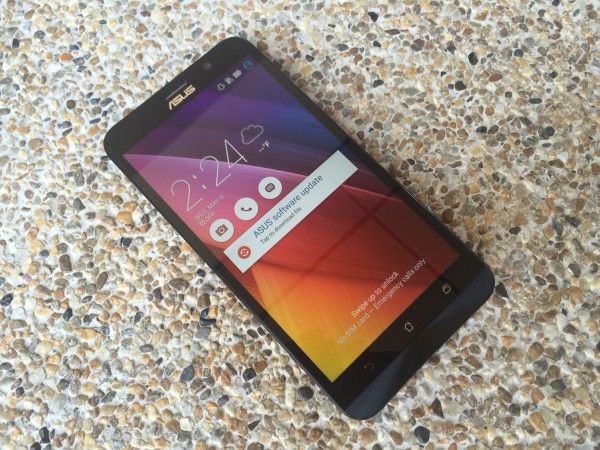 As top-tier smartphone makers jostle one another to win over consumers, mid-market brands are encroaching on their turfs with very decent devices that cost less than half a grand.
Take the Asus Zenfone 2 that comes in five models, for example. The flagship ZE551ML variant comes with 4GB of RAM, 64GB of internal storage and a speedy Intel Atom Z3580 chip, giving more expensive rivals a run for their money.
Design and Screen
The Zenfone 2 measures 152.5 x 77.2 x 10.9mm and weighs 170g. It is not the lightest device around, but it's certainly among the more diminutive smartphones with a 5.5-inch screen that you can get for less than S$500.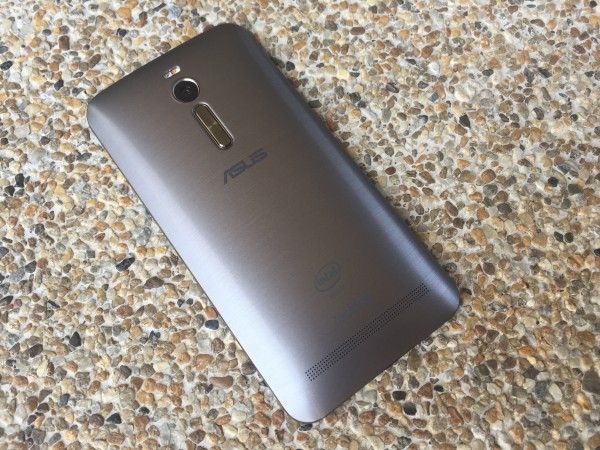 Asus has moved the brushed metal finish that used to occupy the front of the Zenfone to the rear of Zenfone 2. This makes the removable back cover feel durable and classy, hardly like a piece of thin plastic that the likes of Samsung are known for.
The volume buttons are now at the rear of the phone, just beneath the camera where your finger will be when holding the device. The arch on its back is also more dramatic than before, improving its ergonomics and comfort during use.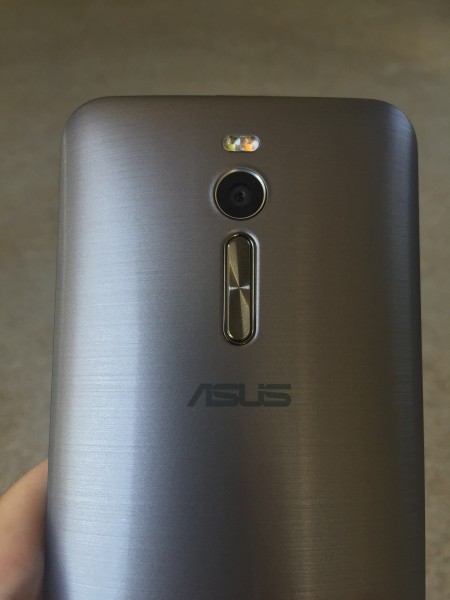 In line with trend of smartphone makers taking a leaf out of their rivals' playbooks, the changes to the curves and button placements are similar to what LG has been trying to do, save for the power button located on the top of the device.
Asus has kept the three capacitive buttons on the bottom front panel of the Zenfone 2. However, the buttons remain unlit and can be difficult to operate in the dark until you are familiar with the device.
The 5.5-inch Full HD (1,080 x 1,920) screen offers a pixel density of 403 pixels per inch (ppi). The decision to not join the pixel density arms race is good news for performance and battery life. After all, the human eye cannot differentiate pixel densities above 320ppi or so.
The Zenfone 2's IPS (in-plane switching) panel has been hardened with Gorilla Glass 3 and offers very good viewing angles, with nearly no colour shift when viewed from the sides.
The screen reflection under the sun is a little distracting — and a fingerprint magnet too — but it remained very bright and clear at all times.
Performance and Battery Life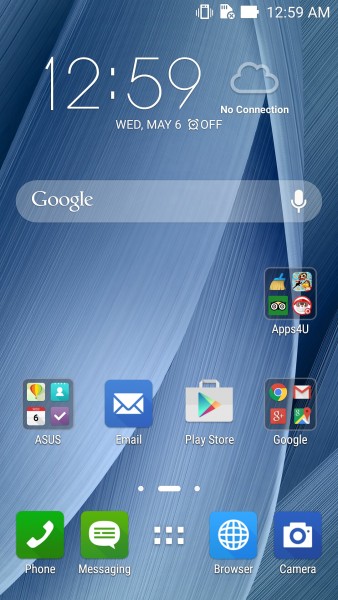 Mobile technology has improved so much that pauses and stuttering while scrolling webpages and navigating user menus are now a thing of the past. The only time you can expect pauses is when an app loads or refreshes its data.
That said, there was the occasional stutter while running Asphalt 8: Airborne. This is likely due to speed-throttling by the quad-core Intel Atom Z3580 chip to prevent overheating, and less so from the device's gargantuan 4GB of memory.
The Zenfone 2's generally speedy performance is helped by the lightweight ZenUI, which has gone even lighter on bloatware than before. This is another trend that most Android makers are adopting, along with additional ergonomic features like glove support and double-tap to wake and lock a device.
Other useful features like Do It Later are retained, while new ones like private mode are good for ocassions when your friend needs to borrow your phone. ZenMotion, which lets you customise gestures like drawing a C to activate the camera while the screen is off, is helpful but gimmicky.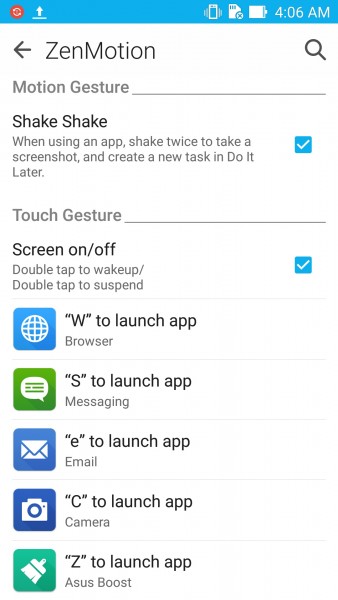 The 3,000mAH non-removable battery will power the phone for a full day of use, that is, if you refrain from heavy gaming or video streaming.
While there's no need to charge the phone by mid-day, I expected a little more from a phablet-sized phone, which generally offers longer battery life as compared with smaller devices.
At least the Zenfone 2's battery power can be bumped up from zero to 60 per cent in 35 minutes, thanks to the phone's BoostMaster Fast Charging technology.
But like every other quick-charging option in the market, the charging process slows down after the battery crosses the 80% power mark.
Camera
The Zenfone 2's camera hardware and its accompanying PixelMaster software has been enhanced to bolster its imaging capabilities.
The front camera is a five-megapixel wide-angle lens with f/2.0 aperture. On the phone's rear is a 13-megapixel five-element lens, also with f/2.0 aperture.
The wider aperture lets in more light, which is good for low-light shots — a traditional Achilles heel of mobile imaging. During the Zenfone 2's launch a few weeks ago, Asus took pains to demonstrate the capabilities of its Low Light Mode.
As mentioned in the hands-on, the eventual shots turned out much brighter than that of competing devices. However, the wide aperture also magnified the limitations of the phone's image sensor, which was unable to capture finer details. The result: blotchy images when viewed at full resolution.
I have provided a side-by-side comparison of two sets of images taken in a shaded room. The first shot was taken with the Zenfone 2 and the second with an iPhone 6 Plus.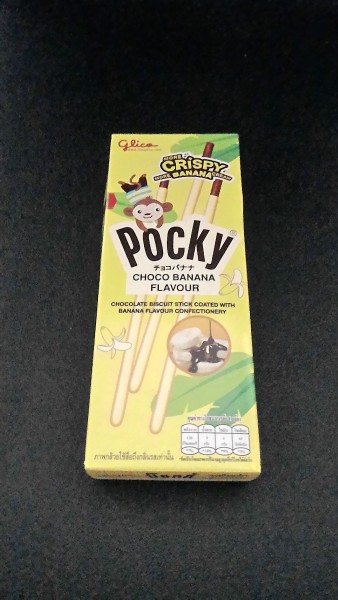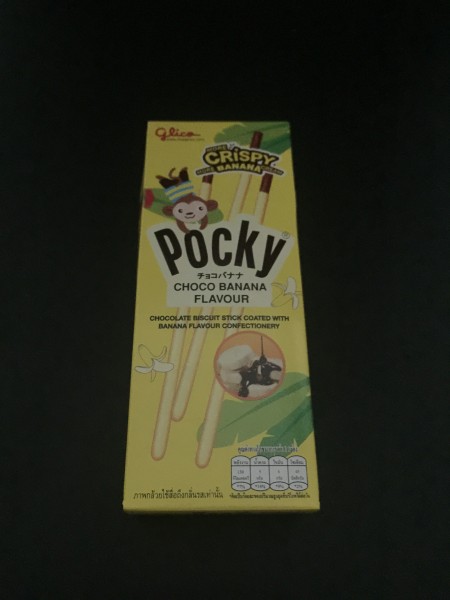 Both phones struggled to capture details without sufficient light and the end results are rather grainy. The iPhone 6 Plus took a darker image while the Zenfone 2 dialled up the brightness, amplifying the lack of detail.
You will likely require some support to keep your hands steady as well, given the long exposure time needed for the shot to be taken.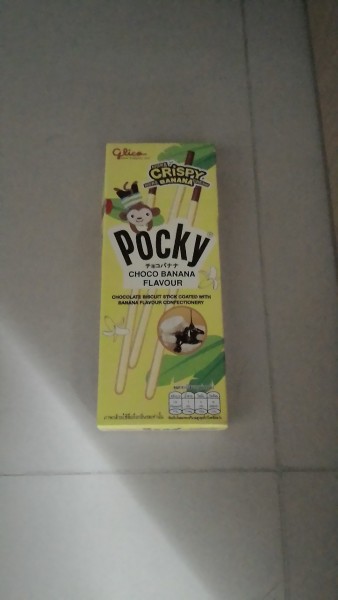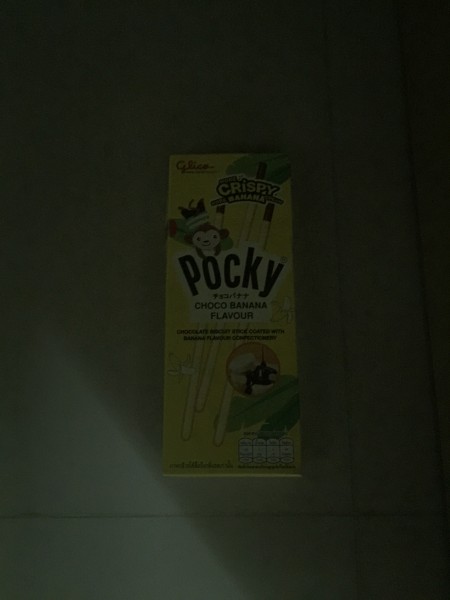 Personally I consider neither of these images to be of excellent quality, but if I were in a fix I would go with the Zenfone 2's, so props to Asus for that.
Next up is the Super HDR mode, which brightens shots captured with a bright background. Its effect is pretty amazing if there is sufficient sunlight.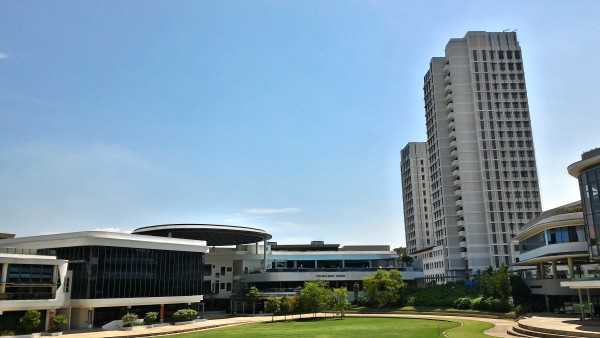 The front camera is also equipped with a panorama function for taking group selfies. It even comes with a beautification mode. Both features work as advertised.
Finally, general daytime performance is good, not the best in class led by the Samsung Galaxy S6 and Apple iPhone 6 Plus, but definitely more than acceptable in most scenarios. Indoor shots in darker environments were less spectacular, but still pretty acceptable.
Conclusion
The Asus Zenfone 2 packs performance and aesthetics not typically found in a phone with an asking price of S$429. It may not excel in any area (except for low light photography), but with all its features put together, the Zenfone 2 is a compelling option for those looking for a good deal.