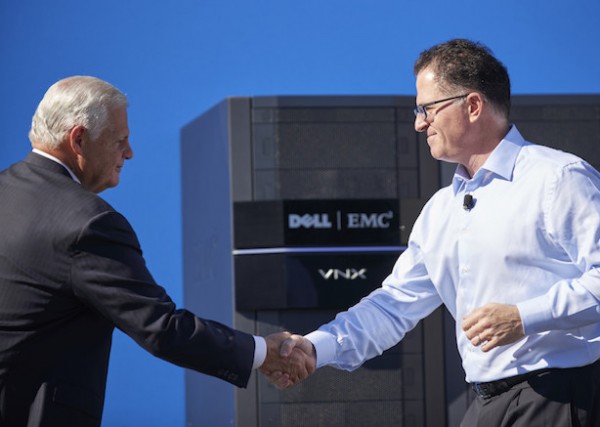 Dell's US$67 billion planned buyout of storage giant EMC will create one of the world's largest enterprise tech firms, but customers from both camps have differing views on how the mega deal will work out for them, at least according to a recent survey by 451 Research.
The research company had polled 447 enterprise IT decision-makers, and found that over 40 per cent of EMC-only customers (those that currently don't buy products from Dell, but do buy from EMC) have a negative impression of the acquisition, compared to just 15 per cent of Dell customers.
Specifically, 42 per cent of EMC-only customers believe the combined company is not aligned with the goals of their organisations, and 13 per cent report they will spend less than previously planned with EMC, or more than twice the rate of Dell customers.
And with 43 per cent of EMC-only customers viewing Dell as primarily as a PC supplier, there will be plenty of work ahead for Dell to convince EMC's existing customer base that it has real enterprise chops and will do the right things with its product portfolio, 451 Research said.
"Dell will need to pay careful attention to account management practices as the two companies merge, and be sure to take time to educate today's EMC-only customers about the breadth of its enterprise capabilities," it said. "This will involve coordination across marketing, direct sales and channel partners, which is not an insignificant task".
Not surprisingly, Dell customers viewed the acquisition in a more positive light, as most are comfortable with buying a variety of products from PCs to servers from a single vendor, and will likely gain more from the acquisition than storage-centric EMC customers or virtualisation-centric VMware clients.
"Dell customers believe they will benefit from access to a much larger portfolio of technologies across storage, information security, IT services, servers and PCs from a single vendor," the research company said. "This lends itself well to current IT buying patterns, which favour converged and integrated offerings from a smaller number of vendors".
Indeed, if the acquisition goes through – Dell is now seeking debt financing for the deal – the combined company will become a one-stop shop for all things enterprise IT at a time when rival HP has split into two separate businesses.
"We are tremendously excited about this combination," said Dell founder and chief executive Michael Dell at Dell World today. "It gives us a world-leading company in four significant areas of IT today – servers, storage, virtualisation and PCs."
"And it gives us an incredible position in the IT of tomorrow – digital transformation, converged infrastructure, the software defined data centre, hybrid cloud, security and mobile. The combination also gives us access to the world's largest companies, as well as an incredible reach into SMBs and emerging markets around the world," he added.
While industry watchers such as Wikibon's David Vellante have urged enterprise customers to embrace the combination, as Dell and EMC have excellent integration track records, they have also called for IT decision makers to demand greater clarity on the company's technology roadmap.
In particular, Vellante advised CIOs to gain clarity on the new Dell EMC services roadmap and understand how this affects SLAs, adding that EMC is known for its great customer service – though it remains unclear how Dell will rationalise EMC Global Services with its Perot services arm.
Ditto for other offerings such as EMC's RSA and Dell's SecureWorks and SonicWall in the security arena, as well as Dell's Mobile Management solution versus VMware's AirWatch.
Then, there's the big question of how Dell's acquisition of EMC will affect its relationship with hyperconvergence partners like Nutanix, since VMware touts the competing Evo Rail hyperconverged infrastructure appliance.
Dell is expected to unveil more details on its business and technology strategy for the combined company during Dell World this week, in what Michael Dell calls "version 1.0 of the unifying theory of the universe".
"We'll have version 2.0 when the transaction closes," he said. "But we have spent some time thinking about how we can deliver tremendous benefits to our customers, what it all means and how incredibly well-positioned the new combined company will be."