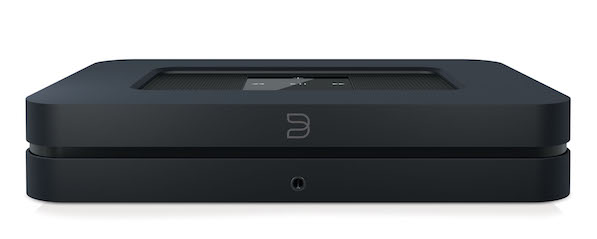 The original Bluesound Node was a nifty piece of audio gear for streaming high-resolution music from a network drive or hard disk to a stereo system.
While we were wowed by its ease of use and decent sound quality when we tested it last year, there were couple of things that we thought could be better.
For one, it's nearly impossible to fit the boxy Node into a standard TV console or hi-fi rack. The device takes also a while to index songs in a large library.
Plus, those who wish to stream songs from a mobile device to the Node would need a separate Bluetooth adapter.
The folks at Bluesound have addressed those bugbears with a slimmer Node 2, which has the footprint and height of a regular set-top box and sports a faster Arm Cortex A9 1GHz processor.
The Node 2 also makes it easier – and faster – to skip tracks and adjust volumes through a touch control panel that rests on a recessed mesh grill at the top. With the Node, you had to rely solely on the Bluesound app for those controls.
While there's something geeky about the mesh grill that lets you peek inside the Node 2, watch out for dust getting into the device if you plan to leave it in the open.
The Node 2, which supports a wide range of audio formats like FLAC and WAV, is more endowed than the Node in terms of connectivity options.
Bluetooth aptX is now built in, along with a front headphone jack for hooking up a pair of cans. It also supports 802.11n, and a new Wi-Fi chipset for more stable connections.
Other additions include a new coaxial digital output connector, a subwoofer output to boost the lows and a combo Toslink/3.5mm audio input.

Like the original Node, setting up the Node 2 was easy peasy. After connecting to the Node 2's access point and registering the device on my Wi-Fi network, I was ready to start indexing music files on my network drive with the Bluesound app. Indexing and skipping tracks seemed a tad faster than before.
How does the Node 2 fare, beyond design, connectivity and the speed boost? We were told that the Node 2 sports the same DAC as the original Node – and indeed, the Node 2 retains the sonic character of its predecessor.
On a pair of vintage Polk Audio LS70 floor standing speakers, vocals on the Node 2 sounded warm and detailed. Specifically, in Michael Ruff's That's Not Me, you can hear the distinct bass line that's not overpowering, but it's definitely there.
In a recording by the Moscow Philharmonic Orchestra, the orchestra is driven fiercely. The strings also do a phenomenal job – attacks are crisp and the tone is never too coarse.
And finally in my all-time favourite test track, O-daiko by Yoshikazu Fujimoto, big Japanese drums sounded solid and clean with a crisp impact, while not overshadowing the calls made by drummers during the performance.
For S$799, the Node 2 is a worthwhile investment, but more importantly it's from a company which produces one of the most neutral-sounding audio gear that play well with other brands.
Owners of the original Node, however, should hold on to their devices until Bluesound launches a successor with a higher-end DAC.