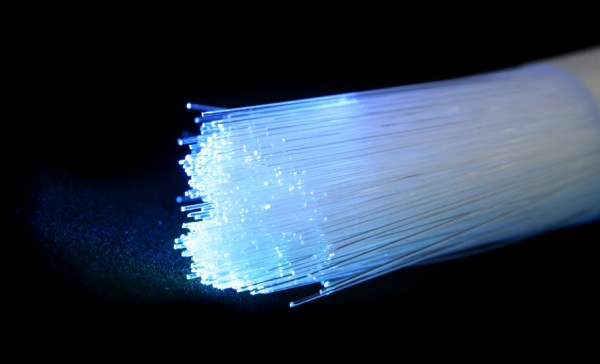 If you think 1Gbps or 2Gbps isn't enough bandwidth for you, then Singtel has a blazing fast 10Gbps fibre broadband service that will basically let you set up a server farm at home – or just to watch Netflix.
The new service, unveiled today, promises to be five to 10 times faster than the fastest offerings already out today for Singapore homes. The cost – S$189 a month for those crazy enough to want it.
As part of the deal, you'd get a 10G optical network router, a wireless dual-band AC router, free installation and a complimentary Wi-Fi Mesh setup for wireless devices around the house.
What do you do with all that bandwidth? With 10Gbps, you could be having more bandwidth than an entire office floor or even a factory building.
Possibly, you could share files with friends who have computers just as fast. According to Singtel, a two-hour Full HD movie can be downloaded within 90 seconds. And a 4K movie of the same length? Just six minutes.
More likely for now, you'll be setting up this 10GPON technology so you can brag to just about anyone that you've got the fastest broadband around.
The difficult thing about extreme bandwidth is that you'll face many hurdles getting 10Gbps in everyday use (see our explanation for why you're not getting a full 1Gbps).
Singtel has cleverly removed one of them by bundling a 10G wired router that comes with a port configured for 10Gbps. You can connect this directly to one PC with an (expensive) 10 Gigabit Ethernet card and get the full 10Gbps.
Or more likely, you're going to share this 10Gbps at home. According to Singtel, the main port scales down to as low as 6Gbps if you max out the other four 1Gbps ports. In other words, you get 6/1/1/1/1 on all five ports to get a full 10Gbps.
If you use fewer wired ports, you get, say, 8/1/1 for three connections. What if you have two full-fledged PCs rocking 10Gbps network cards? Too bad, one of them would only get a max of 1Gbps (unless you buy a separate 10Gbps switch to share).
The same applies if you wish to hook up wireless devices. One 1Gbps port from the wired router will connect to the included wireless router to provide Wi-Fi coverage, so this config becomes 9/1. That's 9Gbps wired and 1Gbps for the Wi-Fi portion of the network.
Confused yet? Not if you're a hardcore geek who's nuts about this latest broadband technology to reach homes here.
You'll also probably know that you'd need fast solid state drives (SSDs) instead of hard disks in your computers to make full use of the bandwidth. Plus, don't forget the necessary Cat6/Cat6a cables to hook up – the Cat5e common in many apartments today may not be enough to do the job.
Has Singtel just rolled out a 10Gbps service to show off? Well, that's what many people thought of 1Gbps plans just a few years ago, when they first came out.
To be fair, the jump to anything above 1Gbps demands many more changes, especially in hardware and cabling, so it will take time for costs to come down and equipment to be adopted at home.
Still, it's hard to complain when there's more bandwidth, isn't it? Not too long ago, people were upset with slow 10Mbps ADSL (asymmetrical digital subscriber line) services. That's 1,000 times slower.