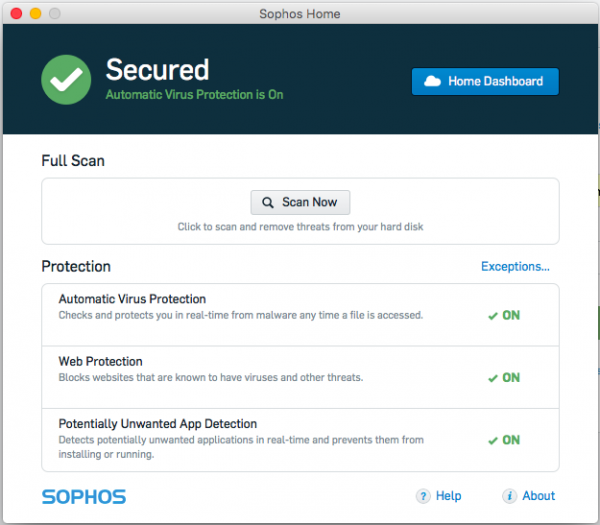 Free Internet security suites incorporating real-time antivirus and anti-malware protection are dime a dozen these days. You're probably familiar with the Windows Defender offering by Microsoft, pre-installed on all machines running Windows 8 and above by default.
Sophos Home is thus joining a crowded market place, which they intend to use to strengthen its brand awareness for its paid corporate products. But, is their offering so good that you should use it in place of what is already available?
Before we begin, note that I am evaluating this copy of Sophos Home on a mid-2013 MacBook Air running Mac OS X El Capitan 10.11.4.
Your performance mileage may vary on a Windows machine, but the features covered in this review should not differ significantly between the Mac and Windows variants of the software.
Installation, Features and Resource Usage
Installation was straightforward enough. Potential users should get the latest (and malware-free) copy of Sophos Home from their website. After creating an account, you will be brought to its dashboard, which allows you to monitor all installed copies of the software across all devices.
The management functions found in the online dashboard offered by Sophos Home are not commonly seen in consumer anti-malware programs. At a glance, you can see all active alerts, threats neutralised, and when each installed copy last received an update.
You can also toggle on and off the three main features on any of the device(s) linked to the account. They include its automatic virus protection, potentially unwanted app detection, and Web protection.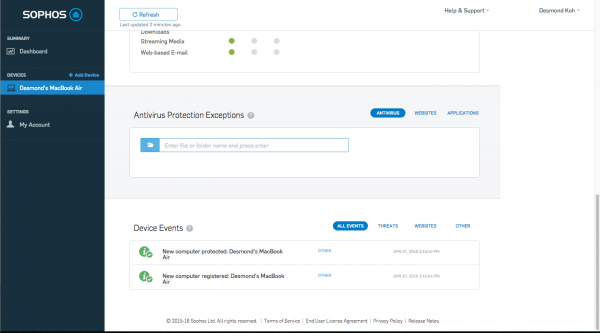 Sophos Home has a clean interface that is is very light (too light, even) and straightforward to use. It allows you to turn off any of the three protection engines described above, and offers an option to commence a scan.
All other settings are accessed from the dashboard. They allow you to set exceptions for programs and websites when its engine should not be running.
It also includes a parental filter restricts access to categories of pages suspected to host questionable content, such as those with adult material.
The option-light design is ideal for those who do not enjoy tinkering with the system, but surely options like scheduled scanning, and a quarantine function to prevent suspicious files from harming the system would not be too much to ask for.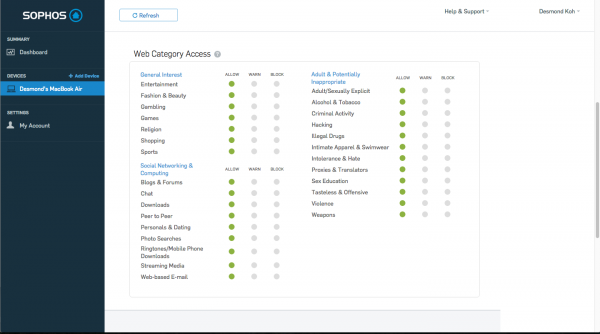 Sophos Home runs quietly in the background, scanning for threats in real-time with no noticeable performance impact on my system. Still, it used about 240MB of available memory on my system while idling.
I cannot confirm whether this phenomenon was specific to my machine, OS X installations or the software in general, since I have just a single computer at my disposal during the period of my tests.
The memory usage may sound heavy, but a quick search on the Net revealed few users experienced slowdowns even if the numbers seemed high. This is an observation I would agree with.
PCMark tests conducted by AV-comparatives.org revealed a system with Sophos Home running in the background would perform at 99.1 per cent of the efficiency of one without any antivirus solution installed.
This is similar to a computer running McAfee, but worse than its competitors Avast that scored 99.3, and AVG that scored 99.8 per cent.
With these inconclusive observations, you may want to try if Sophos Home has an adverse impact on system performance before committing to using it on a system with 2GB of RAM, or less, installed.
Protection Performance and Efficacy
Sophos Home took nearly two hours to run an on-demand full system scan on my half-filled 256GB solid state drive. Another quick search online taught me this could have been faster if I was given an option to exclude scans of archived folders, which slowed down the engine.
This is an option that is, again, unavailable to Sophos Home. You will need their corporate offering, Sophos Endpoint Protection, for that.
I took a look at the results of efficacy tests conducted by AV-Test Institute in February 2016. Sophos Home received 6 out of 6 for protection against widespread and newly-released malware, detecting 100 per cent of the former and 97.8 per cent of the latter.
It also received 5.5 out of 6 points for usability, mainly because of the four false positives it had flagged in normal usage of the software.
AVG scored a 6 across both categories, stopping 98.1 and 99.9 per cent of new and widespread malware threats. In comparison, Avast achieved a 5 for protection, stopping only 98 per cent of newly-released malware and 99.3 per cent of widespread malware discovered over the past month.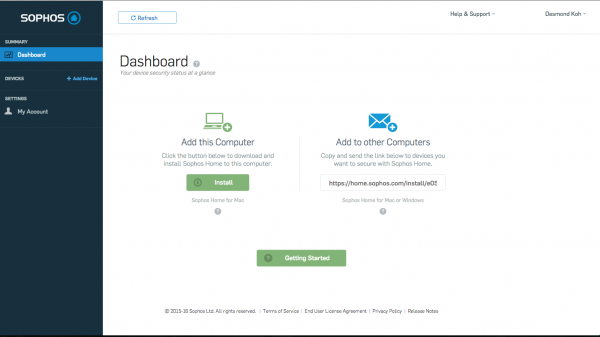 Looking at the test conducted by AV-comparatives.org in March 2016 on 163,763 malware samples painted a different picture. It gave Sophos a 97.6% detection rate, putting it in the ninth and last place in a test of 20 anti-malware suites.
AVG was number six with a 98.8 per cent detection rate, and Avast came fourth with 99.4 per cent.
It did not fare better in the real-world protection test, that included a set of 449 live links containing URLs pointing to malware downloads, and exploits that would quietly and automatically install themselves on the machine.
Sophos Home detected just slightly more than 95 per cent of the links, with two false positives and the remaining going undetected.
This is just slightly better than results by McAfee at 95 per cent. Avast scored a 98 per cent while AVG was able to stop more than 99 per cent of all instances of threats in its tests.
Such protection suites, at the end of the day, are only as effective as the threats that they manages to stop. Your mileage would again vary depending on the exact threat you encounter. Even labs dedicated to testing these products were unable to agree with each other on this.
Conclusion
Trying to reach a conclusion on this review is a difficult one, given how disparate the results in terms of efficacy and resource use were.
Nevertheless, users should appreciate Sophos' light interface and cloud management system, which, in my experience, did not slow the system down and was a joy to use.
It was also not any less effective than other paid products like McAfee. Depending on which set of tests you trust, it can be better than its competitors at stopping threats.
The very light interface may be your cup of tea if you like things that way, but others might see it as lacking in bells and whistles offered by other competitors.
Having said that, Sophos does have a unique selling point. If you see value in a cloud-based dashboard that allows for centralised control over multiple systems, Sophos Home is a useful and free option.
This might thus be an ideal choice for your child's PC, given the free parental filter, or for an aged relative who would not know how to update the software and run scans on his or her own.