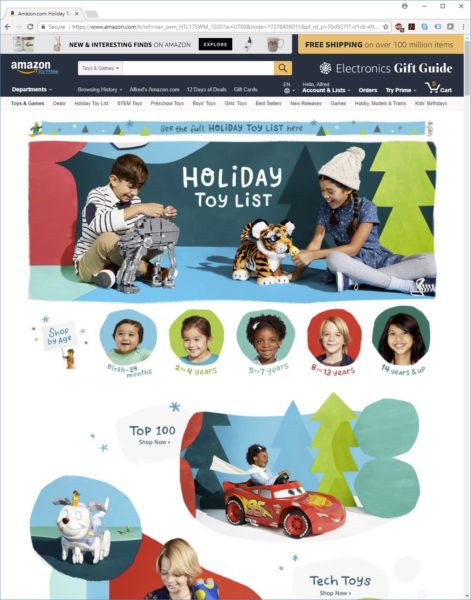 It isn't often that Singapore's savvy shoppers react to the launch of a new online commerce service with unhappiness. That's just happened with Amazon's new Prime service out this morning for the country.
A mixture of confusion and frustration has greeted the new offering from the online giant, which first started delivering locally in July with its Prime Now service.
Wait, Prime and Prime Now? What's the difference?
Prime Now is the company's ultra-fast two-hour shipping service. It used to be available to anyone here who signed up, but now you have to be a Prime member to enjoy the fast delivery (free for orders over S$40).
Essentially, Amazon is asking you to pay up for the Amazon Prime subscription. This costs S$8.99 a month though it is going for S$2.99 for now. Amazon hasn't said how long this offer would last.
This Prime subscription also gives you access to the company's video streaming service as well as the Twitch gaming video channels.
Another thing you get as a new Prime member for Singapore is free shipping for international orders of more than S$60 on the United States store. Stuff gets shipped to you within seven to nine days, according to Amazon's PR folks when we called them.
This is an upgrade over the eight to 16 days that Singapore shoppers used to enjoy for free shipping for certain international orders. You also had to spend US$125 (S$168) then to get the free shipping, but you didn't need a Prime membership.
Half empty or half full? It depends on whether you shop regularly on Amazon.
The bigger problem, however, is the segregation of US and Singapore accounts. This is highly confusing, especially to long-time Amazon shoppers and many of those in Singapore have had accounts since the days of buying DVDs online.
If you have signed up for Prime membership on the US store previously, you cannot transfer that membership to the Singapore one.
So, if you want to enjoy the benefits of the local service, you have to sign up a new Singapore-based account, according to Amazon.
If this isn't confusing enough, Amazon hasn't actually launched a full Singapore store yet. If you have a Singapore Prime account, you still have to order things on the Prime Now mobile app, instead of a Web-based version.
That's fine if you place small orders, but if you want to shop extensively, scrolling through list after list of items on the small screen can be tiring.
Many Singapore shoppers saw the Prime Now service as a "test launch", so that was bearable. But to collect subscriptions for a Prime service without a full-service store? It's much tougher to accept.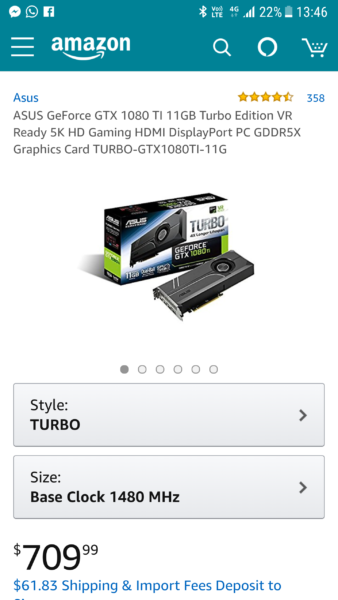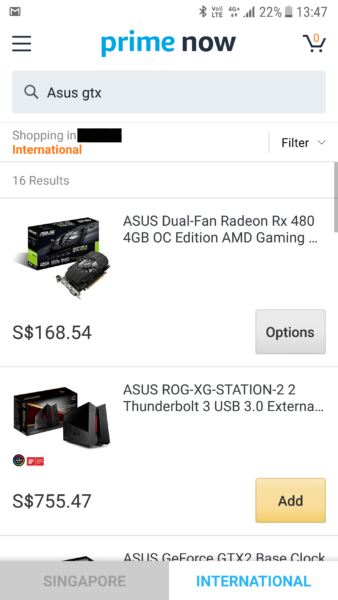 It also doesn't help that the products on sale on the US store (via the regular Amazon Shopping app) and those on sale on the International store on the Singapore Amazon Prime app aren't the same.
So, there may be a graphics card that the regular Amazon US app can ship to Singapore (see left screenshot above), but it will cost you shipping because the old free-shipping offer is gone.
And if you want to buy that with the free shipping offer on your Singapore Amazon Prime subscription, you can't either. The item may not be listed on the Amazon Prime Now app for folks here (see screenshot on the right).
If you are confused by now, don't blame yourself. It's clear that Amazon hasn't executed its launch here well enough.
Singapore shoppers can be forgiving towards an initial launch to test out the market. But if Amazon wants to ask for a subscription, even if it's a cheap S$2.99 a month for now, it should have a proper store in place.
The American online giant should be careful of losing the goodwill it has built up over the years. In alienating and confusing customers, it could push them to the Alibaba-funded Lazada and Redmart that are more established here.