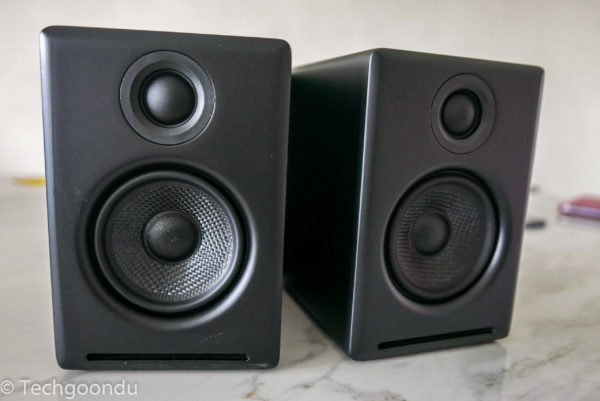 I've always liked Audioengine's compact but solid sounding speakers for the PC, because the American company always took its powered speakers seriously, instead of something to simply amp up the bass.
The latest A2+ Wireless are no exception. Wireless here refers to support for Bluetooth 5.0 streaming from your mobile devices, an addition to the already solid A2+ familiar to PC users who value music quality.
Unboxing the speakers, you get a sense of Audioengine's no-nonsense approach with their simple, practical look and feel.
Yes, there's an option for red, but you wouldn't find any faux leather or even a speaker grill here. Most of the cost for the S$469, you'd imagine, has gone into making great sound instead.
At the back, you find solid binding posts that resemble those on a pair of hi-fi speakers. There's a modest speaker cable to connect the two speakers, but you can buy your own if you want to tweak.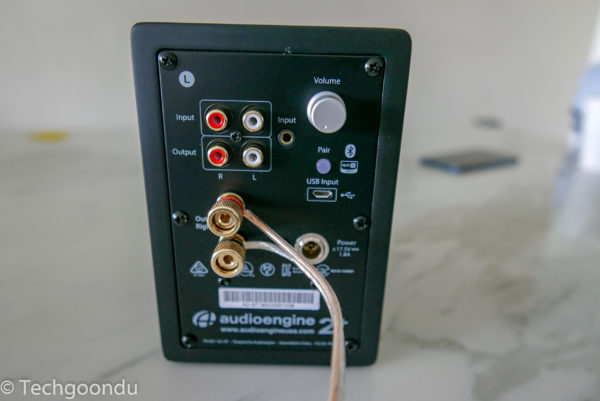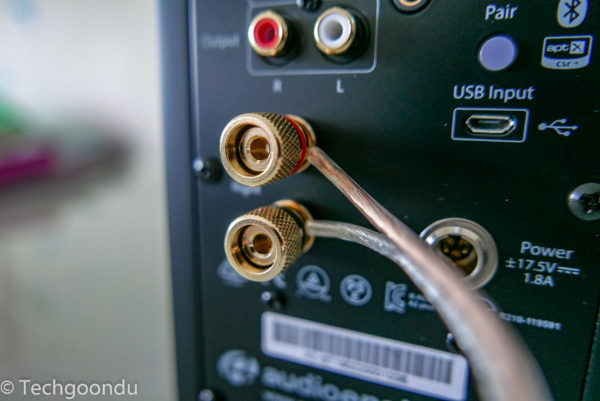 Most important for me is the USB link, which lets me connect to a PC and play tracks directly to the speakers. The A2+ Wireless, in essence, is an all-in-one system with two speakers, an amplifier and a digital-to-analog converter (DAC).
They each do their jobs well so that you are up and running within a few minutes. No cumbersome pairing, setting up Wi-Fi or even setting up a user account – yes, I'm looking at you, Sonos – to get your first track playing.
Even if you want to hook up via Bluetooth, a simple pairing button at the back of the left speaker lets you find each other easily and start streaming.
I would stick to a cabled connection if I'm sitting in front of a PC, of course. This is where the compact size of the A2+ Wireless excels with sound that is musically miles apart from most speakers of their price range or size.
The audio immediately strikes you as open and unencumbered. There is also a clarity that will be obvious if you have been using most other PC speakers powered by lousy amplifiers and using even poorer drivers.
What's impressive as well is the body and fullness of the sound from these little sound boxes. You don't lose much range in the bass when you want the lows to be there. Generally, the separation of the various instruments in a track is also admirable for this class of speakers.
Playing Hall & Oates' Bring Back That Lovin' Feeling on Tidal, you get a sense of the extension that the Audioengine speakers can bring. The high notes are hit well and the low-end, though needing a bit more definition at times, is well within what you'd expect from desktop speakers.
Most people, however, will be listening out for the mid-range for a more realistic assessment, given the budget-friendly price. Here, the A2+ Wireless don't disappoint, either.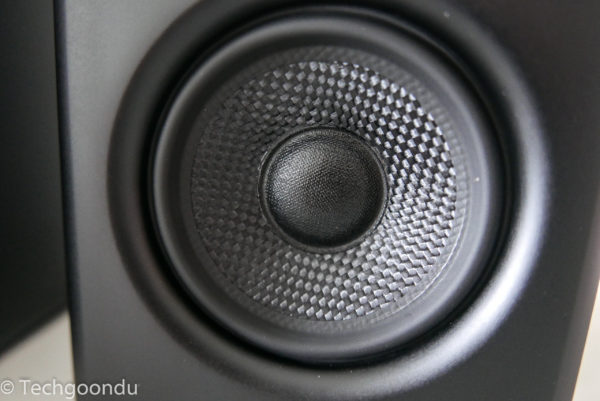 I'd say the speakers are well balanced and more transparent than the average speakers you place on your desk. Musically, they present a much more enjoyable, relaxed and realistic sonic image than you might expect.
This is no doubt helped by the build, starting with the 18mm-thick MDF (medium density fibreboard) cabinets. Okay, I know the speakers seem plastic to touch but they do use wood – even if it's a modest version of it – which helps prevent audio from being easily distorted.
The 3/4-inch silk dome tweeters also do a decent job with the highs, while the lows are handled well by 2.75-inch aramid fibre woofers.
Surprisingly, Audioengine has managed to squeeze in a Class AB monolithic amplifier pushing out 15 watts per channel. Together, the components produce an impressive presentation for various musical genres, from jazz to metal.
Of course, if you're seeking to hear precise instruments in a complex orchestra piece, you might be disappointed. Then again, you are more likely to be playing Camila Cabello's Havana on these speakers than a classical performance from the Cuban orchestra.
I'm testing the A2+ Wireless after using my regular setup, which involves Definitive Technology speakers driven by a Denon surround receiver, so clearly the test system is a step down in terms of audio quality.
Even then, if I'm just setting up a new PC, I would happily have the A2+ Wireless playing, seeing that it's a fraction of the cost and a much simpler setup.
What about movies and games? Well, the speakers certainly don't lack depth here, either. I tried playing the latest Transformers movie on Netflix and the action was complemented well by the speakers.
You could hear the dialogue above the usual din of a Michael Bay flick and the explosions are well defined, instead of becoming a messy blowout.
What I am not so sure of is the wireless portion. Yes, the speakers are easy to pair with but more often than not, you lose something in Bluetooth.
Audioengine supports various standards here – aptX low latency, aptX, AAC and SBC – but the audio somehow sounds a little more compressed and less open than with a regular USB connection.
You might disagree, of course, since it's debatable whether everyone can hear the difference after the supposedly less important parts of a track are removed – thus compressed – for smooth wireless delivery.
Does that mean you should just go for the cheaper S$399 A2+, without the wireless? I'd say yes, unless you are really sure you want the added wireless connection every once in a while.
Would I use the A2+ or A2+ Wireless as speakers in a living room? They might do a passable job, but I believe they are a little too small to fill a room with decent audio. That's unless you're only looking for soft, background music.
All said, the A2+ Wireless are a pair of impressive PC speakers. Long before powered speakers became a thing again, Audioengine was already making great-sounding options for PC users. Its latest pair are well worth checking out if you value your music at the desk.