Everyone is coming up with their own wireless earbuds these days, so why not Huawei with its FreeBuds Pro, which promise not just the convenience without wires but also noise cancelling on the move?
The FreeBuds Pro certainly don't lose out on their audio quality, but Huawei's inexperience in this new field shows in other areas, such as usability and design.
First off, the shiny finish feels a little tacky and plasticky. It also attracts fingerprints, something you won't hear about earbuds from, say, Sony or Sennheiser.
To me, Huawei might do better with matt finishing. That said, I may not be part of the fashionista crowd who may like the FreeBuds Pro's shiny look to complement their outfits.
Still on design, a large microphone or handle of sorts extends from the circular buds that fit into your ears. Again, this feels a little large but then again, Apple AirPods have a similar design and its fans love their earbuds.
What I like about the Huawei earbuds are the light weight and snug fit that they provide. Each earbud weights just 6.1 grams, and you forget you're wearing them once you push them into your ears.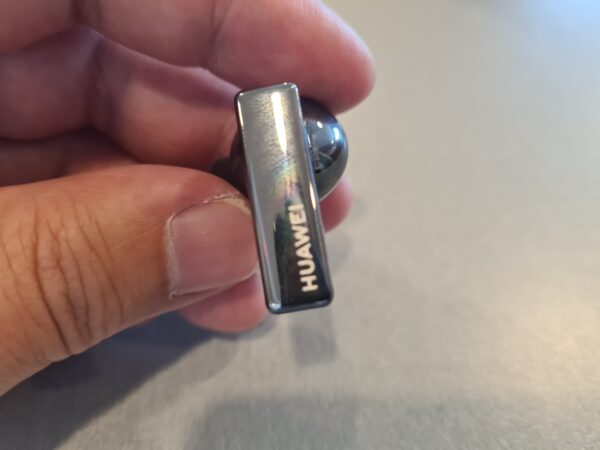 However, as first impressions go, these earbuds can be both impressive and frustrating. For example, to pair with your phone via Bluetooth, you have to press a button on the charging case.
Other earbuds come ready for pairing the moment you take them out of the case. Not a deal breaker, to be fair, but again, a little awkward when it comes to introductions.
For me, the biggest selling point of these earbuds is their audio quality. There is an airiness and scale that the small gizmos manage to squeeze out, despite the constraints of size.
I played Cat Powers' I've Been Loving You Too Long on Tidal on my Samsung Galaxy S20+, and there is a clear "live" quality about the performance, while retaining an easy, cosy air.
More importantly, there is no worry about the sound being trapped in your ears. It's easy to imagine a soundstage in front of you, instead of suffering from a closed-in effect.
I also like that the earbuds deliver a good bit of detail in some tracks. Train Song, a duet between Feist and Ben Gibbard, is delivered with vocals that are clear and distinct.
You can say the same for Elephant, a track by Damien Rice. In a busy part of the song, you can hear both the male and female vocals, amid other instruments, which demonstrates a good separation of the various audio sources in a track.
I also like Tori Amos' Circle of Seasons, which again shows good separation for her unique vocals, piano and percussion. You do hear some weight on the percussion but what may be lacking is a bit of control of the bass.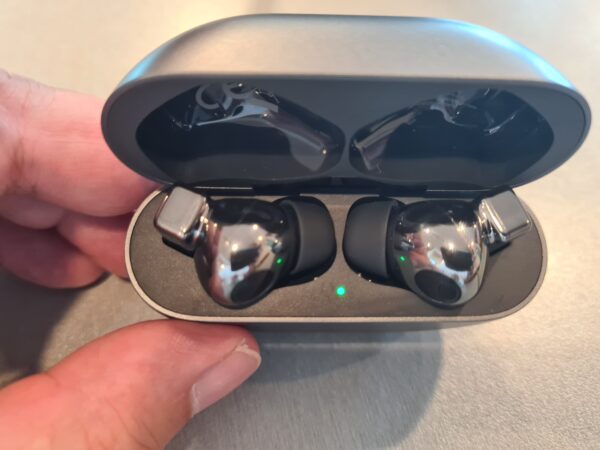 The low end is an obvious issue for me. In some tracks, the bass feels a bit lightweight. For example, in an Elvis Costello and Iggy Pop track called No Flag, the bass seems to lack a bit of weight and extension. And I'm no bass fan.
I also played the Tenet movie soundtrack, which has many sections where the bass dominates. Here, the earbuds often struggle to present the scale that the soundtrack tries to create to match the movie's visuals.
Paradoxically, at times, the bass can be a bit overwhelming, as well. This is mostly down to a lack of control, such as when you play a track like The Plan, also from the Tenet soundtrack.
Here, the low-end notes can be a bit loose. Plus, with the soundtrack's many sudden peaks and troughs, the earbuds sometimes has trouble reacting fast enough. It lacks a bit of dynamism here.
I'm nitpicking, of course. I believe the 11mm drivers in the earbuds are great for vocals and less "complex" tracks. You don't really listen intently all the time, so the Huawei earbuds are fine for casual listening.
You may also want to factor in a regular commute, which often involves noisy train cabins or people talking loudly, so hi-fi audio quality isn't always the topmost concern for every potential buyer.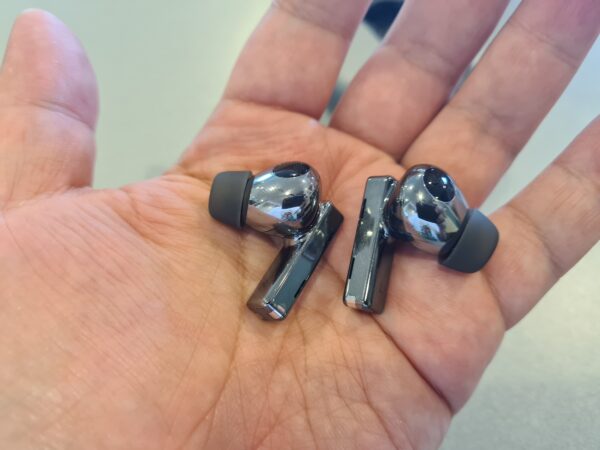 Speaking of noise, yes, the FreeBuds Pro earbuds comes with noise cancelling. It's a handy feature to keep out ambient sounds such as chatter or fans in the background.
The Huawei earbuds certainly keeps out the noise from my room's air conditioning, which gets quite noisy when the fan spins up.
I can't say if they are better than rivals from Sony or Sennheiser because I don't have the units side by side, but it's clear the FreeBuds Pro do a good job of keeping out background audio.
What Huawei will want to improve on is the usability of the earbuds. The touch controls, in particular, are rather counter-intuitive.
The sensor is on a side of the ear buds that you don't expect to be tapping on, for instance.
Plus, for some reason, to control playback, I have to "squeeze" or hold the extended part of the earbuds with two fingers, instead of simply tapping on the largest surface. Rather unusual, to be honest.
Interestingly, Huawei says its earbuds will last longer with its phones running its EMUI 11 software. Otherwise, the 55mAh of power on each earbud will only give you four hours with active noise cancelling (ANC) turned on and seven hours without.
That's slightly less than what Sony offers on the WF-1000XM3, which promises six hours with ANC and eight hours without.
The S$238 Huawei FreeBuds Pro are well-priced and easy to like but rough edges detract from the above-average audio quality and comfortable fit. A bit more polish and these earbuds will improve significantly.