E3 (Electronic Entertainment Expo) returned in 2021 from 12-15 June 2021 after a year when the world stood still and all events were cancelled, but in a pandemic-friendly format.
This time, E3 2021 is an all-digital, virtual event with full day streaming shows and virtual booths featuring the latest and greatest in gaming news. The event has lost some of its lustre compared to previous years where the who's who of gaming will make their presence felt during E3.
A couple of big names that are notably missing from E32021's lineup are Sony PlayStation and Electronic Arts (EA). No surprise for Sony since it has not been participating in E3 since 2019.
Sony has been running their own State of Play virtual events every few months, where they reveal upcoming titles for the PlayStation. EA, which had traditionally ran an event alongside E3, will instead be having its own EA Play Live event a month later in July. So as savvy gamers, we will take a look at announcements beyond E3 2021 as well.
Some good news for Xbox Game Pass subscribers: out of the 30 games shown during the Xbox & Bethesda Games Showcase, 27 will be available on Xbox Game Pass on Day One of release, and many are Windows PC and Xbox exclusives. This is unsurprising since Microsoft acquired Bethesda Softworks in September last year.
For gamers, this makes the Xbox Game Pass seem like a pretty good deal. Since new games are most expensive when newly launched and it takes a while before they are on discount, it's great to be able to play them as part of a S$14.99-per-month subscription on Day One.
Of course, you can't keep the game but if you are patient enough to wait for a sale, plus a discount as part of the perks of being a subscriber, it can be a good investment. 
Also, good news for gamers who are playing on the Xbox One as Xbox stated that it will continue to support Xbox One through Cloud Gaming. So even if you didn't upgrade your console, new titles will still be available to you, although there will need to be some compromise in the graphical quality and speed due to hardware limitations.
Hardware
Although there aren't many gaming hardware related announcements this year — obviously since some of us are still having issues getting our hands on an Xbox Series X|S or a PlayStation 5, there is one new product from Microsoft that is pretty "cool".
No, it's not a new console variant but…an Xbox mini fridge! For those who had compared the Xbox Series X to a refrigerator, it's not so funny now that there's really a mini fridge that looks just like an Xbox Series X! The price isn't announced but considering it's from Microsoft, it probably doesn't come cheap, but it will definitely serve as an interesting conversation piece.  
While we were hoping to hear news about a Nintendo Switch Pro, Nintendo instead revealed new hardware in the form of a retro Game & Watch: The Legend of Zelda.
Celebrating 35 years of Zelda, it will be available 12 November, 2021 at USD 49.99 (SGD 67.20) . It will contain three classic Zelda games, namely The Legend of Zelda, Zelda II: The Adventure of Link and The Legend of Zelda: Link's Awakening, as well as a "whack-a-mole" game featuring Link. It's more novelty than anything but some diehard Zelda fan will probably want it.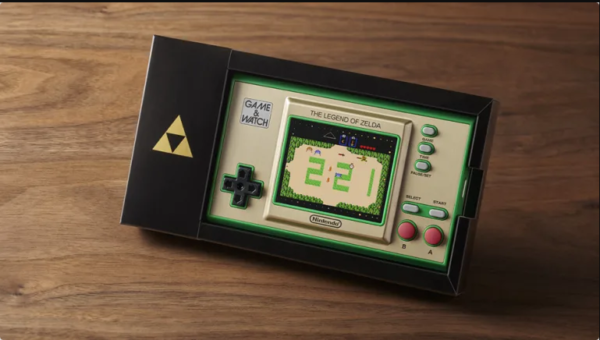 Most Anticipated Games — Beyond E32021
Compared to last year, where hardware announcements and console wars dominated the media, we can take a breather this year from geeking out on hardware specs and instead focus on what really matters — games that make it worth our time and emotional investment, and lets us escape from the depressing reality of pandemics, lockdowns and social distancing.
This year, there are games that will bring some nostalgia to retro gamers, as well as new titles both in existing franchises and brand new universes. Here's our pick of the highlights.
Horizon Forbidden West
By Guerilla Games for PlayStation 4 and 5 (release date not announced)
Since the gameplay trailer was released in early June, fans have analysed it to death trying to figure out new aspects of the gameplay, changes in the characters and even real-world locations that the new game will be based on. Since the release of Horizon Zero Dawn in 2017, it has amassed a bunch of devoted fans, constantly returning players and even cosplayers. So imagine the excitement when the gameplay trailer was revealed.
In Horizon Forbidden West, we see more beautiful locations in the futuristic world to explore, amazing new machines to battle, and new abilities for our beloved protagonist, Aloy. Witness her gliding with a device that looks like it's derived from machine parts, as well as diving underwater in the trailer!  
We can't wait to return to the dystopian future of the United States with Aloy, so ready your bow and savour the trailer here:
Elden Ring 
By FromSoftware and Bandai Namco Entertainment for PlayStation 4 and 5, Windows PC, Xbox Series X|S and Xbox One (21 January, 2022) 
Hidetaka Miyazaki of the Souls series, Sekiro and Bloodborne fame, and creator of Game of Thrones, George R. R. Martin, have come together to create Elden Ring, an action role-playing game that looks to be a treat to all fantasy fans. With George's involvement, be prepared for rich lore, deep characters and memorable plots. Guess we will need to wait longer for him to finish writing The Winds of Winter, the sixth book in the "A Song of Ice and Fire" series then.
The trailer shows loads of combat, magic and big bad bosses to defeat. George has also mentioned that Elden Ring is somewhat of a sequel to the Souls series, so we can expect a lot of punishing and brutal gameplay similar to the Souls series ﹘ so it's probably not for gamers without a certain resolve and an appetite for defeat.
Prepare for many deaths ahead and watch the trailer here:
The Legend of Zelda: Breath of the Wild Sequel (official name not announced)
By Nintendo for Switch (2022)
The highly anticipated sequel to the best-selling and most critically-acclaimed title on the Nintendo Switch, Legend of Zelda: Breath of the Wild (BotW) finally has a proper reveal! Although the name hasn't been officially announced, we can expect the sequel to be an open world, action adventure game with an innovative mix of exploration, combat and puzzles, just like BOtW. And now we can look forward to exploring the skies over Hyrule too!
Take a deep breath and watch the trailer here:
Starfield
By Bethesda Softworks for Windows PC and Xbox Series X|S (11 November, 2022)
Starfield is an action adventure role-playing game that features a brand new universe to explore, which Bethesda says is 25 years in the making and is finally possible with the technology we have today.
Bethesda described it as "Skyrim in space", which got me super excited but filled with a sense of dread. Having unconsciously spent hundreds of hours in Skyrim, I'm thinking Starfield might just be as deep and vast, with seemingly never-ending quests and exploration. Good luck to all completists out there!
This is one of the titles that will be available on Xbox Game Pass on Day One of its release. Coincidentally, as someone pointed out, Starfield will be released exactly 11 years after Skyrim on 11 November, 2022.
Say goodbye to the many hours that you can expect to spend on this game and check out the alpha in-game trailer here:
Far Cry 6 
By Ubisoft for PlayStation 4 and 5, Windows PC, Xbox Series X|S and Xbox One (7 October, 2021) 
One of the most anticipated open-world, first-person shooters to look forward to, Far Cry 6 features the amazing Giancarlo Esposito of Breaking Bad and The Mandalorian fame as memorable villains in both.
With the new "Meet the Villain" cinematic trailer released by Ubisoft during E3, we see Giancarlo playing the game's fascist villain, Anton Castille, teaching a disturbing and chilling lesson to his son, Diego. Say hello to Giancarlo and catch the cinematic trailer here:
In the gameplay trailer, Far Cry 6 promises more cool weapons for our guerilla protagonist, Dani Rojas, to inflict chaos upon Castille's reign. You can even select the gender for your protagonist, just like how it is for the more recent Assassin's Creed games.
Far Cry 6's comprehensive arsenal ranges from crossbows and throwing axes, to Molotov cocktails and homing missiles, to…is that a killer rooster? And Dani flying around in a hang-gliding buggy is just too crazy to describe. Rub your eyes and watch the thrilling gameplay trailer here: 
But there's more! If you're a fan of villains in the Far Cry series (and they do probably have the best villains in games), you can play as them with the Far Cry 6 Season Pass available with the Gold Edition of Far Cry 6. Vaas? Pagan? Joseph? I can't decide whom to play first!
Avatar: Frontiers of Pandora 
By Ubisoft for PlayStation 5, Windows PC and Xbox Series X|S (2022)
Avatar: Frontiers of Pandora is an open world adventure set in the mystical world of Pandora as seen in James Cameron's 2009 Avatar movie. You get to play a blue-skinned Na'vi and ride on majestic winged creatures while defending your homeland from invading human forces.
Seeing the lush and beautiful world of Pandora teeming with exotic creatures and spirit-lifting bioluminescent flora in the cinematic trailer brought back fond memories of the movie.
Although it has been a while since I watched Avatar the movie, the world of Pandora looks so amazing and fantastical that I should probably rewatch it while waiting for the second Avatar film to be ready in 2022 — to be released in conjunction with this game, perhaps?
Treat your eyes to the beauty of Pandora and watch the trailer here:
Back 4 Blood
By Turtle Rock Studios and Warner Bros. Interactive Entertainment for PlayStation 4 and 5, Windows PC, Xbox Series X|S and Xbox One (12 October, 2021)
Remember when you were Left 4 Dead? Now you can be Back 4 Blood! From the developers of Left 4 Dead and touted as its spiritual successor, Back 4 Blood is a first person multiplayer zombie shooter featuring four-person co-op and eight-person PvP (player vs player) modes.
With hordes of zombies to fight, it would be nice to have a little help from friends! If you enjoy the frenetic and desperate action in beating back hordes of zombies, this is one the game to play!
Although the game can be played solo with all bot teammates, this needs to be done online anyway, so it's probably more fun to play with real people. Some good coordination is definitely needed to get out of this alive!
Grab an axe and watch the gameplay trailer here:
Who are these Cleaners in Back 4 Blood? Meet the crew in this character trailer:
S.T.A.L.K.E.R. 2: Heart of Chernobyl
By GSC Game World for Windows PC and Xbox Series X|S (28 April, 2022)
Venture into the desolate wasteland of the Chernobyl Exclusion Zone again, fraught with unpredictable anomalies, fearsome mutants and hostile enemies.
Although there has been a series of S.T.A.L.K.E.R games over the years, both prequel and sequel to the original 2007 game where you play either as a member of the military or mercenary factions, S.T.A.L.K.E.R 2 is the official sequel where you play as a S.T.A.L.K.E.R. (Scavengers, Trespassers, Adventurers, Loners, Killers, Explorers and Robbers) again.
In the gameplay trailer of the open-world, first-person shooter horror game, S.T.A.L.K.E.R. 2 looks really amazing, with realistic lighting and shadows, superbly animated and "unseeable" anomalies and hauntingly beautiful yet eerie landscapes. Don't forget to pack your Geiger counter and tossable small metal objects to chart your safe course through the Zone!  
Brush up on your Russian language and catch the trailer here:
Metroid Dread 
By Nintendo for Switch (8 October, 2021)
For those who enjoy putting themselves through torturous side-scrolling platformers, rejoice! Metroid Dread is the first 2D Metroid game in over 19 years, and it continues Samus Aran's adventure after Metroid Fusion.
The gameplay trailer shows some innovative platforming techniques including climbable magnetic surfaces, hiding in plain sight and elevators that you attach with a backpack that you need to master to overcome Metroid's trademark challenging jumping puzzles. 
With a charming mix of modern graphics and retro-styled gameplay, this title will be a treat for fans of old-school platform games!
Get ready to jump and die a lot, and watch the trailer here:
Redfall
By Bethesda Softworks and Arkane Studios for Windows PC and Xbox Series X|S (Summer 2022)
Developed by Arkane Studios who created the acclaimed Dishonored series, Redfall is a vampire-slaying, open world co-op first person shooter game set in Redfall, Massachusetts. Vampires have taken over the island and blocked out the sun, and it's up to a team of four unique vampire slayers to save the town.
From the trailer, it looks like the team comprises a ghost type sharpshooter, a robotics expert, a scholar interested in documenting everything and one with telekinetic powers. This should open up a fair bit of gameplay possibilities!
Sharpen your stakes and catch the trailer here:
Battlefield 2042
By DICE and Electronic Arts for Windows PC and Xbox Series X|S (22 October, 2021)
Are you ready for a massive all-out war with 128 players (or bots) in the battlefield, with so much action going on that you can't afford to blink? Battlefield 2042 is a massive online multiplayer warzone that was teased by EA on their own social media and streaming channels.
You can expect some pretty hectic gameplay in Battlefield 2042 with vehicles on land and air, tanks, infantry, rockets and plenty of ammo flying around. Battlefield 2042 supports 128 players on PC, PlayStation 5 and Xbox Series X|S, while PlayStation 4 and Xbox One versions will be able to support only 64 players. There isn't a single player campaign but if you would rather not play with others, you can play solo with just bots.
Lock and load and aim your sights at this pre-alpha trailer:
Age of Empires IV 
By Relic Entertainment and Xbox Game Studios for Windows PC (28 October, 2022)
It has been 16 long years since the last Age of Empires game was released, when we built our empires on low resolution graphics and limited animations. Back then, it was one of the best historical real-time strategy games, both to play and to look at.
Expectations are high for the upcoming Age of Empires IV, as we hope for the same depth and intricate gameplay, satisfying real-time strategy action and well-designed campaigns, all rendered in modern graphics.
Besides fighting grand, large-scale battles and taking over territories, there is also a simple joy in watching your citizens hard at work foraging, farming and building their humble little abodes. And what joy that we can now do that in 4K!
Players can choose to forge their empires as the English, Mongols, Chinese, Delhi Sultanate, Abbasid Dynasty or French, each with their own unique abilities, architecture and upgrades.
Satisfy your desire to rule and conquer by watching the trailer here:
Forza Horizon 5
By Playground Games and Xbox Game Studios for Windows PC, Xbox Series X|S and Xbox One (9 November, 2021)
Are you missing road trips where you explore a new country as a tourist? How about a road trip to Mexico, amigos? Forza Horizon 5 is set In Mexico, where you get to explore many terrains including rainforests, rivers, ruins, and volcanoes, just to name a few.
As with all Forza Horizon games, the cars and the environments look absolutely amazing in-game with stunning photo realistic landscapes. It's the closest road trip that we can get to without travelling and quarantines!
Touted as the largest open world in the Forza Horizon universe, and with a cool lineup of cars for you to collect and drive, this new Forza addition will definitely take away some of our suppressed wanderlust this year. And since it's coming our way in November, it's just in time for our year-end vacation!
Feast your eyes on the release trailer and extended gameplay demo here:
Rainbow Six Extraction
Ubisoft for PlayStation 4 and 5, Windows PC, Xbox Series X|S and Xbox One (16 September, 2021)
Previously known as Rainbow Six Quarantine, Rainbow Six Extraction is a spinoff from Rainbow Six Siege. Instead of dealing with human foes, the operators now face an "evolving alien threat" in the form of gooey aliens who seem really mean.
Rainbow Six Extraction features tactical three-person co-op cross platform play, and will feature the same operators as in Seige.
Apart from just completing missions, the game will also force you to decide whether to extract your squad after completing the mission and collect the rewards, or to try your luck and face tougher enemies deeper in the containment zone for even bigger rewards.
Be warned that if an operator is "Missing in Action", there will be a side mission opened to rescue them, otherwise they will not be available for selection afterwards. With 12 maps to play, multiple varied objectives and starting points, there seems like plenty to do in this game as well as serious considerations about risks and rewards.
Avoid stepping on the goo and catch the cinematic and gameplay deep dive trailers here:
Halo Infinite
By 343 Industries and Xbox Game Studios for Windows PC, Xbox Series X|S and Xbox One (Holiday 2021)
After the last reveal trailer at E3 which gained a lot of brickbats due to its less than stellar graphical quality of faces, the latest Halo Infinite campaign reveal wisely steered clear from portraying any human faces.
The trailer focuses more on Master Chief and a new artificial intelligence character that looks like Cortana but…isn't Cortana. Perhaps that's because Cortana is now sitting in our Outlook inboxes giving us Daily Briefings? 
Jokes aside, Halo Infinite is said to be the last standalone Halo game, but since it's such an established franchise, we can expect the world to be expanded in other ways.
Apart from the story campaign, 343 Industries also gave us a look into the intense multiplayer game mode which showcases plenty of action with weapons, projectiles, vehicles and creative ways of using a grappling hook.  
Catch the three-minute trailer (as part of the Xbox and Bethesda Game Showcase segment) and the multiplayer reveal trailer here:
Tiny Tina's Wonderlands
By 2K Games and Gearbox for PlayStation 4 and 5, Windows PC, Xbox Series X|S and Xbox One (early 2022)
With no new Borderlands game announced, fans of Borderlands will just have to be content with Tiny Tina's Wonderlands next year.
A standalone "shoot, loot, slash and cast" adventure based on Borderlands 2's best DLC, Assault on Dragon Keep, Tiny Tina's Wonderlands looks more fantasy oriented than the regular Borderlands games.
The trailer shows an interesting mix of a fearsome dragon, some kind of double barreled gun and the dazzling unicorn, Butt Stallion! 
Featuring trademark Borderlands humour and a star-studded cast of voice actors, including the amazing Ashley Burch who will be reprising the role Tiny Tina, Tiny Tina's Wonderlands looks like a fun action-filled adventure.
Bring your arsenal and your sense of humour, and check out the trailer here:
Final Fantasy Pixel Remaster
By Square Enix for Windows PC and mobile (release date not announced)
This super short trailer doesn't show much at all but for Final Fantasy fans, it's pretty exciting news! For those of us who had played the old Final Fantasy games on the old Nintendo Gameboy, DS or even the original Nintendo Entertainment System and ruined our eyesight in the process, here's a chance to relive those 2D classics!
The Final Fantasy Pixel Remaster features the first six Final Fantasy games but these six titles will only be available for PC and mobile, which is a bit sad since I would have loved to play them on the Switch too! 
Hum your favourite tunes from the classic Final Fantasy games and watch the trailer here:
Diablo II: Resurrected
By Blizzard Entertainment for PlayStation 4 and 5, Switch, Windows PC, Xbox One and Xbox Series X|S (23 Sep 2021)
Diablo 2 was THE most addictive and action role-playing game back in the day, ruining many mice as gamers clicked in a frenzied attempt to clear hordes of enemies and raid dungeons for rare loot.
Diablo II: Resurrected is an enhancement of the classic game with graphical, animation and user interface improvements. Optimised for modern PCs as well as Xbox Series X|S, it will bring tears of joy for fans of the original as we witness the beauty of Hell in 4K. 
Prepare to lose some sleep and watch the trailer here:
The Outer Worlds 2
By Obsidian Entertainment for Windows PC and Xbox Series X|S (release date not announced)
Finally a truthful game trailer that does away with all the overhyped, self-important and misdirecting cinematic tricks! And it doesn't lose its appeal one bit. For those who have played The Outer Worlds and loved its irreverent sense of humour, you'll appreciate this hilarious and truthful trailer about the sequel to The Outer Worlds.
We don't learn much about the game from the trailer at all, but it seems to promise the same kind of quirky humour in the first game. At least we know that the game's title is final while the rest of it is being developed.
Watch it and get a laugh here:
Stranger Of Paradise: Final Fantasy Origin
By Square Enix, Team Ninja and Koei Tecmo for PlayStation 4 and 5, Windows PC and Xbox Series X|S and Xbox One (2022)
Sometimes when a game gets so big and touches on so many discrete universes, it's hard to keep track of where things are. Stranger of Paradise Final Fantasy Origin is a spinoff from the Final Fantasy (FF) franchise, and is described as a "dark fantasy" – so no cutesy kawaii characters, I suppose?
From the trailer, it looks like a party of three are fighting Chaos, the antagonist in the first FF game. The developers have clarified that Stranger of Paradise isn't a direct sequel or prequel to the first FF game, so think of it as kind of a reimagined spinoff or remix of the first FF game, if you will.  
Don't try too hard to place it, just enjoy the action-packed trailer here:
Guardians of the Galaxy
By Square Enix and Eidos Montreal for PlayStation 4 and 5, Windows PC and Xbox Series X|S (26 October, 2021)
Fans of Marvel's Guardians of the Galaxy will be thrilled to join Star-Lord and the hilarious bunch of misfits in this action adventure game! Expect plenty of bickering and wisecracks from the gang, which looks like it is featured as part of the gameplay.
The trailer showed Star-Lord negotiating with the characters in his team before coming to a decision of how to proceed, and trying to keep individuals in the group happy. It won't be an easy task with the aggressive Rocket, literal Drax, strong-will Gamora and the reticent Groot!
One can hope that it plays better than Marvel's Avengers that started out strong but got repetitive fast. Thankfully, Guardians of the Galaxy is doing away with the problematic online multiplayer mode which plagued the Avengers game.
Blast some retro pop tunes and catch the gameplay trailer here: