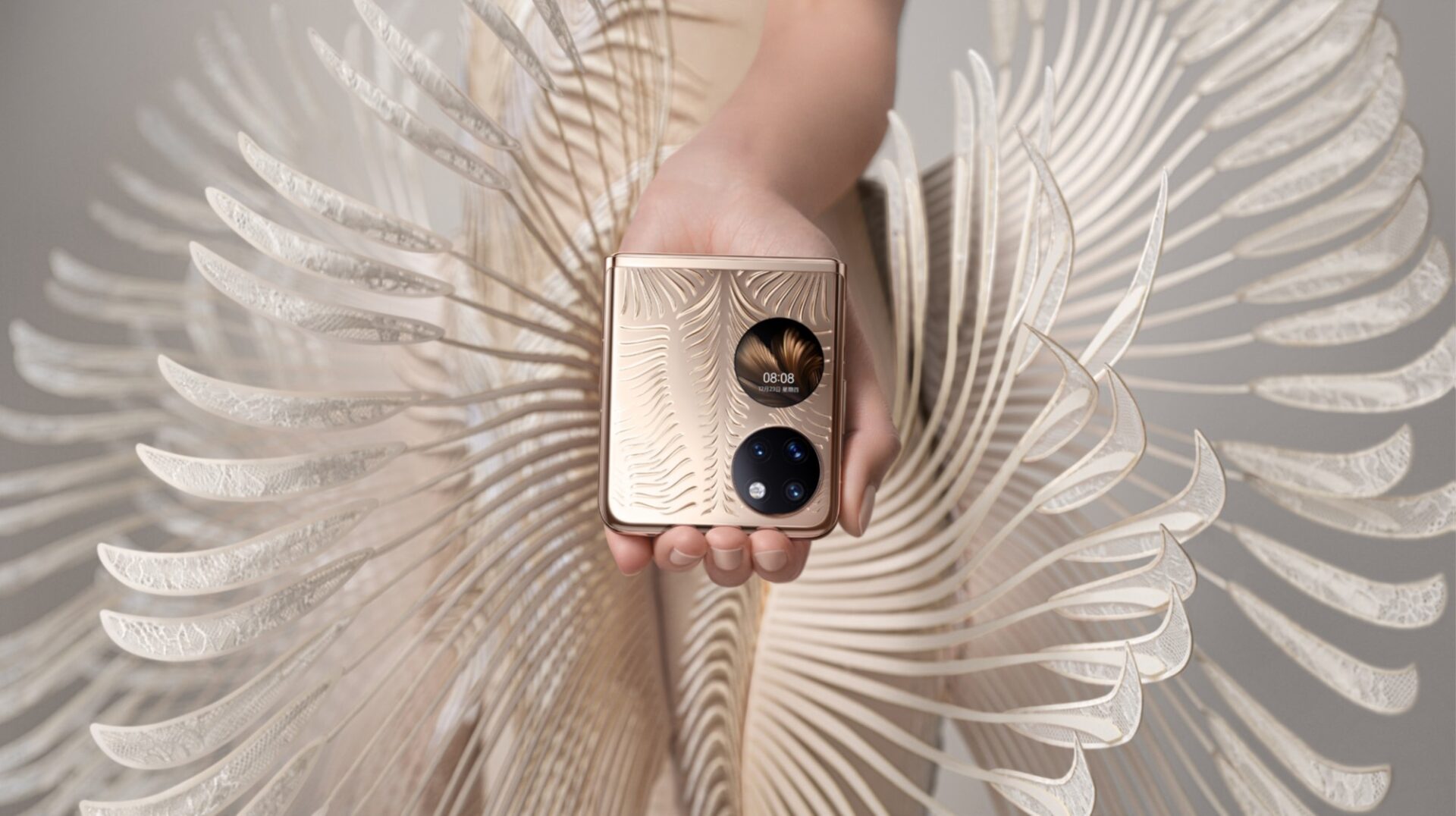 As its name suggest, the Huawei P50 Pocket is a foldable flip phone that easily slides into your pocket. It reminds one of Samsung's Galaxy Z Flip models that have been out for a few years, though Huawei seems to have put in effort to make its new phone a polished product.
For starters, the phone folds flat with no visible gaps and it snaps shut with an audible thud. The glass-covered phone has an intricate design created by Dutch fashion designer Iris van Herpen that makes it an immediate fashion statement. Just be careful of fingerprint smudges.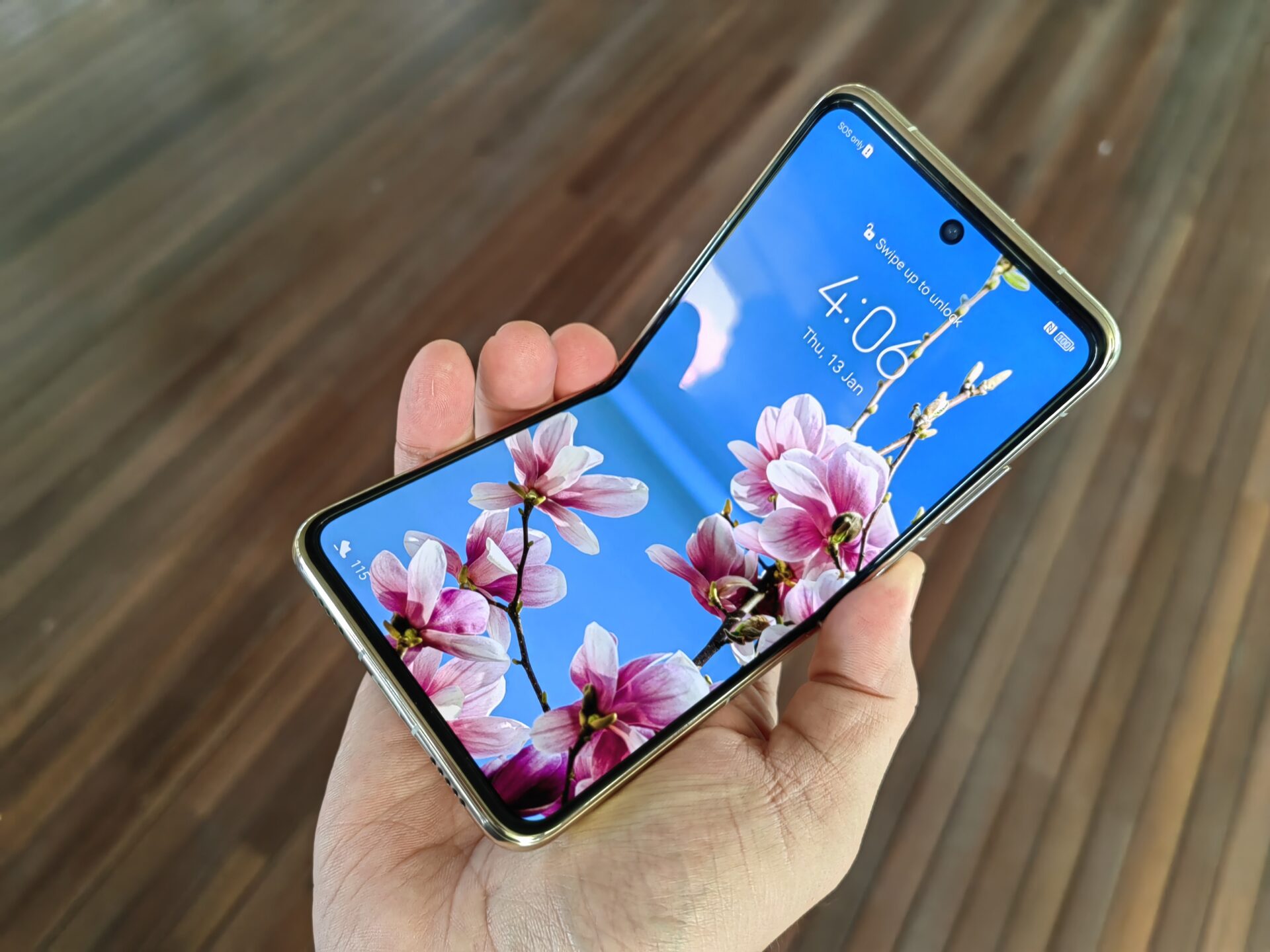 A phone case can make the phone less susceptible to fingerprints, but that would also defeat the purpose of having such a beautiful design in the first place.
When closed, the P50 Pocket looks like an ornate face powder box that will look right at home with cosmetics and accessories in a handbag. This will be just perfect for a fashionista, who can choose from the gold coloured one in the pictures here or a different white finish.
The P50 Pocket is a great phone to hold. The 109g gadget is light enough not to weigh down on your pants and also small enough not to fill up the pocket.
Using a Zirconium-based liquid metal and ultrahigh-strength steel, the folding mechanism gives the hinge the right amount of resistance that makes unfolding the phone a really pleasant experience.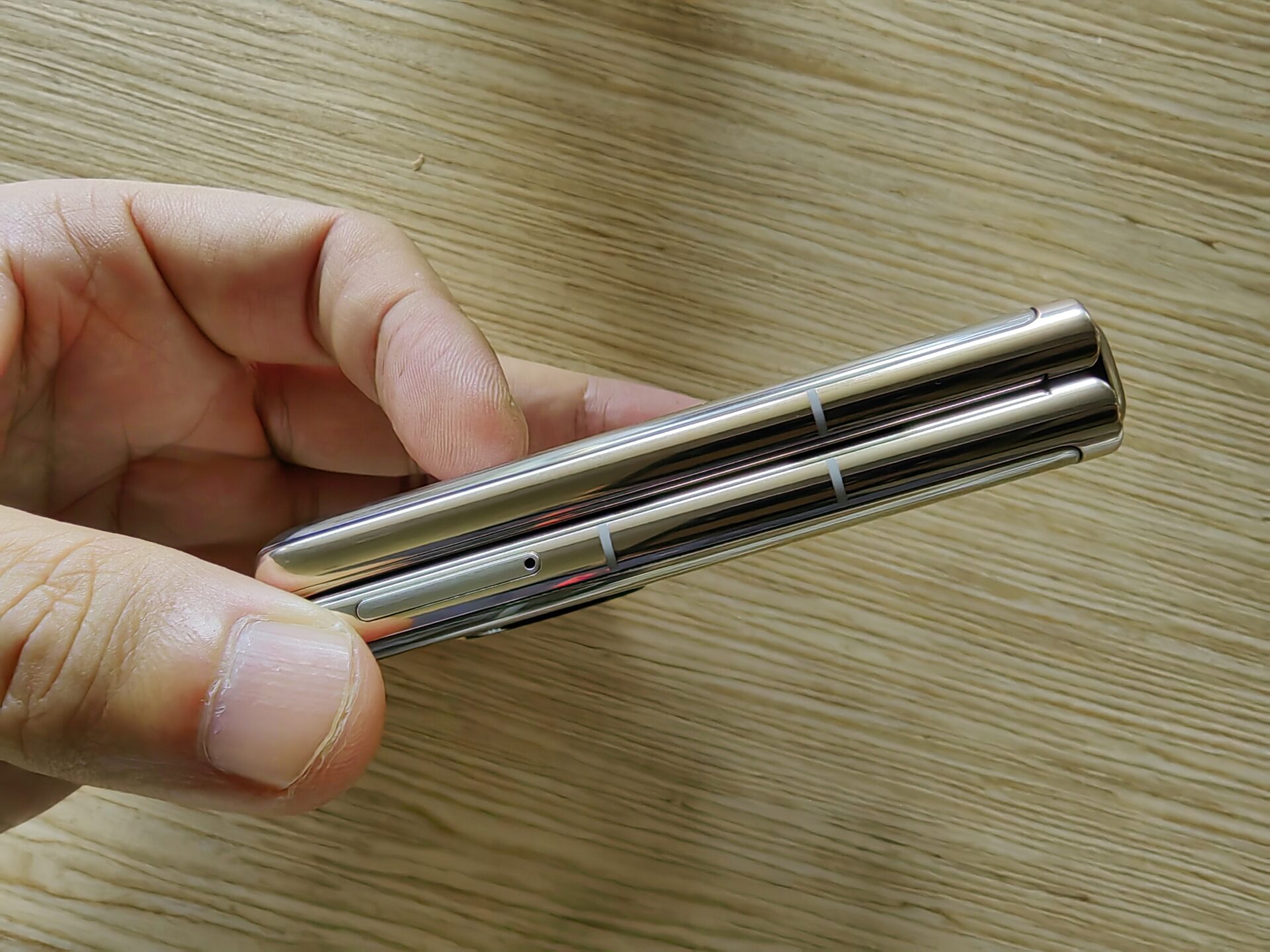 The phone can be opened up smoothly just by inserting my thumb into the gap between the two halves of the phone and flicking it open. It immediately reminds me of my old Motorola StarTAC.
The P50 Pocket looks and feels like a solid, well-built phone. The screen opens up to provide a 6.9-inch OLED screen with a 21:9 display, perfect to watch Netflix movies with minimum black bars at the top and bottom of the frame.
There is also a small 1-inch screen located right on top of the camera module. It's perfect for notifications, framing selfies and controlling the music player.
Navigating through the phone and swiping between home pages is easy. During a quick media hands-on session in Singapore yesterday, I did not feel the folding line crease that is set right in the middle of the screen.
While the crease was visible from certain angles, it was not that perceptible when reading off the screen. That means overcoming one early issue with many of today's foldable phones.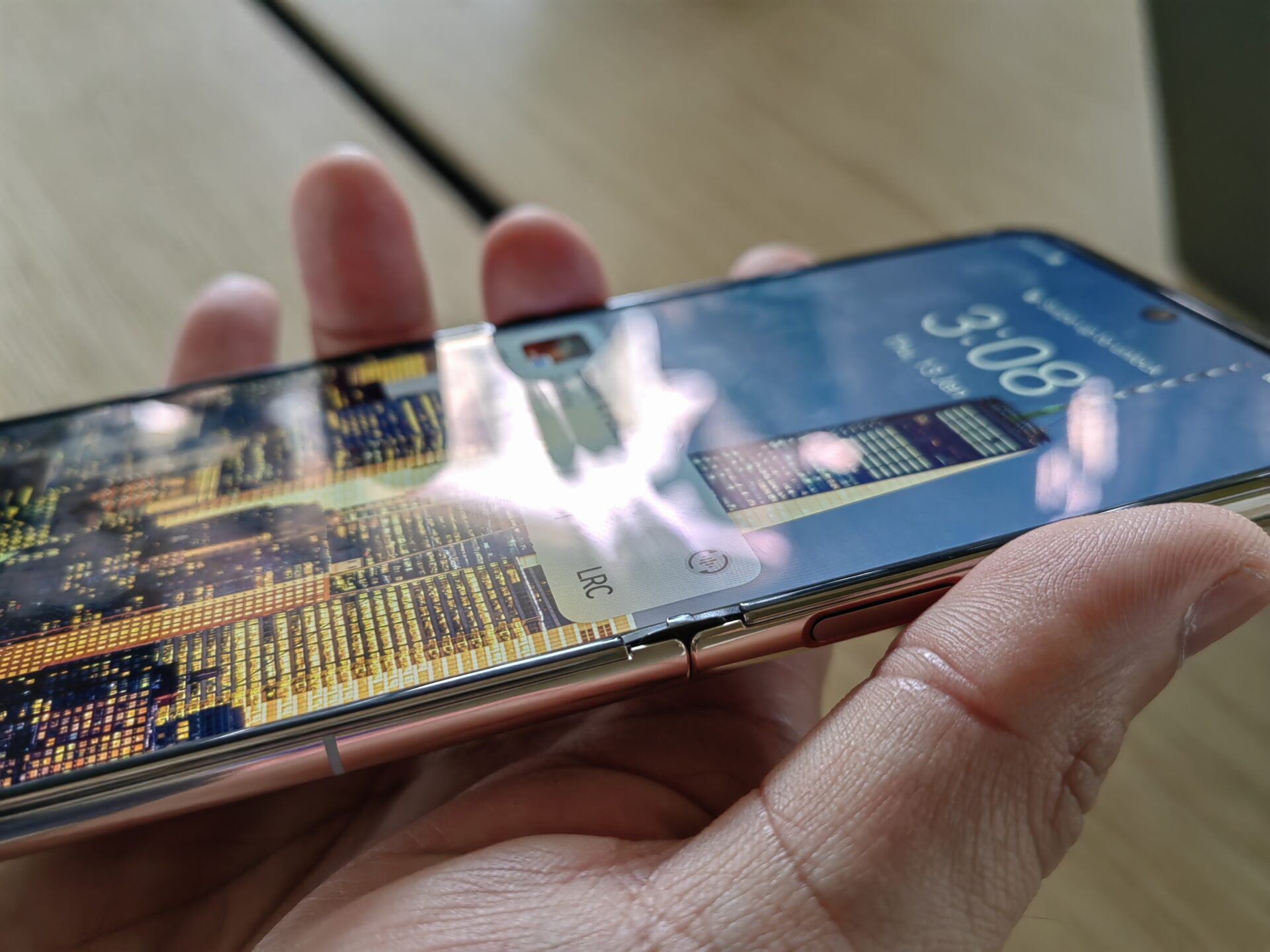 The P50 Pocket's specification list has most boxes ticked as well. It uses a Qualcomm Snapdragon 888 4G and comes with 12GB of RAM and 512GB of storage, right in the ballpark of most ultra-premium phones. The 4,000mAh battery should be able to last a day with no issues.
Notably, however, the phone doesn't support 5G, so if that's something you're looking for, then unfortunately this flip phone doesn't have it.
When it comes to cameras, the P50 Pocket still packs in three back-facing cameras – a 40-megapixel main camera, a 13-megapixel ultrawide angle camera and a 32-megapixel spectrum camera.
These cameras are equipped to work with Huawei's new XD Optics Engine that corrects optical distortions and extracts details through computational photography algorithms.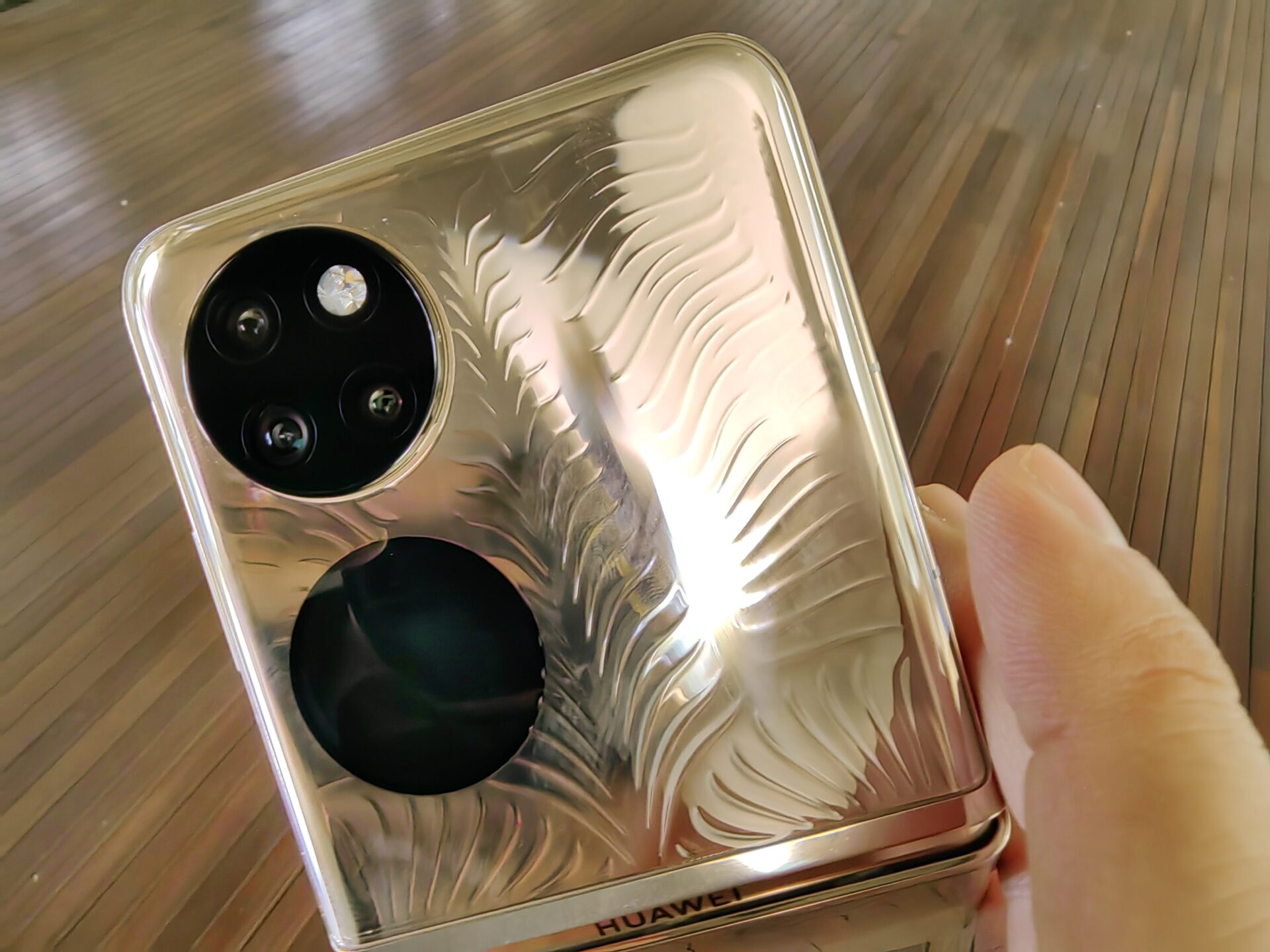 Once corrected, the images are then further processed with the Huawei XD Fusion Pro Image Engine processor, which promises colour accuracy and image quality. This two-step approach in image processing should excite those interested in mobile photography.
Too bad the P50 Pocket does not come with a telephoto lens and has a slightly lower resolution than the regular candy-shaped P50 Pro's 50-megapixel sensor.
And of course, as with any recent Huawei phone, the P50 Pocket won't run popular Google services on its phones, so you'd have to do without Maps, Gmail and other applications.
The Huawei P50 Pocket is out on 14 February. Yes, Valentine's Day. Prices for Singapore are yet to be revealed.