What's a geek to do before Christmas? Buy a Techgoondu-approved gift to make others – and ourselves – happy of course. Granted, this year-end is shaping up to be more austere than the past few with the financial downturn already upon us. But austerity driving shouldn't mean no giving for Christmas, right? So here's a list of diverse geek gifts mooted by us, and we promise it is a cool one:
Intel Core i7-965 Extreme Edition
S$1,679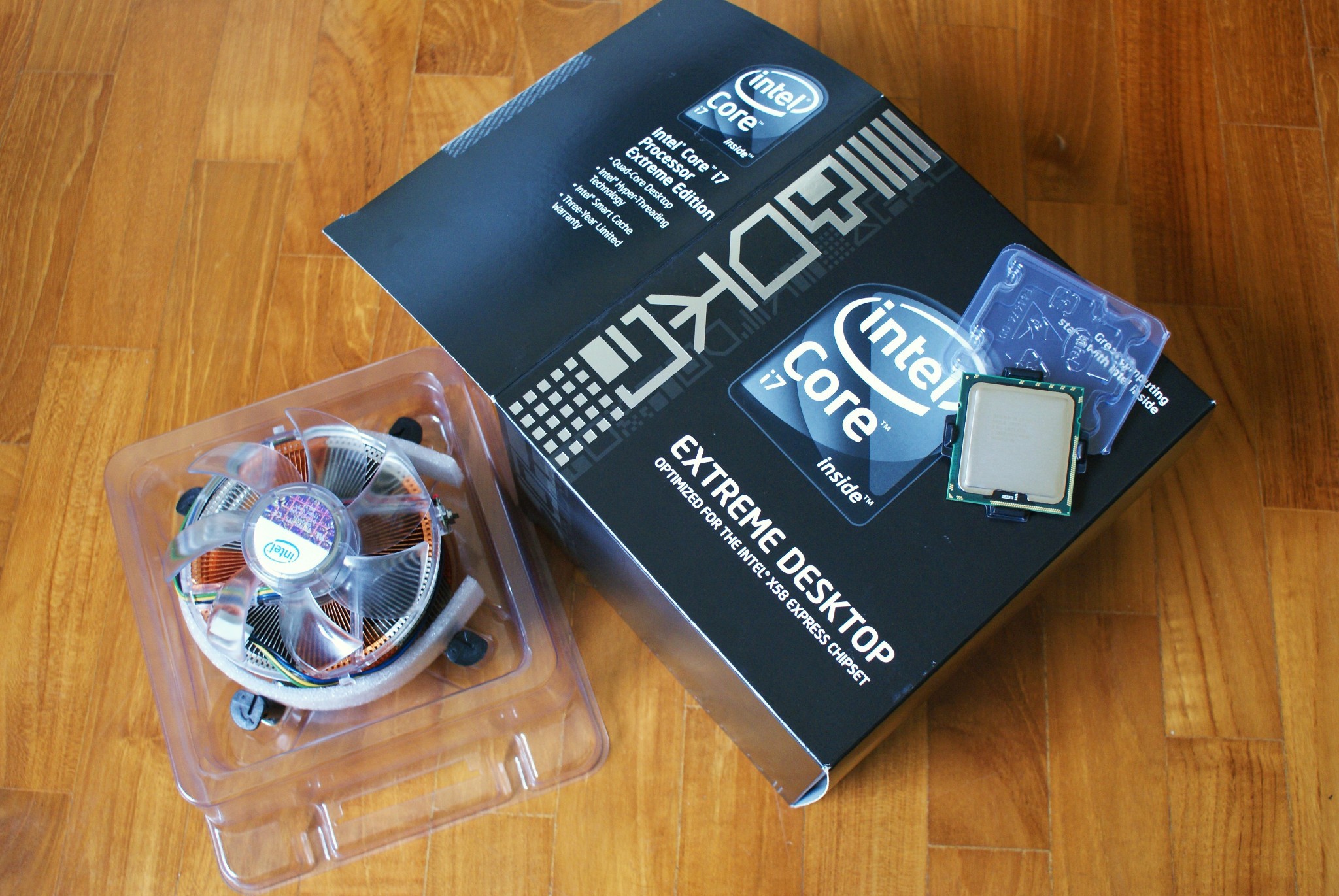 Called the fastest desktop processor on Earth, Intel's new Core i7-965 lives up to its title with benchmark-busting performance for PC buffs. The Extreme Edition, the top of the Core i7 range, retails at a ridiculous price, of course, but it comes with an unlocked multiplier that lets you overclock to your heart's content. Crazy PC enthusiasts won't blink an eye when it comes to buying one of these puppies for Christmas! –Alfred
Wadia 170i iPod dock
US$350
The world's only iPod dock to extract digital – as opposed to analogue – signals from the iPod. Rip your CDs in a lossless format and partner this with any top of the line DAC and be shocked: this combination will likely outgun any CD player that you own, even esoteric megabuck players. The only caveat is the lowly storage capacity of the iPod, exacerbated by the humongousness of lossless files, so here's hoping Apple continues to pack in the gigabytes on their music players. Available, I believe, in Singapore at Absolute Sound in Adelphi. –Boon Kiat
Audio Technica ATH-ESW9
S$498 from CK Tang
Any self-respecting audiophile will scoff at the flimsy plastic bits that music player manufacturers call "earphones" that come along with their gadgets. Instead, do your ears (and street cred) some favour by getting the Audio Technica ATH-ESW9 headphones. Made out of cheery tree wood and boasting a large 42mm neodymium magnet driver, these gems belt out rich and bassy tunes that will rock your senses. Its lightweight body also make it a dream to tote for hours straight. –Stephanie
Fable II for Xbox 360
US$60
I so love this game. And it's not just because of the cool spells like a frost nova spell that damages everything around you and a confusion spell that makes enemies attack each other. It's also not just because of the fact that you can excel in melee and ranged attacks in addition to magic mastery. It's really because of the non-linear gameplay and eye-popping graphics that really brought this game to live, like a tale straight out of a storybook. But it's no fairy tale, and that's the best part. At many points in the game you will be asked to make a choice – should you avenge a ghost who killed himself after he was jilted by his gal or should you marry the gal and have her for yourself. It's not obvious which is the "good" or "evil" choice, which makes the game, well, unusual. You can also get women into bed with you, just dance, play the lute and sweet-talk them. (sorry the screen goes blank during the actual event although you can hear the moans) As you make good and evil choices, (sleeping around apparently is neither) your character turns more handsome or terribly ugly. The best part – your dog, which you saved when it was a pup, will stick with you through thick and thin, regardless of how bad you look. Be careful when you bend down to pet it though, I found out that it created a lot of love for the gay gypsy standing behind me. –Gin Lee
Nintendo DSi
18,900 Yen (S$300)
I recently had the chance to play with the DSi, the third iteration of the Nintendo DS platform, whom my friend bought while in Japan last month. Launched on Nov 1st 2008, the DSi is released only in Japan for now but should make an appearance in other parts of the world in Spring 2008. The GBA slot has been removed, making it not backwards compatible with certain games, but also makes it 12% slimmer than the DS Lite. It also sports two VGA cameras, a cool interface bundled with fun software – especially the photo sharing software – and access to the NDS Shop, which allows people to buy stuff online. Super cool. –Chi-Loong
Rotel RSX-1560
US$2599
Who says home theatre receivers need to sound bad in music? Rotel's RSX-1560 not only looks great but promises everything you need in a box for a 7.1 home theatre system PLUS good stereo sound. It, of course, comes with all funky wizardry – like HDMI 1.3 – expected of AV receivers now. Just don't expect this to be cheap. –Alfred
Fujitsu M1010 netbook
S$888
With prices of netbooks falling faster than you can say "Asus Eee PC", there is greater incentive for users to whip our their wallets and bring a sweet lil' netbook home. The Fujitsu M1010 makes a great gift for the female folk as it comes in candy-coated snap-on covers in shades like pink, red and blue. It's not just a pretty face either – the laptop comes with juicy features such as a 1.6GHz Intel Atom processor,1GB RAM, 8.9-inch display screen with a maximum resolution of 1,024 x 600 pixels, and even a 60Gb hard drive. –Stephanie
Nokia E71
S$200+ with a high-tier mobile plan
By now no longer the new kid on the smartphone block but still one to beat for those who need a real Qwerty keypad: (Relatively) cheap, zippy, terrific features, super pocketable and a real energizer bunny to boot. It is also a tough nut to crack – literally. I've dropped it several times and it still ticks perfectly, with only a minor rash on its lower corner to show for my clumsiness. –Boon Kiat
Chrono Trigger for Nintendo DS
S$80
As a gamer, if you haven't played Chrono Trigger before, and if you own a DS, pick this one up. Yes, it's a remake (launched 25th Nov 2008), but it's a remake of one of the best games ever. I played the original Chrono Trigger on emulation on my PC (didn't have a Playstation) about 10 years back, and I still have fond memories of the game and characters. For fanboys, it's a no-brainer due to nostalgia. For newbies, get this game because it has withstood the test of time. –Chi-Loong
Livescribe Pulse Smartpen
S$$329 at Challenger and South Asia Computer
It's the most unusual product that I toyed with this year.It's a pen with a mini-computer, 1 GB storage, mic, speaker and a mini-camera under the tip of the pen. As you write your notes on special paper (lined with a million invisible dots per sq inch) the camera remembers every stroke's location on the paper. So you can record your meeting or conversation while taking notes at the same time and the pen is actually bookmarking every pen stroke and linking it to the corresponding part of your audio recording. So if you want to hear what the lecturer was saying at the third line of your first paragraph, just point your pen there. You can even upload your recordings plus image of your notes via USB to your laptop and you get a flash equivalent of what you created. It's cool. Period. –Gin Lee
OLPC XO
US$399
Lastly, the movement that arguably spawned the whole netbook craze. The OLPC, or One Laptop Per Child, is a cool project that sends one of these delectable green, Sugar Labs-powered gizmo to a developing country child with every purchase you make. Available at Amazon.com. –Techgoondu
Merry Christmas!