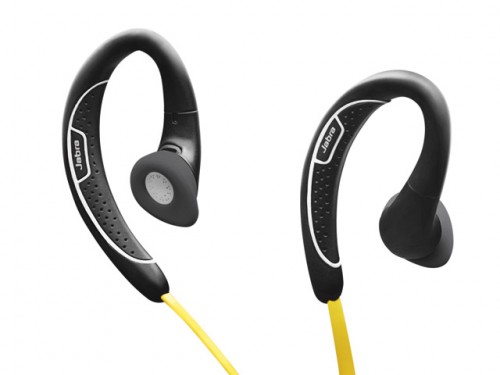 Jabra, that brand better known for its Bluetooth headsets, has come up with a rather solid pair of sports earphones that are both light on the ear and firm enough to stay in place when you run or cycle.
The Jabra Sport receives the music wirelessly via Bluetooth from your smartphone or a compatible MP3 player, doing away with the annoying cord that usually runs down to your MP3 player in your shorts pocket or an arm pouch.
At a launch in Singapore yesterday, reporters were shown how the earphones come with a number of useful features for those sweaty moments, starting with the specially-coated, flat cord linking the two headsets that are said to be less susceptible to stick to your sweaty back, or get tangled that easily.
Like the company's other similar-looking Bluetooth headphones, the Jabra Sport is made of material that lets you easily shape it to fit your ears. I'm not sure about the comfort offered by the hook design, but I'm told by the Jabra folks that this helps the earphones stay on better when you exercise.
Like the Sennheiser/adidas Sports earphones that I use now for my jogs, the Jabra Sport also comes with inner ear fins that are indispensable in keeping the earphones in place and making sure the music is loud and clear.
In terms of durability, the Jabra Sport is said to have cleared similar rain, dust and shock torture tests that the US military puts its gear through. I guess if something can work on the battlefields of Afghanistan and Iraq, it should be able to handle your daily run or cycle.
I actually did a little test yesterday, while handling the earphones. I tucked at the cord gently to see if it felt flimsy, but I came away feeling more assured of the Jabra Sport than most regular earphones.
Beyond just a pair of earphones, the Jabra Sport also works with the Endomondo app that you can download onto your smartphone (Android, iOS or Blackberry) to keep track of your run, a la Nike+. It can also be programmed to goads you on with canned voice prompts, reminding you ever so gently that you are not taking a walk in the park, for example.
How much is the Jabra Sport? The regular version costs S$148 while a "Made for iPod" version will cost S$168, and is guaranteed to work with a wider range of Apple devices.
Beside the Sport, Jabra yesterday also launched a number of other Bluetooth devices, like the S$148 Halo 2, which are sleek flat, folder headphones for travellers, as well as the S$198 Jabra Supreme, an attractive mono headset that comes with a foldable-boom design and advanced active noise cancellation and ambient noise reduction.
But the coolest, in my eyes, is the Bluetooth sport earphones, because they are a new class of devices in their own right and will only get more popular as more folks start syncing up with their Bluetooth-enabled smartphones. Look out for a Goond Review on the Jabra Sport soon when I get it out for a jog.