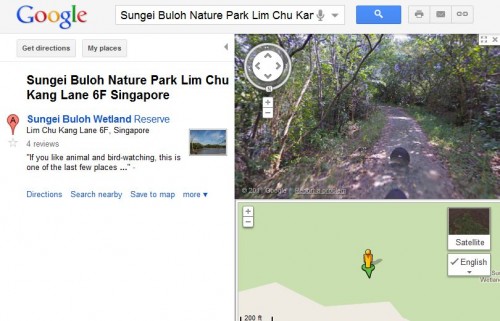 Google Street View has been expanded in Singapore to include panoramic views of the city-state's iconic and heritage sites.
According to a media statement Tuesday, Google said the new sites were chosen by Singaporeans in a poll jointly organised with the Singapore Tourism Board, where respondents indicated locations they wanted to see on Street View. These include the Singapore Flyer, Haw Par Villa, Fort Canning Park, One Fullerton, Sungei Buloh Wetland Reserve, Kampong Buangkok and Kampong Glam.
The new images, collected by a Street View trike, allow a viewer to intimately explore the nooks and crannies of popular spots in Singapore. The trike is a mechanical masterpiece comprising three bicycle wheels, a mounted Street View camera, and a specially decorated box containing image-collecting gadgetry.
The trikes are similar to Google's Street View cars for collecting street-level imagery but is specially designed for venturing into places that are less accessible by cars, such as historic landmarks and coastal paths.
To assuage concerns over privacy, Google has gone to lengths to safeguard privacy while allowing users to benefit from this feature.
"Street View only contains imagery that is already visible from public roads. And in the case of the partner program collections, we have permission from the landmark to drive and collect imagery. Street View also uses technology that blurs both faces and licence plates," the search giant said.
"In addition, any user can easily flag images for removal that he or she considers inappropriate by clicking on 'Report a problem'"
Street View was launched in Singapore in 2008 and is currently available in more than 30 countries and 100 metropolitan areas worldwide, including large areas of the U.S., Australia, Japan, France, Italy and Spain.
The service provides 360-degree street-level images in Google Maps to allow users to view and navigate through historic buildings, parks and gardens. In areas where Street View is available, you can see the images on Google Maps (on a PC or an Internet-enabled mobile) by zooming into the lowest level, or by dragging the orange "Pegman" icon on the left-hand side of the map onto a blue highlighted street.