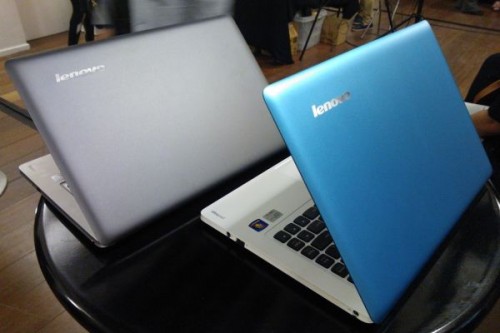 Lenovo has had time to refine its U300s ultrabook, and last week unveiled two updated models for the Ivy Bridge-seeking crowd – the 13-inch U310 and 14-inch U410.
It sticks with the same understated design, which oozes simplicity and elegance. That is, until you see the bright red and blue colour options that might be a bit too much for some people. The keyboard also feels the same as the U300s, with nice travel but still not back-lit. The same generous trackpad remains.
The key upgrades lies in the two laptops' internals.
Both sport new Core i5 Ivy Bridge processors, 4GB of RAM, and a hybrid storage system which combines a 32GB solid state drive (SSD) with a 500GB hard disk for the U310 and 750GB hard disk for the U410.
Thankfully, Lenovo has included an SD card slot in both models this time. Other ports include one USB 2.0, USB 3.0, and HDMI connector.
Only the U410 has discrete graphics powered by a 1GB NVIDIA 610M card. Screen resolution, however, is the same on both machines: a still-acceptable 1,366 x 768 pixels.
Unfortunately, there's no Core i7 option, nor can you choose a higher screen resolution. These are the same complaints faced by current U300 users, and it's disappointing to see that they have not been addressed.
Both ultrabooks come with Intel's Wireless Display technology, which is cool, but you'll need to buy another compatible monitor before you can use the feature.
As with all their laptops, Lenovo has built in several "Enhanced Experience" features, such as fast boot and better energy management. There's also a neat "Smart Update" feature which automatically updates your mailbox, IM and social media messages at regular intervals even while on sleep mode.
If the bumped up specs perked your interest, you can pick up the U310 for S$1,499 and the U410 for S$1,599.