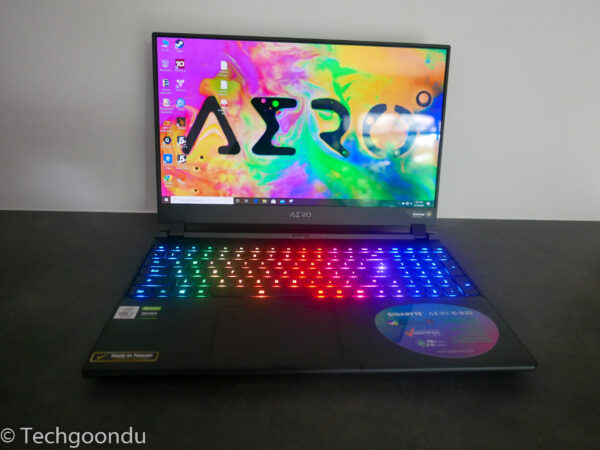 In a beauty contest, the Gigabyte Aero 15 OLED XB noteboook will struggle against its rivals when it comes to a sleek design or wowing users with its out-of-the-box first impression.
Its rather "busy" look and feel are reminiscent of the gaming notebooks of a few years back, when thick hinges were more common. Plus, there's a bright colourful keyboard.
The back of this high-powered notebook is also a little revealing, literally. The air vents that let the heat dissipate from its hot running components reveal a less-than-pretty sight of its internals, including the Crucial memory modules used in my review unit.
While the bezels on three of the four sides of the 15.6-inch screen are relatively thin, Gigabyte has had to place the webcam at the bottom of the screen.
This isn't an optimum location, which results in what many call a "nose cam" when you get into a video call. It is why Dell moved its camera back up to the top in its more recent XPS 13 laptops.
Having showed you most of the negatives, however, I'd like to talk about the other positives on this notebook from Gigabyte, which is known more for its motherboards.
Let's start with the screen, which is one of the main selling points for the Aero 15 OLED XB. What you get is a Samsung AMOLED display running at a sharp 4K resolution.
You can argue that maybe a larger 17-incher would better take advantage of the sharpness but on this 15.6-incher, you can still use the higher resolution to open up two windows side by side and be able to read your Excel files clearly.
The 4K AMOLED screen also comes in handy for watching movies, which show off some of its deep blacks and great contrast. There's also support for Vesa HDR400 as well as speedy 1ms display response time, which will be great for movies and games.
This Gigabyte notebook is also targeted at creative professionals. The feature that will appeal to them most is the X-Rite Pantone-certified display, which is individually calibrated, according to the Taiwanese manufacturer.
For photographers, this will ensure that what they see on screen is what they will get in real life, without any any variation added by a screen.
Of course, the Nvidia GeForce RTX 2070 Super graphics onboard can play your favourite games as well. This is the second highest option in the Aero 15 range, with others supporting the faster RTX 2080 Super and slower RTX 2060 and GTX 1660 graphics chips as well.
The specs on the Aero 15 OLED XB are not shabby at all. Included in my review unit are an Intel Core i7-10875H processsor, 16GB of memory and a 512GB solid state drive (SSD) with Intel Optane H10 memory (32GB) for an added boost.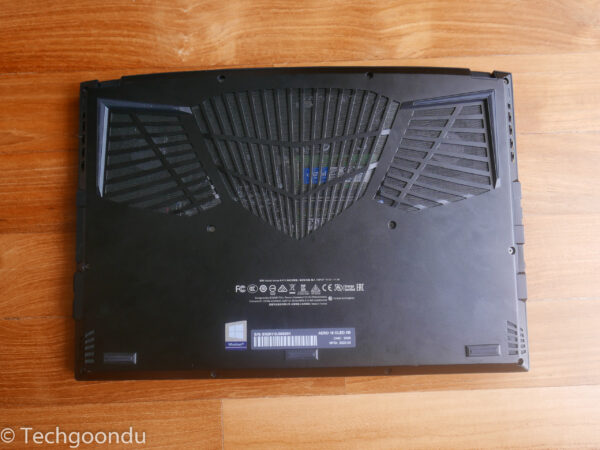 Since this is a machine aimed at "creators", I ran the PCMark 10 benchmark test that simulates common everyday tasks on the Gigabyte notebook.
It came back with a score of 5,638, significantly higher than the 4,000+ scores from thin and light machines that used Intel's built-in graphics chips. So far so good.
What about games? Well, the GeForce RTX 2070 Super is certainly good enough if you want to play games in 4K, though you might not always be able to run every game at its max settings at that resolution.
I fired up Far Cry 5's benchmark, for example, in both Ultra and High settings in 4K and the numbers are what you might expect for such a demanding scenario.
At Ultra settings, framerates peaked at 47 frames per second and went as low as 35, with an average of 40. For many gamers, the goal is to get 60 frames per second for smooth gameplay.
Moving the settings down a notch to High, I got an average framerate of 42 frames per second, with the highest at 51 and lowest at just 38. Still not quite there, if you want to be sure of buttery smooth graphics throughout your game.
However, when I fired things up on Ultra settings at 1080p, the average frame rate shot up to 99, with a maximum of 115 and minimum of 79. At this resolution, things are certainly smooth, especially when you're online and want fast response times.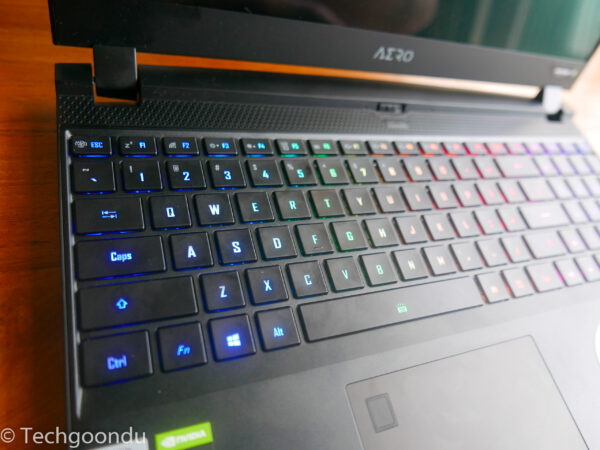 I also fired up an older but still popular game – Destiny 2 – and the results were better. It helped, of course, that this was a well-optimised title when it came to graphical effects.
With settings set to the highest and running at 4K, I noticed the framerate counter almost always going close to 60 frames per second in the opening intro level, where there were a number of lighting effects. So, 4K is playable here.
I ran the synthetic 3DMark benchmarks as well, as a quick comparison with other notebooks. Here, the Aero 15 OLED XB came back with scores of 7,277 for the Time Spy subtest and 16,525 for the Fire Strike subtest, which are what you'd expect from a modern, fairly high-end graphics chip.
Performance, to be sure, is Gigabyte's biggest selling point. However, other parts of the Aero 15 OLED XB, such as its nicely spaced-out keys that offer good tactile feedback, also make it an attractive notebook.
On each side of the notebook, you can find a number of ports to hook up your accessories. There are three USB 3.1 ports, a Thunderbolt port, an HDMI port, a Mini DisplayPort and a network port. You can also slot in an SD card.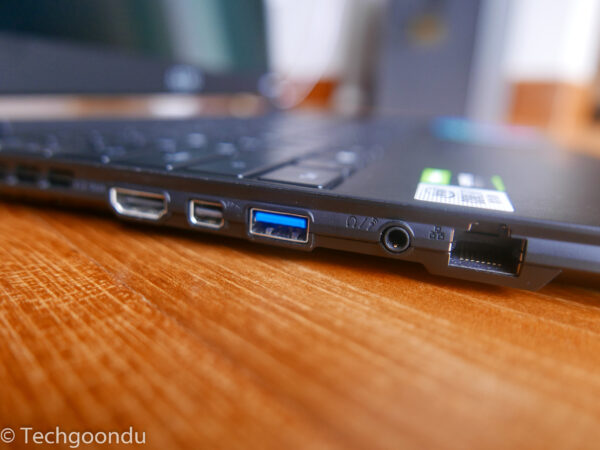 Power-wise, the Aero 15 OLED XB's 94Wh battery promises 8.5 hours on the road, though I'd be careful about carrying the 2kg machine around. Yes, it's pretty slim but I would not wish to be lugging it around too much because of its weight.
What I think Gigabyte may want to improve on are the fans. Out of the box, the Aero 15 OLED XB's large fans tend to spin up a fair bit, which can be annoying when it's just idling and not doing much.
They are even noisier when at full tilt during gameplay, but then again, you might have your speakers or headphones on, so the noise is drowned out. To be fair, the notebook runs pretty cool to touch.
So, on the whole, the Aero 15 OLED XB is a fully-packed notebook that impresses, especially with a great screen aimed at creative professionals. It isn't cheap at S$4,099 but it's certainly competitive.
Razer's similarly-spec'd Blade 15, for example, costs S$4,299 with the latest 10th-gen Intel processors and a GeForce RTX 270 Super graphics chip but it has a less-sharp Full HD screen.
If you desire a great screen for your work, I'd say have a look at the Gigabyte Aero 15 OLED XB. Just be sure of some of the quirks, such as the webcam, which you may have to substitute with an add-on unit that latches to the top of the screen.