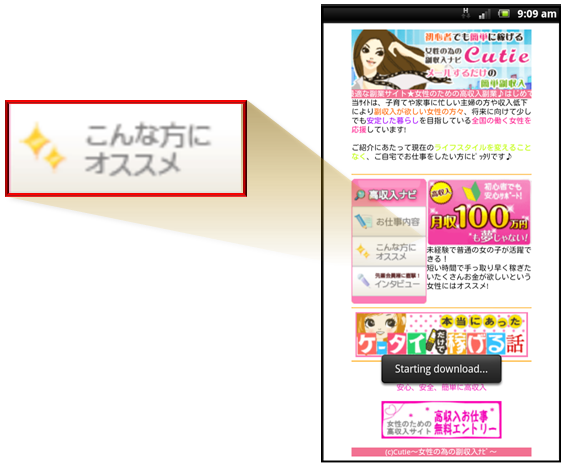 Pictures of sexy women have long been used to lure Internet and phone users to download malware. In an unusual twist to the tale, a piece of malware infecting Android phones in Japan has targeted women instead by promising them easy money and ways to meet rich men.
The rarity of this Android.Loozfon malware was enough to make security firm Symantec put up an advisory late last week. The offending software comes in the form of a Japanese language app that is downloaded from a malware website.
According to Symantec:
A group of scammers is attempting to lure female Android users in Japan into downloading an app by sending emails stating how the recipient can easily make some money. The email includes a link to a site that appears to be designed to assist women to make money simply by sending emails. When a certain link on the site is clicked, Android.Loozfon is downloaded onto the device. Other links direct the user to a dating service site that likely attempts to charge money to use the service, which supposedly helps women meet rich men.
Among other things, the app attempts to harvest contacts on the phones of infected users. Symantec believes that the ploy is part of a bigger effort at stealing contact details so scammers can sell their dating service to even more people.
The security firm advises users to download only apps from trusted sources and know what permissions the app is asking for on their Android phones.
Increasingly, mobile devices are becoming the new targets for malware writers, as they become more sophisticated in their code targeting mobile operating systems like Android. Phone users are also less likely to have anti-malware protection and many believe their devices are not as susceptible to malware compared to their PCs.