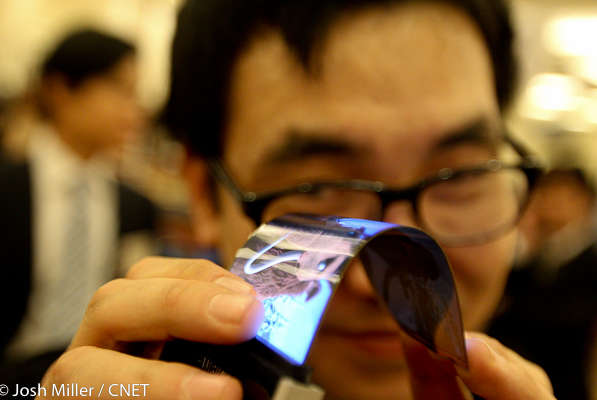 (Photo credit: CNET)
Flexible displays aren't exactly a new phenomenon, but Samsung's demonstration of its own efforts at CES just brought the dream a lot closer to reality.
In fact, even though the company refrained from providing a definitive launch date, the display units and stage demonstrations showed the screens to be pretty close to market. The OLED screens that were twisted and rolled up by Samsung executives looked every bit as sharp and colourful as the screens that we're currently used to.
Of course, those flimsy-looking screens are actually tethered to blocky black boxes which presumably provides the power, so don't expect the Galaxy S4 to be just a piece of rolled-up plastic. Instead, the first products sporting flexible displays will likely be closer to the two reference designs provided by Samsung: solid but curved.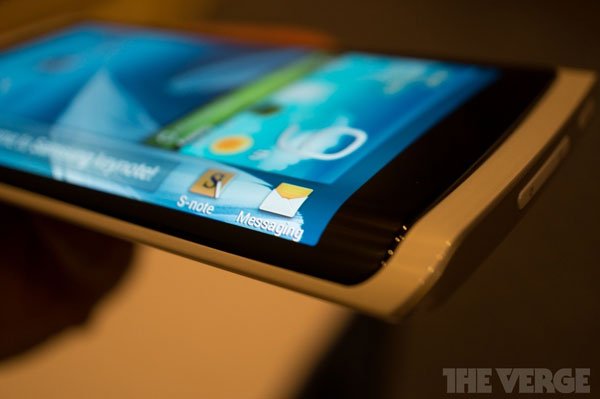 (Photo credit: The Verge)
The little sliver of screen that curves towards the side or bottom can be used to flash notifications at the user while the rest of the phone rests behind a case, providing just a tiny bit more screen estate without having to build a bigger phone.
But there's nothing flexible about the curved screen, and it's hardly world-changing. What about displays that we can actually bend, twist, and flex?
In a somewhat cringe-inducing promotional video, Samsung puts the rest of my doubts to rest. One actor showed off a tablet that can be folded in half, transforming it into a phone, and another held a futuristic cuboid device that extends out into a tablet with the press of a button.
http://www.youtube.com/watch?v=TvmtWWhADsY
These devices do not seem far-fetched at all, and can conceivably hit our shelves by the end of this year.
What about the applications that Samsung didn't show? One area which would really benefit from flexible displays is wearable tech. Smart watches, for instance, are just begging to be made out of a limber display that can wrap around your wrist.
Flexible displays are poised to bridge our conflicting desires for larger screens and more pocketable devices. With other companies working on similar or related technology — such as Corning's flexible glass and LG's flexible e-ink screen — these bendable screens may be the key mobile trend to keep our eyes on this year.