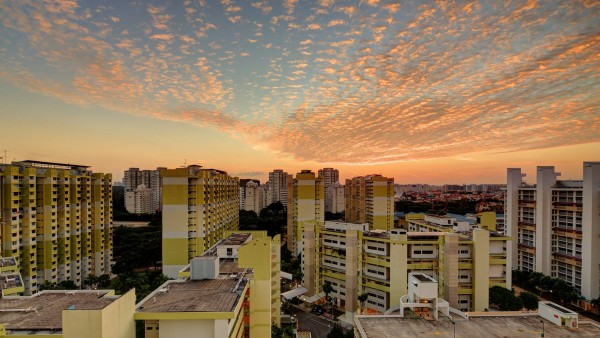 When news broke on Monday that the Singapore government was building its own telecom network to hook up its smart nation sensors, the first reaction from many in the industry must have been dire.
How can the Infocomm Development Authority (IDA), the regulator, be rolling out its own network to compete with other operators?
This IP backbone, which hooks up Internet and other data traffic, does what its name suggests. It is a broad pipe to connect up the thousands of sensors expected to be deployed all over the island to collect data on the weather, crowd patterns or other happenings.
IDA's tender documents, available on the government tender website Gebiz, describe how a supplier has to connect to the various data collection boxes, known as AG or Above Ground boxes, around the island.
The government clearly wants a dedicated link to hook up to a fibre service provider. It spells out that the winning bidder has to provide at least 12 fibre optic cables from the service provider, through an IDA manhole, into an AG box.
Generally, however, the IDA seems open to vendors to come up with a design to solve its problem, instead of prescribing what it wants, as government tenders can often seem.
At least from the tender details, it does not seem keen to reinvent the wheel and build another network parallel to Singapore's existing fibre optic network.
What it does want is that its important information hubs – the AG boxes – not be sharing the same fibre optic cables with what the public uses for anything from Facebook to YouTube, at least in the last crucial link from a public service provider to its end points.
Is that a good thing? It could be important to secure an important connection to remote sensors, seeing how they can be tampered with or even spoofed. More realistically, the sensors could remain online even if other parts of the network are affected.
At the same time, it is right to ask if the government is replicating what the private sector does best in. One explanation could be that this is a private road that has to remain in place even as others are made unusable in an emergency.
However you see it, it does seem the government wishes to avoid depending fully on telecom operators to provide all the links to its many sensors in future.
While that unusual move is still understandable, what is more puzzling is another government announcement on its smart nation project on Monday – this "nationwide operating system" that it is working with Microsoft on.
Described as a world first, this has some form of standard framework, which would lead to a business structure as well as a technical structure based on operating requirements.
It's okay if you don't understand that. That's the best we could paraphrase from a Today news report as well.
No wonder the first response to the story on Facebook was "world's first nationwide BSOD" or blue screen of death, in reference to a common Microsoft Windows error.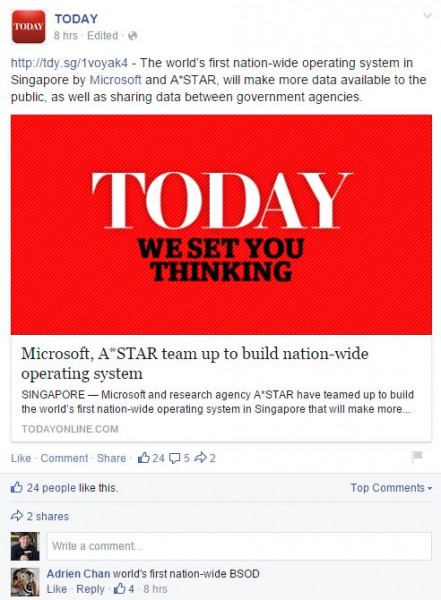 Little is known of this operating system, except it is supposed to be the "brains" of the smart nation installation in the next few years. What's clear, though, is that operating system is a misnomer here.
People see that as software that not just controls their hardware on a PC but also provides the interface on their desktop to interact with the machine.
Is this nationwide OS doing that? Or is it just a piece of middleware, the industry term for the unglamorous programming code used to connect up the basic hardware and whatever applications people will write on top of it to provide an interface or added functions?
That's no way as comprehensive as what an OS does. And it certainly isn't as cool-sounding.
Clearly, the media will have their work cut out trying to explain this smart nation project to the average Joe.
Yes, there will be many sensors. Yes, there will be new networks and software to hook them up. And ultimately, people here will get better information on anything from train arrival times to weather patterns.
Or, they themselves could be the source of information, by transmitting their locations – anonymously, one hopes – to let decision makers know, say, which train platforms are overcrowding and assist in better future planning.
With the work on the nationwide OS and the private network it is building, the Singapore government is taking unusual paths to its goal. What it has to do is explain them better.
Unlike the last great project to wire up the nation on a fibre optic network, this smart nation project is not only harder to build, it is harder to sell to citizens. If they don't get it, where are the users going to come from?