In a buttoned up shirt and business pants, an Asian man starts showing off an electronic keyboard in a Facebook video that is reminiscent of an old cheesy TV ad selling whitening detergent or a newfangled ironing board.
Watch it to the end, though, and it becomes obvious this isn't another pixelated video from the past. Despite being dressed for the office, the man quickly moves from some basic beats to a full-blown, rapid drum solo, like in a rock concert.
But there's no drum – all that is happening on the keyboard called the Prodikeys, made by Singapore firm Creative Technology. The man in the video, Paul Seow, has since become a sort of Internet star.
Thousands have watched and shared the quirky video, created in the days before Facebook but uploaded in 2014 by a Facebook user who found it funny and surprising.
To the man himself, still involved in marketing in Creative today, it brings back memories of better days at the company, and carries hope that it will reach its previous peaks again.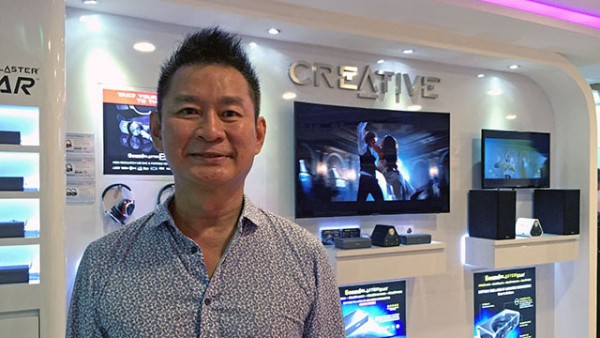 In its heyday, Creative's products went head to head against some of the world's biggest tech titans, including Apple. Back in the early 2000s, its MP3 players were arguably superior to Apple's iPods in feature-to-feature comparisons.
Today, Creative is but a shadow of its past, and Seow himself has borne witness to its rise and fall. However, he continues to believe in the brand, and currently serves as its marketing manager. In recent times, the company has been attacking the market with renewed vigour, and he is confident that its on its way to stage a comeback.
"We've been here all the way, from sound cards in the 1990s right up to today," he told Techgoondu. "Nobody knows audio better than us."
Not just a one-hit wonder
When Seow's colleagues in Europe pointed out that an old video of him was going viral in the western hemisphere, he didn't feel particularly surprised.
"The Prodikeys is one of the products that we're most proud of, winning the Best of CES award back in 2003," he said. "We made a few of these videos to demonstrate different sounds that the Prodikeys could do, like piano, guzheng, and of course, drums.
"Even back then, the video with the drums was infectious and spread like nobody's business! We didn't have YouTube or Facebook, so it was shared mainly over online forums, which was the popular form of social media at that time."
According to Seow, it was a combination of a "nerdy looking" Asian breaking out into something completely unexpected, and the fact that he speaks in "funny sounding" Singlish that contributed to the video's popularity, both in Singapore and overseas.
"It's just like in American Idol, when you see a toot toot guy unexpectedly wow everyone with his stellar performance," he said. (Editor's note: toot toot is a Singaporean slang for looking geeky or uncool.)
At the time of writing, Seow's video has been shared close to 30,000 times on Facebook, and an identical video uploaded to YouTube in 2007 has garnered more than 303,000 views. It has even been picked up and featured elsewhere, such as on the popular web culture blog Laughing Squid.
Paul Seow, however, is no one-hit wonder. His enthusiasm for Creative products attracts notice wherever he goes, and for the past decade he has been the face of Creative at numerous local and international events, including multiple CES appearances.
See if you can spot him in this year's highlight reel:
Even as recently as the IT Show in March this year, crowds flocked to listen to Seow's fiery presentation at the Creative booth.
At the show, Seow took to the stage in shirt and tie due to a recovering injury, and his act drew the attention of denizens at the local tech forum Hardwarezone.
This led to a thread started by user AS1, who wrote: "The guy Creative hired to MC their IT Show stage is so good, I thought he was a pastor or a motivational trainer. He does have an oratorical gift. When he talk, people stop to listen even if they were doing something else."
The thread quickly blew up, with other forum goers asking for Seow's speaking time slots, comparing his presentation to religious sermons, and creating general buzz around Creative's presence at the bazaar.
In a way, his story is reflective and closely intertwined with that of Creative's — now more than ever, the company, too, needs to prove that it's more than just a one- or two-hit wonder. Naturally, Seow is convinced that the company is on the right track back to the top.
'People want better sound'
He is looking forward to the future, and touts the Sound Blaster Roar 2 portal Bluetooth speaker and the Sound Blaster X7 hybrid digital amplifier as two sure signs of the company's revival.
"We're going back to our strengths, back to our roots, leveraging all our Sound Blaster technology and patents to create even better audio products," he said.
Despite that zeal, Seow said Creative isn't targeting audiophiles who can easily spend huge five-figure sums on audio equipment – at least not at the moment. Instead, the entire industry is working to bringing good sound to the masses, he argued.
On-demand content providers like Deezer and Spotify have high-quality offerings, and services like Tidal propound nothing but high fidelity sound. Hardware makers like Sony are also testing the waters with premium portable music players that pack high-end audio tech.
Seow likened this to the demand for better video tech and content.
"At first, we were very happy with VCDs, then came DVDs, then HD, and now 4K. The market pushes, and once high resolution audio is at a point where it's readily available with widespread support, people will want it," he said.
He believes that the Sound Blaster X7, in particular, is a product designed to take advantage of that impending inflection point. Offering high-end components at a compelling price, the X7 is seeing significant interest from both audiophiles and newcomers to the audio world, he said.
All that remains is for a mass market product to flip the switch on high resolution audio, and the rest will follow.
"Look at the iPhone, for example," Seow pointed out. "The moment Apple turns on native support for high resolution audio on iPhones, will people still be satisfied with lossy MP3 files? I don't think so. The entire market will move up to higher grade audio equipment."
And when that happens, he hopes Creative will find itself once again in the right place at the right time to take advantage of this trend, and carve a path back to its glory days.