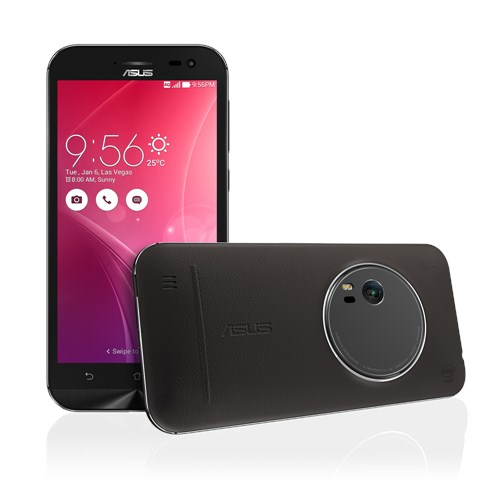 Once an afterthought, the camera on smartphones today is often its biggest selling point.
Samsung's K Zoom, Oppo's N1 and Lenono's Vibe Shot are some of the more recent attempts to provide better user experience and improved image quality. With so many choices out there now, can Asus' newly launched ZenFone Zoom do any better?
The Taiwanese company has came out with not one but three camera-centric offerings over the last few months. The ZenFone Selfie and Laser were introduced to provide better resolution images for selfies and a much faster focusing.
The latest, the ZenFone Zoom, as its name suggests, provides optical zoom much like a compact camera. Immediately on using it, you'd find that's definitely better than the digital zoom in smartphones now.
The 3x optical zoom lens has four-stop image stabilisation and actual shutter buttons for both video and photo taking with the 13-megapixel CMOS sensor.
The lens itself is designed like a submarine periscope so it does not take the form of a barrel lens commonly seen on compact cameras. The profile of the smartphone is kept thin, as a result.
It also doesn't hurt either that the lens itself is made by Hoya, well-known for photographic filters and prescription lenses. This is something photographers would approve of.

The user interface, especially the manual mode, is pretty straight forward and a joy to use. For the less photography inclined, there are photography modes such as HDR, Panorama landscape, night mode and shallow depth of field for the appropriate shooting situation.
Like the ZenFone Selfie, the ZenFone Zoom has dual-colour LED flash for more natural skin tone when taking selfies. Do note though that there is only one set of dual LED flash for the back facing camera.
With such an elaborate setup, does the ZenFone Zoom deliver in terms of image quality? Generally, the images are pretty sharp and have good colour.
The camera is able to process pretty good dynamic range too. But there are some shots that are not as good, showing ISO colour artifacts and soft images. Another issue – a bit of colour fringing at the edges when shooting in harsh high-contrast scenes.
The ZenFone Zoom, with its aluminium unibody frame and the leather finish for its plastic back casing, provides enough weight and feels solid. I actually welcome a bit of the heft and thickness that the ZenFone Zoom has as it makes for a more assured grip on the phone shooting.
Its hardware impresses too. It comes with Corning Gorilla Glass to protect the 5.5-inch Full HD screen, a  2.5GHz Z3590 Intel Atom Quad Core processor, 4GB RAM and a dedicated 6430 PowerVR GPU running at 640Mhz.
Although it doesn't come with Quad HD resolution, the screen is sharp enough to be used comfortably. Like most smartphones, there is only one USIM slot and the battery is not removable. Still, I welcome the presence of the microSD card slot, which provides a cheaper way to upgrade the storage capacity from the phone's original 64GB of space.
Would I replace the ZenFone Zoom with a purpose built-camera or even a DSLR? With the lack of an aperture, there are certain things that the ZenFone Zoom or any mobile phone can't really do.
For example, the small sensor would provide a pretty wide depth of field and deriving good bokeh for a portrait is asking for the impossible – unless you tweak it afterwards in Photoshop.
Plus, there is no way I could time the shutter for fireworks or to take a long shutter shot while controlling the amount of light going into the camera. I end up with over-exposed shots. So, no, it's not a straight replacement, for sure.
Still, it would be harsh on the ZenFone 2 Zoom to say the camera is not up to scratch for most daily pictures. This S$659 smartphone is more than good enough for many casual photographers. As an avid photographer, I'm happy with it too.
UPDATE on March 2, 2016: The price of the phone has been updated to reflect the local retail price in Singapore.