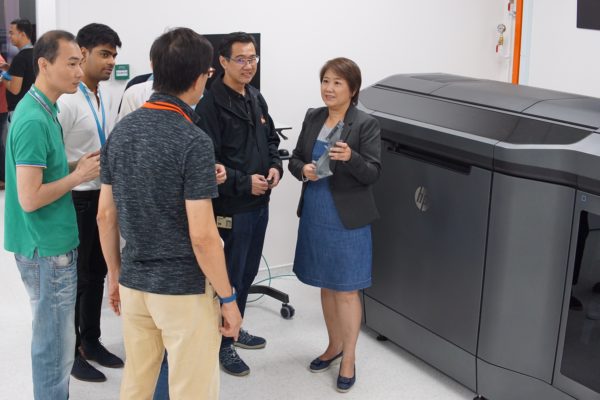 A smart factory is being developed in Telok Blangah by HP Inc in its new advanced manufacturing research centre, as it looks to boost efficiency by at least for 20 per cent in its printer supplies factory operations.
It is a centre where Big Data and data analytics meet 3D printing, advanced robotics and autonomous intelligent vehicles to help engineers build and prototype new manufacturing and automation processes and collect and analyse data for predictive product maintenance and quality control.
The idea was seeded by production engineering manager Jamie Neo, 51, three years ago. As part of professional development, she did a stint in a business analytics unit which opened her eyes to how HP was using data to provide better support and service to home and office printer customers.
Why can't HP deploy big data and data analytics to gain better insights on its manufacturing systems and operations, she then asked.
That simple question launched her to build her own big data team with the support of her bosses at HP Inc, the maker of printers, PCs and ink supplies.
Then HP management expanded her idea into Smarc, or Smart Manufacturing Application and Research Centre, the only facility for HP looking into new processes and technologies that can be implemented globally.
On December 13, Smarc was opened together with HP's new Asia Pacific and Japan regional campus in Telok Blangah. The company, which has been in Singapore since 1970, invested about S$100 million in the new campus and Smarc.
The new campus brings together for the first time over 3,000 engineers from 35 countries working under one roof.  The new facility was opened by Minister for Trade and Industry S. Iswaran.
Smarc has four labs looking into the use of advanced robotics and automation to drive productivity; sensors to collect data to determine manufacturing and product performance; prototyping and rapid production of components; and predictive maintenance and quality control.
Richard Bailey, HP's president of the Asia-Pacific Japan campus, said: "The Singapore campus is a reflection of our drive to constantly reinvent the way we work as well as develop new technologies to enhance productivity and efficiency across our global operations."
The research facility comes at an important juncture as demand for PCs, printers and ink supplies are back on track again. The good news is that the PC decline of the past four to five years has stopped.
Gartner principal analyst Lillian Tay said in a recent industry briefing that businesses are buying more powerful PCs for their digital transformation journeys. Gamers are also upgrading to new more compute-intensive machines as more video games use new technologies like augmented reality.
The growth can be seen in HP's financial performance. In its fourth quarter results released on November 21, revenue rose 11 percent to US$13.93 billion compared to the quarter a year earlier. All its product segments including printers and ink supplies saw growth.
Smarc in Singapore will play a role as HP continues to look for ways to become more productive and efficient in its quest for improved operating margins
Speaking to Techgoondu, Neo, a 26-year "lifer" with HP, explained that data analytics will enable HP to undertake predictive maintenance and quality control improvements.
"We can collect data on vibration, noise and electric current, analyse them to determine if the machines need servicing. With this approach, we will go from time-based to condition-based maintenance which means little or no downtime on equipment operations for our customers."
Near real-time analysis of data will also allow the engineers to monitor the behaviour of the products on the manufacturing line. They look for anomalies in the data, investigate the causes and fix them before they present themselves as major issues, she explained.
To achieve this, she started to build a Big Data team three years ago.  She got in interns who were part of the Masters of Technology (in enterprise business analytics or knowledge engineering) programme at the Institute of Systems Science (ISS).
She paired them with HP printer engineers to successfully solve manufacturing problems. Every year since 2014, she had hired one to two of the interns after they have graduated to join HP's Big Data team.
She also sent HP production engineers on five-month conversion programme at the ISS to learn about Big Data theory and data analytics.
"I'm proud of my engineers, how they have embraced new technologies to do new things. It's also very fulfilling for me to see Smarc becoming a reality," said Neo who manages an engineering department.