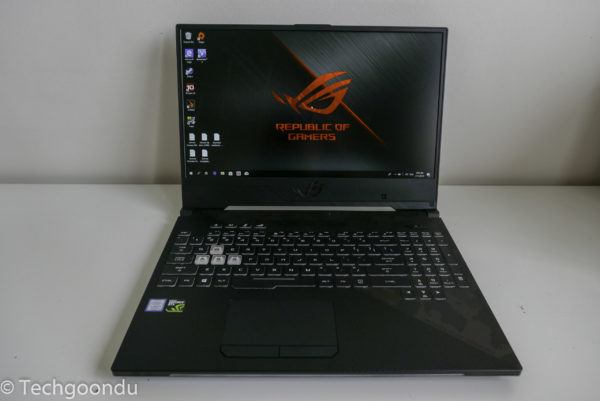 It's taken me a while to finish trying out the Asus Strix Scar II launched late last year, but it's always worth the trouble to check out a great gaming notebook that balances power and looks.
Sleek and tidy, it easily stands out easily from the crowd, which are either full of bling or stuck in old bulky designs from the past.
Everything feels solid to touch, starting from the brushed metal finish on the lid to the perforated bottom that lets air out for ventilation. Everything's a little understated and that's a good change from the over-the-top designs we've had for a long time now.
Yes, there's a slight camo design and there are still some lights at the bottom, but this doesn't scream "gamer" like much of what you would have seen if you're in the market for a gaming notebook.
The GL504GS model I tested comes with an Nvidia GeForce GTX 1070 graphics chip as well as a 15.6-inch Full HD screen. The 2.4kg machine is just about portable if you want to bring it over to a friend's place for a long gaming session.
There are other versions of the Scar II that sport the newer GTX 2070 graphics chip launched earlier this year, as well as a larger 17-incher for folks who don't mind the bulk.
With the rest of the components, such as an Intel Core i7-8750H, 16GB of RAM and a 256GB solid state drive backed up with a 1TB hard disk, the Scar II GL504GS I had is a middle-of-the-road model in the lineup.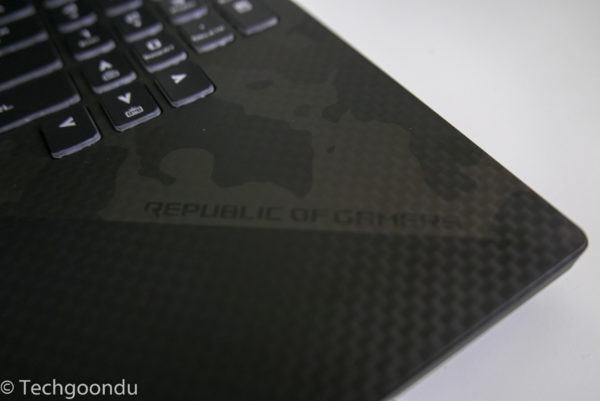 That's no slouch, of course. Billed as an e-sports model for folks serious about taking their gaming to a professional level, plus those who think they are that good, the Scar II performs as you'd expect.
In synthetic 3DMark tests that measure how well a PC performs with simulations of graphics-intensive games, the Asus laptop jumped through the hoops effortlessly.
In the Time Spy subtest, which stresses out PCs with its DirectX 12 routine, the Scar II came back with an impressive score of 5,444 that reflects its pedigree.
Its result is ahead of the score of 3,969 on the HP Omen 15 I tested last year that came with a slightly slower Nvidia GTX 1060 graphics chip. A Dell G7 notebook that I also tested last year came back with a score of 3,775.
In other 3DMark subtests, the Asus notebook didn't disappoint, either. It scored 14,191 in Fire Strike, 34,399 in Sky Diver and 35,890 in Cloud Gate.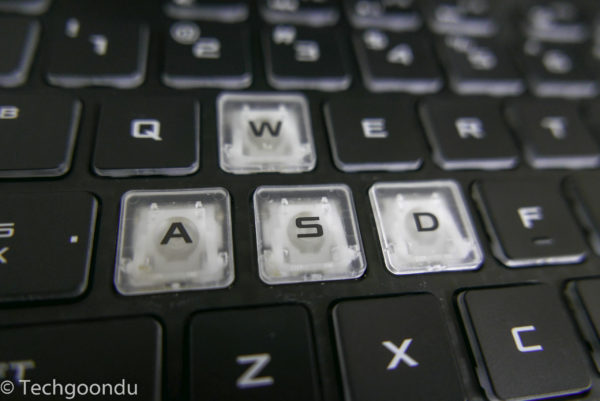 To get a sense of real-world performance, I fired up the Battlefield V shooter from late last year and the Scar II did extremely well too. It hardly broke sweat.
In the early single-player campaign missions, I recorded consistent frame rates of solidly 60 frames per second, with all the eye candy turned on with Ultra settings.
Usually, you aim for 60 frames per second to get super smooth action on screen, and to avoid hang-ups during intense action that could cost you a game.
Here, the GTX 1070 graphics chip on the Scar II stands clearly ahead the slower GTX 1060 on the Dell and HP machines that sported it. On Full HD resolution, with the pretty effects turned on, the faster graphics chip is what you'd want to spend your money on.
What about everyday performance? The gaming-class hardware has the muscle to crunch through your spreadsheets and handle your videoconference calls, though a benchmark test turned out a bit of a surprise.
In PCMark 10, which measures performance in tasks like office productivity, the Scar II scored only 4,104. This is surprisingly lower than what I got on the HP Omen 15 (4,319) and Dell G7 (5,031).
To be fair, I suspect you would rather play games on this purpose-built machine. The good news is that the keys here are well thought-out. There is good key travel and space between keys.
Plus, the AWSD keys, used the most in first-person shooters, stand out with their own unique lighting options. Cool, if you're into that, but for me, that also makes the keys easier to find in a dim room.
Perhaps what's more important is the 144Hz refresh rate on the Full HD display. Together with the 3-millisecond response time, it ensures that you don't slow down when things are happening fast all around you, say, when you're getting into a close-range shootout.
There are a lot of things I like about the Scar II, particularly its thermal design. As a manufacturer of motherboards, Asus has shown its expertise here in designing a notebook that runs cool even with a high-performance graphics engine.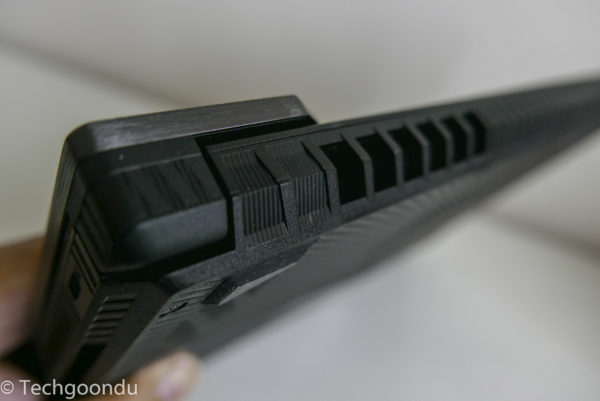 All the heat is pushed to the back of the laptop using two 12-volt fans and a new heatpipe design. This means the top of the laptop, especially the area where you rest your palms, feels cool and comfortable even when things are spinning up.
I like it that the machine stays cool even with hours of gaming. Plus, the non-slip and fingerprint-free design earns points too for both practical and aesthetic appeal.
Asus is certainly banking on these features to sell its laptop. The Scar II model I reviewed costs S$3,398, which isn't cheap compared to some of its rivals that may be going for under S$3,000.
However, if you value its superior design and overall quality, I'd say the new Asus notebook should be high on your shopping list. It's a solid gaming machine.