There are many sound bars that promise the best sound for your movies, but there are few that can deliver great music as well. You can count the Sonos Arc as one of the rare few.
After listening to the sound bar for more than a week, I am happy to have it as my primary music source in the evenings, if one day my hi-fi gear decides to die on me.
The Arc plays back music with good balance and control, which are often missing in one-piece speakers made more for the explosions in movies than the intricacies of each instrument in a music track.
Playing Jenny Chi and André Siqueira's Live in Rio album on Tidal, for example, you get the plucking of the guitar strings and the vocals realistically imaged on a virtual stage in front.
There is also the bass, of course, that a large sound bar offers. With tracks that call for it, like Mombasa from the Inception movie soundtrack, you get the punchy low notes that remind you of the accompanying chase scene in the movie as well. Transitions from loud to soft, and back, are well handled too.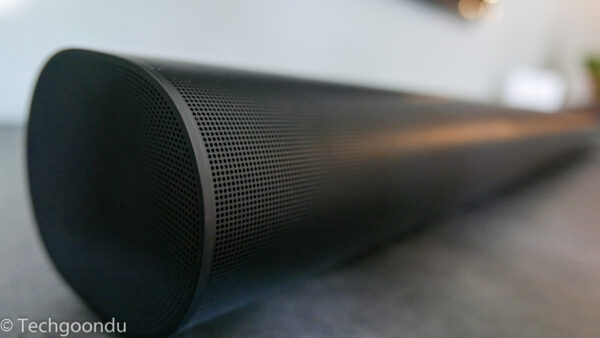 I also like the sense of scale that the Arc brings. On another Hans Zimmer soundtrack, the one for Interstellar, you hear the pipe organ patiently building up to a crescendo in some tracks, reminding you of the vastness and strangeness of space.
There is also a fair bit of smart tuning in how the musical image is presented. There isn't any of the exaggerated brightness, nor is there too much "warmth" in the presentation.
I was actually enjoying the music on the Arc so much that I fired up a hi-fi system, made up of separate components, like a Bluesound Node 2 streamer, Lamm pre-amp, Belcanto amplifier and Bowers & Wilkins 805S bookshelf speakers, to compare things.
Okay, hands-down, the hi-fi gear won in terms of better clarity, detail, soundstage and "3D" image. But I can understand why a sound bar like the Arc will impress not just movie fans but folks who take their music seriously.
I started talking about the musical part of the Arc sound bar because Sonos is marketing this as more than just a movie speaker but also a music speaker as well. In that sense, it has done well.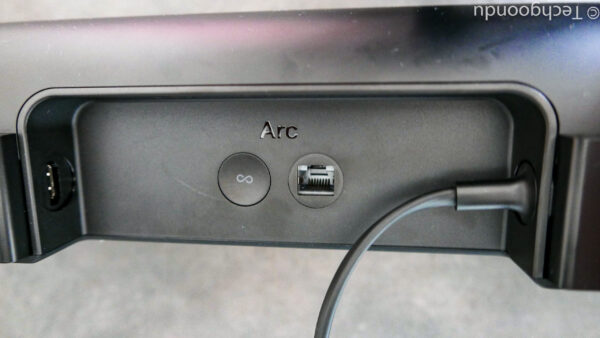 Certainly, the 11 Class D amplifiers in the Arc that are tuned to the cylindrical chassis help here. They power the eight woofers that produce the midrange, vocals and bass as well as three silk-domed tweeters that deliver the high frequencies.
To deliver the special effects in movies, the Arc certainly doesn't lose out to its rivals. The bass is certainly there in movies with loud explosions. For example, watching Extradition on Netflix, you get a sense of the scale with the low, rumbling audio from the Arc.
I'm also happy with the dialogue in movies, which is usually loud and clear without requiring me to fiddle with any settings on the Sonos app, which controls the device and is needed for setup.
What I think can be delivered a bit better is the surround sound. I played back an old favourite – a shooting scene in The Book of Eli, which shows off great surround effects – and I wished the sound "travelled" more and transported me into the scene more.
As it stands, a 5.1 home theatre setup with a discrete set of surround speakers plus a subwoofer would do that better. Of course, that involves a lot of wires and speakers around the room as well, which is what the Arc promises to do away with.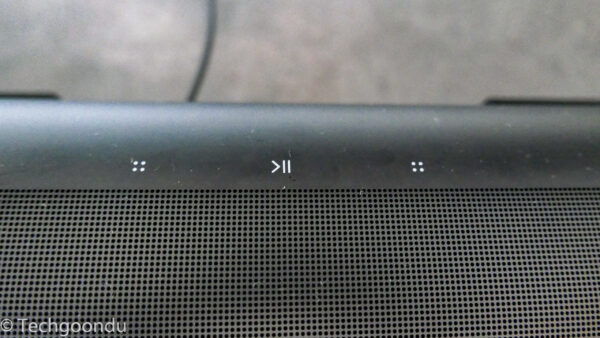 Notably, it is Sonos' first entry in the Dolby Atmos game. If you have a relatively new TV (from last year, for example) that can stream the Atmos-encoded audio over, then the Arc can reproduce that surround sound audio that mimics audio from height as well as distance.
If you don't, then the Arc will play back what your TV can feed it via the Arc's HDMI port. Unfortunately, this is the only HDMI port so you might have to hook up your devices, like an Xbox, to your TV directly.
There is also an optical audio port on the Arc, but it does not support higher-quality audio streams such as Dolby Atmos or TrueHD, unlike on the HDMI port. Just take note of that for your connections.
Speaking of connections, it's rather strange that Sonos has relied on 2.5GHz Wi-Fi and left out 5GHz Wi-Fi from the sound bar. It's 2020, not 2010, and it's time that new devices connected on the faster, less congested frequency band.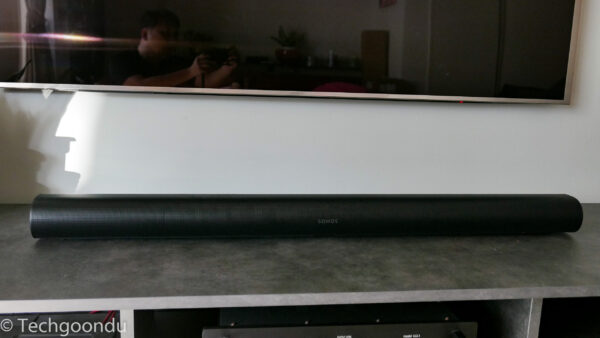 That said, I'm generally happy with the build of the Arc. Out of the box, the large sound bar feels hefty. It is more than 1 metre long and weighs no less than 6.25kg. That's a good thing if you don't want a wonky speaker.
Its sleek design is also a big plus to anyone planning to renovate their living room. The Arc certainly looks the part next to any sleek 4K TV, whether you mount the sound bar on a wall or leave it on a console table.
I would readily recommend the Arc if it doesn't carry as hefty a price tag as it does. It costs a cool S$1,499 in Singapore, and don't forget it doesn't come with a separate subwoofer, which costs an additional S$1,149.
Of course, that depends on how much value you see in the Arc. On that front, it produces music that will impress music lovers and it also fits your home decor neatly.
So, if you want a decent speaker for both your movies and music, the Arc is worth a listen. If you're on a tighter budget, consider the smaller but still capable Sonos Beam (now at S$649).