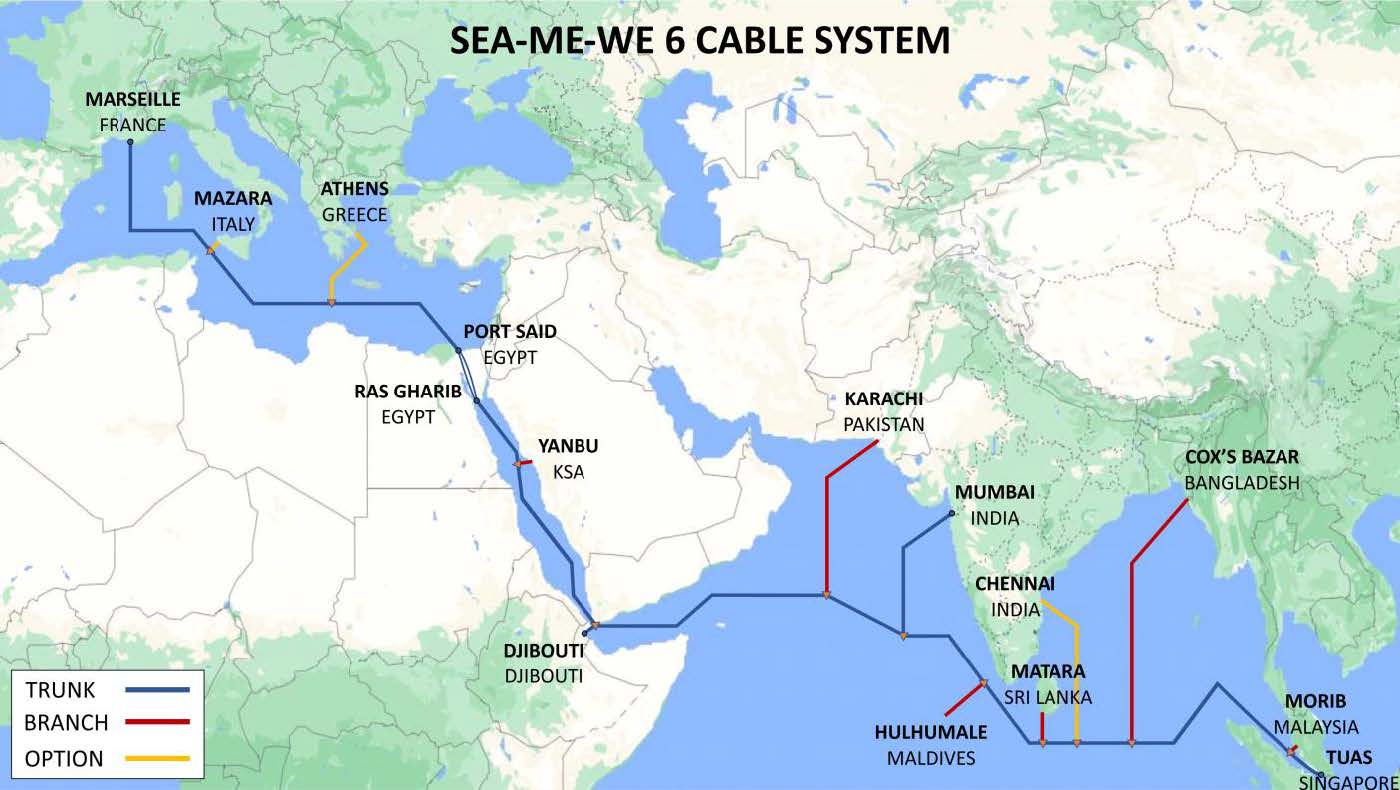 The Southeast Asia-Middle East-Western Europe 6 (SEA-ME-WE 6) subsea cable system linking multiple countries between Singapore and France at high speed and low latency is being built from today, according to Singtel, one of the telecom operators involved.
The 19,200km-long cable laid under the sea promises to connect the three regions at speeds of up to 100TB per second, or the equivalent of 40,000 high-definition videos each second.
With more fibre pairs in the cable, the new link is able to provide more than double the capacity of previous SEA-ME-WE cables, the last of which was SEA-ME-WE 5 that went into service in 2016.
The new system is being built by a consortium of companies, which includes Bangladesh Submarine Cable Company, Bharti Airtel Ltd (India), Dhiraagu (Maldives), Djibouti Telecom, Mobily (Saudi Arabia), Orange (France), Singtel (Singapore), Sri Lanka Telecom, Telecom Egypt, Telekom Malaysia, Telin (Indonesia), and Trans World Associates (Pakistan).
The new link was planned and designed from two years ago to cater to the growing needs of global digitalisation, said Yue Meng Fai, chairperson of the SEA-ME-WE 6 management committee and senior director for consortium cable engineering at Singtel.
"By building more capacity and flexibility today, we are ensuring that we are ready to serve the billions relying on our networks in future," he added.
Another benefit, according to Singtel, is the added diversity and resilience for the high-traffic-density route between Asia and Europe. This is important, as submarine cables often follow major shipping routes and are routinely damaged by ships dropping anchor or even earthquakes.
Singapore remains an important hub for linking up the rest of the world to Southeast Asia. Last year, Facebook and Google revealed plans for two subsea cables running from the United States to Indonesia and Singapore, to be completed in 2023 and 2024.