Let's start by getting the price of this state-of-the-art laptop out of way, because S$3,999 is certainly not everyone's idea of how much a good laptop should cost.
No, not even with the full works – a Core i7 chip, 8GB RAM, a 256GB solid state drive – encased in an incredibly thin and light frame weighing just 1.165kg, plus a separate desktop dock that contains a Blu-ray drive and a handy AMD 6650M graphics card.
Considering how laptops are costing less by the day, I'm not sure how many of the new Vaio Z – which costs twice as much as many albeit lower-powered rivals – will get sold here in Singapore.
But what makes this Sony machine so impressive is that it might just herald a new generation of devices. While the previous Vaio Z was a well-built, fast machine for the business user, the new incarnation is a whole new class of device altogether, in that it is both a PC on the go and on the desk.
I'm surprised no one has thought of doing this before, really. Many users these days try to bridge the best of both worlds that a laptop and desktop offers us by hooking up a large-screen monitor, keyboard and external drive to our laptops once we reach our desks. But almost always – other than with humongous gaming notebooks – graphics on laptops really suck.
Answering that need, the Vaio Z comes with an external graphics card that you can easily plug in and boost the graphics performance on your machine. Once you plug in the Power Media Dock, the faster AMD 6650M graphics automatically switches from the onboard Intel HD Graphics 3000 chip that offers power-efficient usage on the go.
It's also nice to know that this dock comes with a Blu-ray drive, and an array of ports including a couple of USB 2.0 ports and a USB 3.0 port as well as a Gigabit Ethernet port, an HDMI connector and an analogue VGA link. Instead of those ugly docks of old, this actually adds more than the boring stuff – it brings desktop performance to your laptop.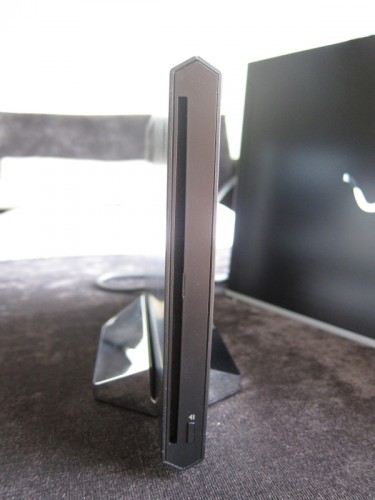 From my tests, hooking up is mighty easy. The only thing that Sony warns you not to do is to unplug the dock when you are running a graphics intensive program, which may suffer as a result of going back to the low-end graphics on the laptop itself.
Essentially, what you need is a monitor and keyboard and you'll have two machines in one – an attractive proposition for the business user.
The main unit itself, of course, is nothing short of impressive as well. Never mind that this is a machine with a powerful Core i7-2620M chip, 8GB of RAM and a zippy 256GB solid state drive to rival what you get on the fastest desktops. This svelte machine also comes with a display that will make other laptops green with envy.
On the 13.1-inch screen, Sony has packed in an enormous amount of pixels – and detail – in the 1,920 x 1,080 resolution. If that number looks familiar, it's because the same amount of detail is packed into TV screens as big as 55 or 60 inches.
What this means on the Vaio Z is that text is sharper than almost any rival and pictures are displayed with pinpoint clarity. You also see the "full picture" in terms of the amount of data to be displayed, since the screen is capable of showing entire windows without needing your to zoom out and scroll.
The downside, of course, is that text can be small to read. This can be rectified by simply switching up the zoom – once – for your icons and text. But in my two weeks using the Vaio Z, I never had an issue with the higher resolution. My eyes loved the greater detail on display.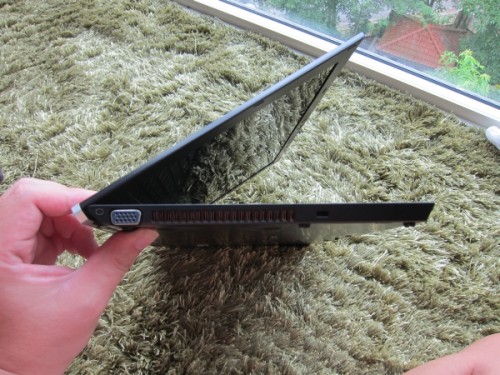 I'm also impressed by the portability of the Vaio Z. I teach part-time at the National University of Singapore and anyone who walks up the hill regularly from the carpark to the Arts Canteen (called The Deck now) will tell you it is quite a steep climb, especially with a laptop on your back.
Those two weeks I walked up the hill with the Vaio Z, I didn't need to bring my usual Crumpler laptop bag – I simply walked up with the laptop in my hand, tucked along with some files. The climb was a breeze, compared to when I carried my 2.5kg  HP Envy 14 with me.
The other thing about the Vaio Z is its speed. The SSD under the hood is one real monster. Sony says the machine will boot up in 15 seconds or less. I can say safely it's often less than 10 seconds. I almost never powered off the machine in the two weeks I used it because it took mere seconds – under five, to be sure – to resume from hibernation after I had closed the lid each time.
The battery life on the standard power pack is also surprisingly good. I did not manage to do the usual drain tests, but from my everyday usage, this is what I found out: I could use it for a couple of hours in class while jotting down notes, then put it to sleep for a week (apart from opening it up occasionally to surf the Web at home) then still use it for another couple of hours the next week, before it finally gave up.
Beyond the power-packed performance, there are many nice touches on the Vaio Z that make it a no-holds barred premium laptop.
What impressed me: the lightweight but sturdy case reminiscent of older Vaio Zs, the textured touchpad giving you a better "feel" when moving your cursor around the Windows 7 desktop and the wide array of ports on the slim chassis. These include USB 2.0 and 3.0 ports, an HDMI link and yes, regular LAN and VGA ports. Take that, proprietary Apple connectors!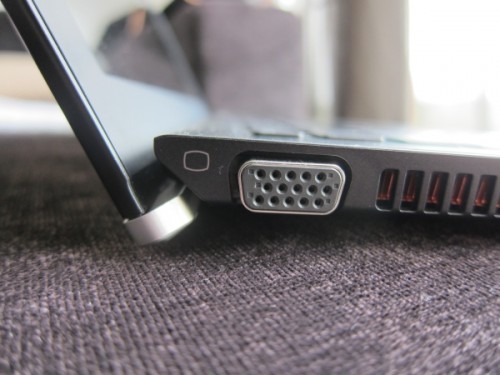 One really interesting feature I should single out is the way the laptop hinge pivots to give you an elevated keyboard when you open up the clamsell. The hinge actually pushes the main chassis up at an angle instead of just staying put on the table like on most laptops. Speaking of the keyboard, the keys are short-travel, or shallow, chiclet keys, which I'm not a fan of, but fortunately, they seem quite easy to type on, compared to, say, Apple's keyboards.
What can Sony improve? Obviously, the Vaio Z should have a bigger trackpad. The current one is mighty small, even given that this is a small laptop. Though it is very sensitive, it still doesn't feel as accurate as what you find on Apple's Macbooks, which are the industry's best.
But that little gripe would not be a deal breaker, of course. For most users, the biggest obstacle is that sky-high S$3,999 price. At a time when corporations are careful with costs, it must be a challenge to convince the bean counters in any company to okay the purchase of a Vaio Z, never mind a fleet of them for a department.
The task is made even harder when even a fully-spec'd 13-inch MacBook Air with a 256GB SSD will likely cost less than S$2,500. Sure, this may not be an apple-to-apple comparison, but think of how you can spend the rest of the S$1,500 saved from buying a Vaio Z on a desktop or a really fancy monitor if you want.
Then there are the so-called ultra-books from other PC makers. These MacBook Air rivals, like the Lenovo U300, will cost around the price of the Apple favourite and offer almost the same power as the main Vaio Z unit. Okay, they won't have an external media dock and may not always be built as solidly, but to many users, they make the Vaio Z look like something from the old era of really expensive corporate laptops.
What then do you make of the Vaio Z? It probably won't sell as well as many of its cheaper rivals, but I suspect folks who want one handy machine for both on the go and desktop uses will buy into this class of all-in-one devices.
Should you buy it? I'd say no if you are looking for comparative performance versus price, in other words, value. But if you are after the best all-in-one portable and desktop machine out there, there's nothing like it now.
Every once in a while, an iconic device comes along and redefines the space that others compete in. The MacBook Air, for example, offers great value in an era where cloud computing lets you take the computing off your mobile device and focus on things like small-capacity but speedy SSDs to fire up apps in a jiffy.
As for the Vaio Z, it could well be the first of a new breed of devices that will make you think twice about buying a desktop in future. It's an all-in-one machine that gives you the best of both desktop and mobile worlds. The current iteration is too expensive, but I'm looking forward to cheaper versions of the Vaio Z concept.