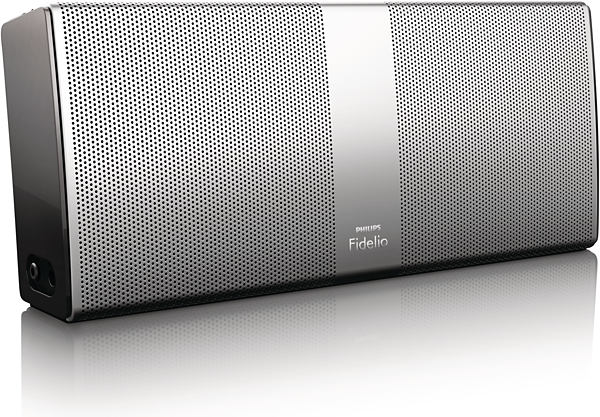 If you have despaired at the bad-sounding wireless speakers sold at lifestyle stores these days, Philips' S$499 Fidelio P9 will come across as a nice, little surprise.
Not only does this portable, wireless speaker sound surprisingly good, its ease of use and sleek design should appeal to folks who want high quality audio from a lightweight package.
The design, in particular, is spot on. The wood finish on one side of the P9 brings retro chic, while the aluminium body feels solid to hold.
To complete the great first impression, the P9 also has a expensive-looking leather cover. Besides making the whole package feel premium, it also acts like an iPad cover of sorts, protecting the precious metal chassis when you bring it on your travels.
As looks go, the P9 stands out from the crowd of speakers in a store. Not too large, yet heavy enough at 1.3kg to make you feel confident, it is a companion I won't mind bringing to a Bali holiday.
What also works very well are the nice little touches that offer ease of use. Simply touch the speaker with your hands and the battery indicator lights up briefly to let you know how much more juice is left. Philips promises eight hours of playback, so the P9 should last an afternoon on the beach easily.
I also like how effortlessly the P9 is set up. All I did after taking it out of the box was to use my smartphone to scan for it via Bluetooth, then pair it. This takes probably a few seconds and you'd be playing back songs from your mobile device in no time.
The link doesn't have any annoying connection problems and during the hours I played music back on the P9, I didn't have any issues at all with my Samsung Galaxy S4 or Google Nexus 10. Plus, I could easily control the volume from my phone's own volume buttons as well.
There's also a line-in connector if you want to go with the good, old wired connection, but really, with Bluetooth so easy to connect up, you'd probably not bother with that.
All this is before I even mention the audio quality. When I played the first track, I was surprised this speaker was powered by batteries and the audio came from such a small unit.
Filling my small bedroom with clear, undistorted sound, the P9 impressed hugely. The audio was surprisingly balanced and dynamic, free from any of the common drawbacks of similar speakers, such as thin-sounding highs, muffled vocals and bloated bass.
I particularly enjoyed Rodrigo Panassolo's Latin album on Spotify. With an unexpected warmth, the vocals made you feel like you were part of a small cozy gathering, while the strings and other instruments were clearly in play should you be seeking detail.
Just for kicks, I fired up a FLAC track of Taiwanese crooner Tsai Chin, a favourite among some audiophiles, and didn't find anything to dislike. Though I've heard a more natural, soulful rendition previously, the P9 surely doesn't do any disservice to the much-loved singer.
The "magic" to the sound is thanks to the two 3/4-inch dome tweeters and four 2-inch full-range woofers inside. The P9 is rated at 20 watts RMS, which is enough power to fill a small room.
Of course, as with any small speaker, there are limitations, for example, when it comes to sound staging. Though it fills the room with ease, it struggles to "disappear" with the music – sound still seems to be "stuck" with the speaker when you sit up and listen carefully.
Another thing you'd notice with the P9 is that it lacks the slam in bass-heavy tracks. Again, that's to be expected given the small size.
Fortunately, Philips has stayed away from forcing some bloated bass out of the unit, concentrating perhaps on cutting out a portion of the spectrum it cannot do well in, instead of doing things badly.
To compare the P9 with regular standalone speakers and amplifiers, of course, is a little harsh. Yet, there's no doubt it punches above its weight. It's great to have in the bedroom, and at outdoor events, say, a picnic or a barbeque party. As a speaker to pump out some chill-out music, it's perfect.
Not like the typical wireless speaker, the P9 doesn't give you a headache after hours of listening to it. With audio quality that easily beats many such wireless speakers in the market, it is easy to recommend. Indeed, I'd use it as a system for a small bedroom – the portability is a bonus really.