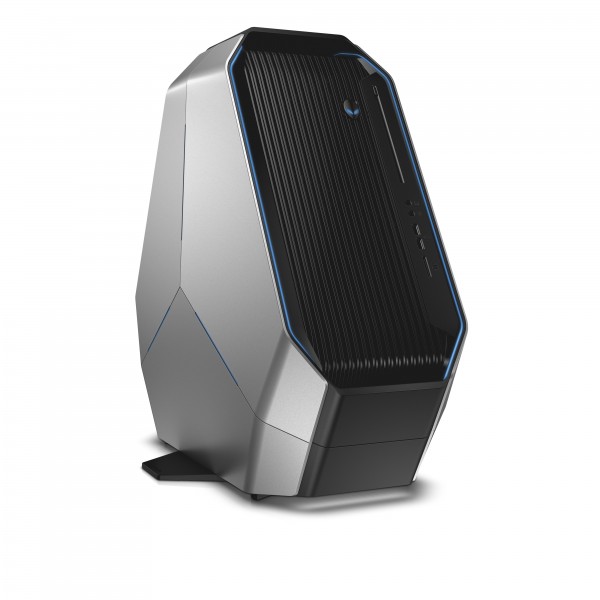 A sturdy table is what you'd need if you want the Dell Alienware Area 51 gaming desktop PC sitting, well, on your desk.
At over 28kg, it is probably the heaviest PC I've had to carry out from a box in more than a decade of reviewing tech gadgets. 
The behemoth of a PC is so heavy because it's an over-the-top machine with a size that will dwarf most PCs out there, bar the most outrageous custom-built ones.
Is size and weight everything? Well, if you are into bling, then yes, the Area 51 won't disappoint with its trademark colour lights that you can customise from a software app on the PC itself.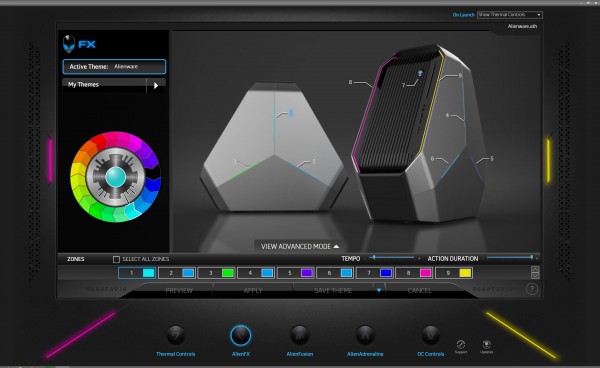 Perhaps more importantly, this so-called Triad case design from Dell provides lots of space for you to easily upgrade and fiddle with the hardware inside.
For example, the hard disks are placed away from the motherboard, on the other side of the chassis, so you can easily pop in a new one without getting stuck with too many cables.
Dell also claims there's excellent airflow from the design. But I'd offer a word of caution here – if you stuff lots of graphics cards in there, like with the review unit I have, don't expect the machine to be silent.
I was about to run some benchmarks on the unit but realised that it had older hardware from its initial launch in February.
The review unit included an Intel Core i7-5820K processor, 8GB RAM and three Nvidia GeForce GTX 770 graphics cards. Yup, there. That's where the huge casing comes in handy.
In current configurations, which start from S$3,999, the triple GTX 770 graphics card setup has been swapped for a single GTX 970. That's a wise upgrade.
Unfortunately, Dell has retained a slow-chugging 2TB hard disk in there, without even a basic solid state drive (SSD) for run Windows and games from.
That spinning disk will drag back the loading of your operating system and games. It surely cannot be the main drive in an elite PC gaming system that costs this much.
You can, of course, add an SSD from Dell, but that costs S$131 for a modest 128GB model and S$441 for a 256GB option. Very expensive, when they only cost about S$100 and S$200 at Sim Lim Square.
Of course, the reason why you are buying Alienware, instead of building a gaming PC yourself, is the complete system it offers, plus with a fancy casing and warranty from the PC maker itself.
You can't go wrong if you are new to gaming PCs and want the latest hardware. Plus, if you've got the moolah.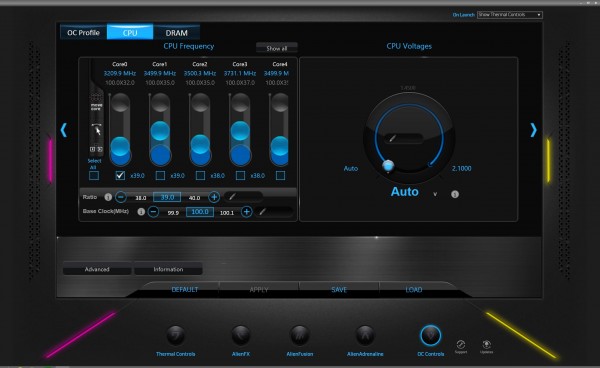 What you do get for the money is easy overclocking or tweaking of your PC's hardware. Instead of fiddling with difficult-to-understand controls on your BIOS screen, you can adjust settings like CPU speed on a simple and good-looking Alienware program.
After testing out some games quickly, I would say the performance on the Area 51 I had on hand wasn't shabby but it could struggle with very demanding titles.
With the older config, featuring the triple GTX 770 setup, I got only modest results when running the built-in benchmark test in the Company of Heroes 2 real-time strategy game, with a resolution of 2,560 x 1,600 and all the eye candy turned on.
It posted a minimum frame rate of just 3.67, a max of 24.53 and an average of just 16.06. You'd want around 30 frames per second for smooth gameplay.
In comparison, a single GTX 980 graphics card on my own PC with an Intel Core i7-4770, 16GB RAM and 256GB SSD, pumped up the frame rate to a much smoother 22.77/47.57/33.48 frames per second.
I'm not going to slam the old Area 51 because it's been updated since. A new GTX 970 graphics engine, which is what you get with current Area 51 models, might do better than the one I tested.
And it should run quieter, since it's just a single card in there with less heat and fan noise to contend with.
Having one card in there also lets you pop in a second card, to boost performance for more demanding games in future.
Perhaps that's what the Area 51 aims for – gamers new to PCs who want top-notch power and an upgrade path with a brand name behind the warranty.
Hardcore DIY geeks like me will usually sniff out savings from building our own custom rigs (see one here). Or turn to a local boutique PC maker like Aftershock, which offers alternatives at a lower price.