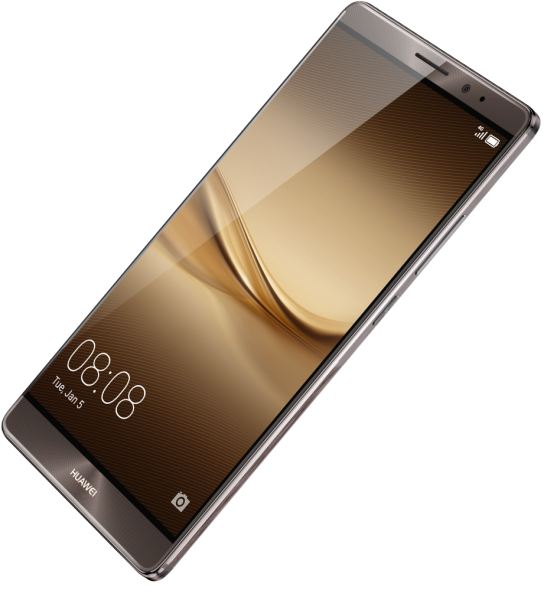 Fresh from winning over Android diehards with the Nexus 6P, Huawei this week launched its new Mate 8 flagship in Kuala Lumpur for the region.
Unlike the Nexus phone, Huawei has added some spice to the vanilla Android experience using its own EMUI 4.0 interface.
With a feature called Knuckle Sense 2.0, the phone immediately takes a screen shot when you knock on the screen as you would a door.
Draw an 'S' on the screen with your knuckles and the phone automatically scrolls through a tall webpage to screen-capture the whole page one section at a time.
The Knuckle Sense feature is on top of the ability to tweak over 500 user features and to share photos and files via your local network.
Network sharing is certainly an interesting proposition, especially when you need to transfer some images quickly without the use of proprietary sharing apps. We'll test more of this as we try out the phone more.
Like the previous Mate 7, Huawei's new phone comes with a fingerprint reader. And it's now quicker and more accurate. The phone also supports two SIM cards or 1 SIM card with a MicroSD card, just like the Samsung Galaxy S7 series.
To support these nifty features, underneath the aerospace-grade aluminium unibody is a new "8 + 1 core" design that features four Cortex A72 chips running at 2.3GHz, four Cortex A53 chips running at 1.8GHz and an i5 co-processor.
This is coupled with 4GB of RAM and 64GB of storage built in. The official AnTuTu performance benchmark for the phone is stated as 92,746. Test on a review unit I'm trying out have yielded a test score of 89,674, which is pretty fast as phones go.
Looks-wise, the Mate 8 has ticked all the right boxes as well. It has a 6-inch screen at full HD resolution, housed in a phone case not much bigger than your typical 5.5-inch smartphone.
That means 83 per cent of the phone's front surface area is occupied by the screen itself. What's more, the screen can go up to 95 per cent for colour saturation, resulting in a more accurate colour presentation on the screen.
All that would be useful is the phone runs out of battery, of course. The most impressive thing for me is the 4,000mAh battery that was somehow squeezed into the thin casing.
With its battery saving technology, the Mate 8 is touted to last more than a day of heavy usage and can stretch to two days with moderate use. The battery capacity also allows it to charge other phones, but only if the unit has a male MicroUSB to male MicroUSB wire to go with the phone.
The phone is not perfect, for sure. One thing I'd like to have seen is a sharper display. With such a huge screen and a dedicated Mali-T880 graphics processor unit, the Mate 8 could surely have included a Quad HD screen to match its more famous rivals like Samsung.
At the same time, the phone's design also seems to borrow from others. I'm reminded of the Asus Padfone Infinity and the Sony Xperia Z5. The Mate 8 also has the concentric circle design element seen on the Asus ZenFone though this is not something I would ditch the phone for.
Yet another thing is the camera. With competitors improving their image quality, the Mate 8 has still some way to go to beat them. Perhaps Huawei's recent partnership with famed German camera maker Leica would improve its future phones?
These issues aside, the Mate 8 impresses in several areas. It shows how far Chinese vendors have come in designing not just budget models but also those aimed at the high end of the market.
The Mate 8 isn't cheap, for sure. The champagne gold model will cost S$888 when it arrives in Singapore on March 10.