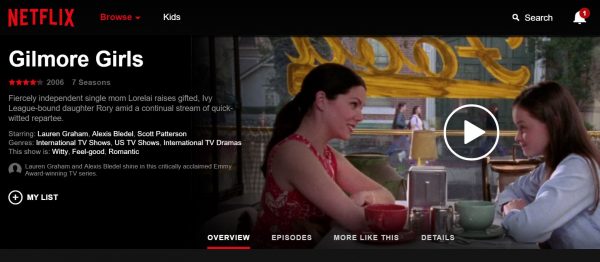 If you're not a fan of the show, you don't know what you're missing. Debuting in 2000, Gilmore Girls is a comedy-drama series about the lives of a single mother and her daughter in the fictional and absolutely wacky town of Stars Hollow, Connecticut.
Like The West Wing, Gilmore Girls features rapid-fire dialog that's never looked or sounded better than its debut this month on Netflix worldwide, because for the first time, it's in high definition (HD). The show was never made available on Blu-ray, nor offered on any digital streaming service till now.
Created by Amy-Sherman Palladino, the first season of Gilmore Girls was also screened in 4:3 format (where the video filled up 4:3-sized TVs). But for the first time ever, the first season has now been remastered and formatted in 16:9.
That opening shot of Lorelai Gilmore (that's the mother for those of you who've never had the pleasure) walking into Luke's Diner just shines.
While the show still has all the issues of a streamed video–slight compression noise–and some film noise (remember this was a show filmed 16 years back), the show has never looked so gorgeous anywhere.
Netflix is available in Singapore with a basic package starting at S$10.98 a month.
While the service started out with very limited offerings here, the situation is improving, with popular shows like Daredevil and Outlander available on the same day as the US.
However, some shows like Netflix's own House of Cards' latest season (four) is still not available here, likely due to licensing issues with regional service providers.
In any case, while waiting for your other favourite shows to arrive, all seven seasons of Gilmore Girls are available beginning July 1. Watch it!