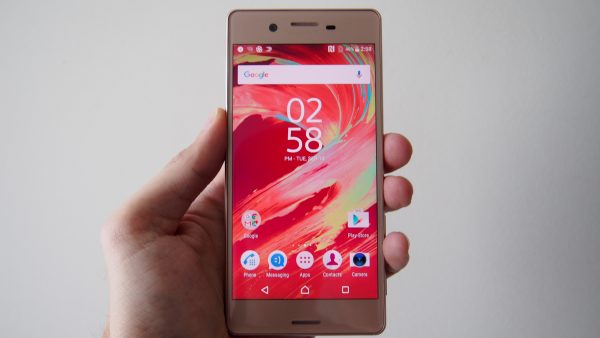 The Sony Xperia X is a curious product. While its innards are not exactly flagship level – its choice of processor comes to mind – it is clearly not a mid-ranger either, packing 3GB of memory and a 23-megapixel shooter with a large f/2.0 aperture.
Sony, it seems, has reserved the best inner cuts for the Xperia X Performance, which totes an Xperia X shell with water resistance and a high-end processor. This leaves Xperia X as the cheaper, "good enough" device that (hopefully) did not make major compromises.
But, with a recommended retail price of S$848, are the trade-offs small enough to help Sony deliver a premium, value-for-money product?
Design and Features
The Xperia design language that was introduced in Sony's Z series of devices has, more or less, become an identity of the product line in itself, with a clean, angular profile devoid of unnecessary lines and marks.
This time, Sony has added some curves to the sides of the Xperia X's frame, and tapered the edges of the screen with 2.5D glass. These modifications make the device comfortable to hold in the hand, when compared to earlier Xperias.
Its 142.7 x 69.4 x 7.9mm frame may not have the tiniest bezels, but was small enough for me to use with one hand. The 153g mass on its relatively petite body made the phone feel just a little heavy, unlike if it were spread out over a larger device, like the 157g Samsung Galaxy S7 edge.
The matte back makes the phone less prone to fingerprints and gives it a better grip, without making the device look cheap. A pity with the volume buttons though – locating them below the power button makes them difficult to reach with one hand, a use case its size easily afforded.
Speaking of the power button, it comes with a built-in fingerprint scanner. Right-handers could register their thumb and left-handers, their middle finger. During my tests, this was pretty fuss-free to use, except when the sensor occasionally failed to read my fingerprint when I didn't position my finger properly on the diminutive scanner.
A hybrid SIM slot, accessible from the left of the phone without the need for an eject pin (phew), accommodates two nano SIM cards, or one nano SIM card and a microSD card of up to 256GB in capacity.
The lack of waterproofing is an increasingly serious omission, a feature that increases the usability of the phone in our tropical climate.
It is a puzzling decision from Sony, considering previous Xperias were protected against the elements.
Performance and Screen
The Xperia X features a midrange Qualcomm Snapdragon 650, like the one found in the recently reviewed Xiaomi Mi Max.
Four low-power 1.4GHz Cortex-A53 cores paired with two high-performance 1.8GHz Cortex-A72 chips provide the horsepower to keep the Xperia X chugging along. It also has 3GB of RAM, 32GB of built-in storage (on my review set) and an Adreno 510 graphics chip.
Sony's interface, based on the Android "Marshmallow" operating system, sticks very closely to the stock Android design language. It has just a custom clock on the home screen, redesigned video and photo viewers, among other things.
During my tests, the user interface felt quick to respond, perhaps due to the lack of heavy customisation. Nevertheless, expect to twiddle your thumbs for a moment when loading games and heavier apps, like those for photo editing.
I also fired up a round of Asphalt 8: Airborne. The gameplay was, like on the Mi Max, acceptable, with the exception of some lag on the cut scenes and interface screens.
It helped that the screen was just 5 inches wide and running a full HD (1,920 x 1,080) resolution, reducing the demand on the processor while making any small freezes less obvious.
In my opinion, a device at this price deserves more than a mid-range processor that would, by virtue of its positioning, never be quite as snappy as a more expensive option.
The screen was of average brightness, but held up well in the sun because it was not very reflective. Colours and viewing angles were very respectable, but not the best I have seen.
The stereo speakers on the Xperia X were front firing, located to the top and bottom of the screen. This, in my opinion, made perfect sense where the placement for speakers were concerned – they would not be muffled by your palm, nor would the audio sound unbalanced.
The latter is a very common occurrence, with phone makers putting speakers at the bottom of the device.
Camera and Battery Life
On paper, the Xperia X's imaging gear sounded compelling. A 23-megapixel Exmor RS rear camera with f/2.0 aperture promised bright shots. Even the front camera was a 13-megapixel, f/2.0 affair, an above average offering in the market.
The pictures taken under daylight were pretty great. They may not have the best picture quality at 100 per cent zoom, but the abundance of data captured by the large sensors meant rich details in every shot, when shrunken down to 8-megapixels.
Indoor lighting scenarios were fine for the camera, though I felt the camera had a bit of trouble putting the whole shot (rather than a particular spot) in focus at times.
In darkness, the sensors struggled to get a perfect shot. Focusing took a while, which meant potentially blurred images, and some noise was visible.
The main issue with the Xperia X's sensor was its inconsistency. The shots would either be good, or have some noticeable flaws in terms of noise or blur.
The predictive motion tracking autofocus allows the user to keep the camera's focus on a moving object (a baby or your house cat), as long as they did not move too quickly and leave the frame.
The Xperia X has a 2,620mAh Qnovo battery, which promised a longer life, came with Qualcomm's Quick Charge 2.0 technology (a charger that supports the feature was included), and claimed to offer a hundred over more charge cycles than a conventional lithium-ion battery.
There was no way for me to test the final claim, of course, but the battery life was enough to get me through the day when new. WhatsApp, push email, Web browsing on LTE in the day and a few short videos at night on Wi-Fi later, and I was left with about 25 per cent battery life before bedtime.
Concluding Thoughts
The Xperia X is a decent mid-ranged device, pairing good quality (no washed out screen or trashy camera) components with a good finish.
Sadly, it is hardly great value, even if it was S$200 cheaper. LG and Samsung may not have a good answer at this price range, but plenty of competitors have crammed flagship-level components into their S$600 products.
The 5.15-inch Xiaomi Mi 5 costs S$619, uses a Snapdragon 820, and is lighter at just 129g. Upstart OnePlus 3 offers a 5.5-inch screen and the same processor in the same pricing ballpark.
If you are looking to buy a quality mid-range phone, the above offerings are very sensible options. Brand premium should not get in the way of picking a phone that offers the best bang for buck, especially in this particular market segment.