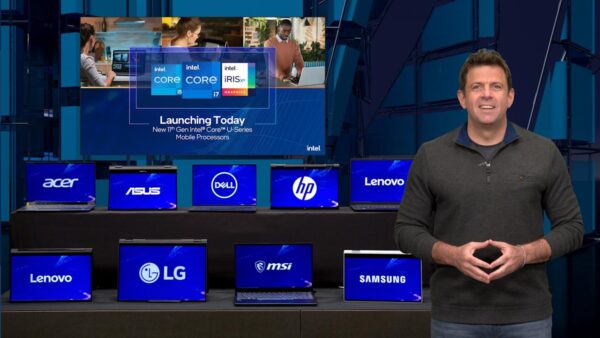 Intel unveiled a new 5G module today that lets laptop makers easily build in a link to the ubiquitous and zippy mobile network in the months ahead.
The Intel 5G Solution 5000 is an M.2 module that PC makers can slot into the motherboard of a laptop to give users access to 5G networks that are being deployed across the world.
While this is not the first time that Intel has tried bundling in a mobile chipset – the last time was another 5G module back in 2018 – 5G standards have since been firmed up and networks are common today.
What this new module unveiled today at the Computex trade show means is easy and fast connectivity beyond the home, office or cafe that is blanketed by Wi-Fi signals.
Intel says it is working with MediaTek for the 5G modem and Fibocom to supply the 5G M.2 package. It will support eSIM and connect to sub-6GHz bands.
Acer, Asus and HP will be among the first PC makers to come up with 5G-based laptops on its 11th-gen Intel Core U and H chips this year. Thirty designs are expected in 2022.
The other big thing that Intel has been pushing is more performance in processors aimed at ultraportable laptops. It revealed the Core i7-1195G7 and Core i5-1155G7.
The higher-end Core i7-1195G7 can rock up to 5GHz with its Turbo Boost Max technology. Though it is not the first laptop chip to do so, it is the significant because it uses less power and is aimed at thinner and lighter machines.
More than 60 designs using the two new laptop chips are expected by the end of the year, starting with models from Acer, Asus, Lenovo and MSI in the coming months.